Tahnée and Kaos Team Up with Canyon
For the 2020 season, we're excited to welcome two of the world's fastest downhill racers to the Canyon family. This year the Welsh duo of Tahnée and Kaos Seagrave will step up to starting lines all across the globe ready to race on the Canyon Sender.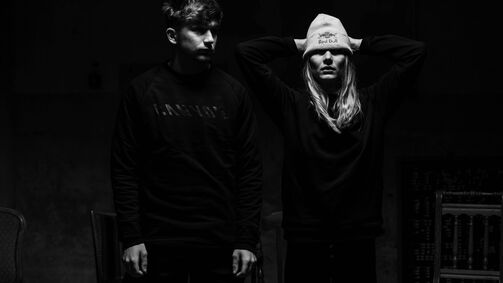 From the Big City to Big Mountains
In 2003, the Seagrave family left their home in the bustling British metropolis of London and headed for a small village in the French Alps. That small village happened to be right next to the French mountain bike Mecca of Morzine. With access to some of the rowdiest trails in the world, the change in scenery set the stage for the impressive careers of the Seagrave siblings.
The Team
Since its inception in 2009 and its first races in 2012, FMD Racing, short for Follow My Dream, has been a mainstay of the downhill racing scene. Fans and opponents alike have seen the team's motto: 'Progression is Key' be put into action with regular improvement and lofty goal setting leading to long term success. Even their first races in 2012 showed the motto to be much more than a catchy slogan with wins and accolades piling up from the very start.
In 2013, Tahnée claimed the Junior World Cup title and followed it up with a surprise third place at the 2014 World Championships in Norway. To solidify her standing as a serious threat, she took a victory at the final race of the British Downhill Series in Wales. Since then the 24-year-old has transformed into one of the fastest racers on the planet and is a fixture of the World Tour podium. From Fort Bill to Mont Sainte-Anne: Tahnée is always a medal threat.
From Dirt Jump to Enduro to Downhill, Kaos makes riding just about any kind of Mountain Bike look easy and personifies what it means to be a freerider.
We hope the Seagrave siblings have a great start to the season and we're stoked to have them on the squad!
Rumours are spreading. About a mountain biker with incredible abilities. They say he's broken the sound barrier. That he can ride on water. And that's just the start…

May 12, 2020

Big news from the Canyon headquarter: For trials and mountain bike professional Fabio Wibmer, 2020 marks the beginning of a new era. With three brand-new Canyon bikes, "The Whipmer" found something very special under his Christmas tree, as these rides will be his first choice for even more breathtaking bike action and video shoots to come.

Jan 8, 2020

It doesn't matter if you're a trail shredder, downhill racer, or dirt rider. The only thing that matters is that you're all-in. That's all you need to join our worldwide community – the Canyon Collective. This is where MTB fans and pros from around the world unite to support and inspire one another.

Jan 17, 2020