Whether you're thinking about getting your first electric bike or upgrading to a newer, better model, buying an e-bike can be complicated. That's why we put together this comprehensive guide to help you find one that's just right for you!
Do I need an e-mtb or an e-commuter ? What's a good price for an e-bike? Will my battery run out? Do I need a license? There are a lot of questions surrounding e-bikes, and understandably so. The technology has advanced so much in the last few years, it can be hard to keep up with the changes. To help you sift through all of the information out there and find the right bike for you, we put together this little guide!
What is an e-bike?
Simply put, e-bikes are bicycles that integrate an electric motor and a battery to make pedalling easier. While they do have motors, e-bikes are more similar to standard bikes than mopeds or motorcycles and most modern e-bikes are powered by pedal assist systems. Pedal assist means the bike's motor only engages when you're pressing down on the pedals and that while you are getting a helpful push from the bike, you're still putting in work to ride. Most systems have multiple power output settings so you can decide how much assistance you want to get from the motor!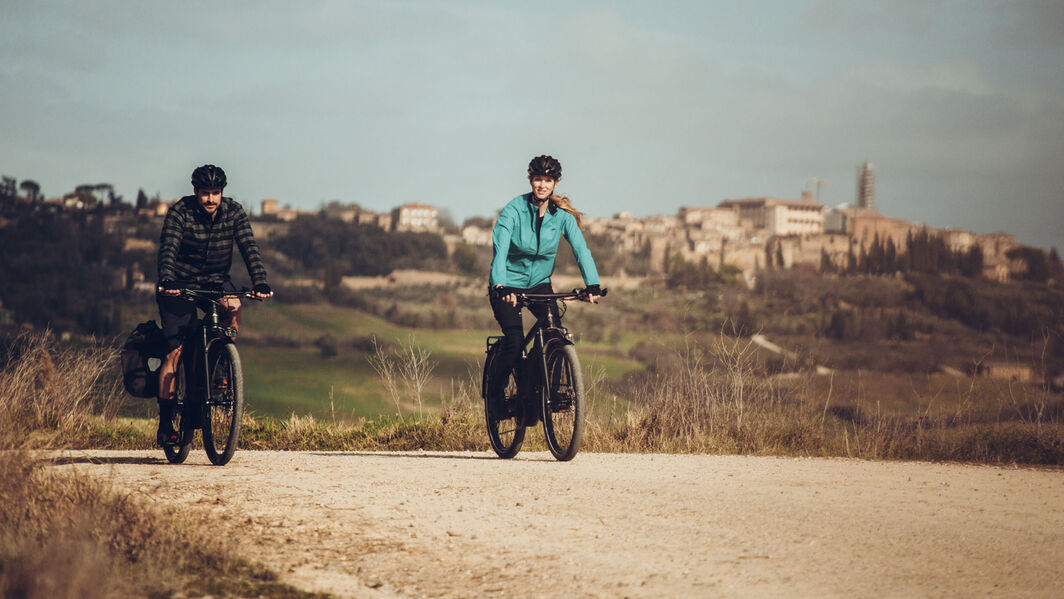 How fast can e-bikes go?
Almost all e-bikes from major cycling brands have a built-in motor limit at 25 km/h. This means that once you hit that speed, the motor drops out and you have to pedal without assistance until you dip back under. The reason is to guarantee that the bike can be legally used riding around your town's sidewalks or forest paths. Bikes with motors that exceed 25 km/h or use a grip throttle often require a special license. Riding downhill or on flat sections, e-bikes can be easily ridden past 25 km/h at which point they simply function like slightly heavier bikes.
What kind of e-bike should I get?
If you're just getting into cycling or you've been tearing up the trails for years, e-bikes can be a great fit for many types of riders. From road to urban to mountain bike, there's are as many types of e-bikes as there are standard bikes. The best place to start when deciding on the type of e-bike you want is to think about the type of riding you're going to be doing.
The Beginner
You've ridden bikes a little bit, but never felt especially comfortable. An e-bike could be a great option for you! The bike's motor will help you go farther and faster and ultimately make your intro to bike riding more fun. If you want to explore more off-road riding, a hardtail or short travel (130 mm suspension or less) mountain bike like the Neuron:ON could be a good fit. If you expect do more riding around town on roads or bike paths, then an urban or commuter style bike should fit the bill – something similar to our Roadlite:ON.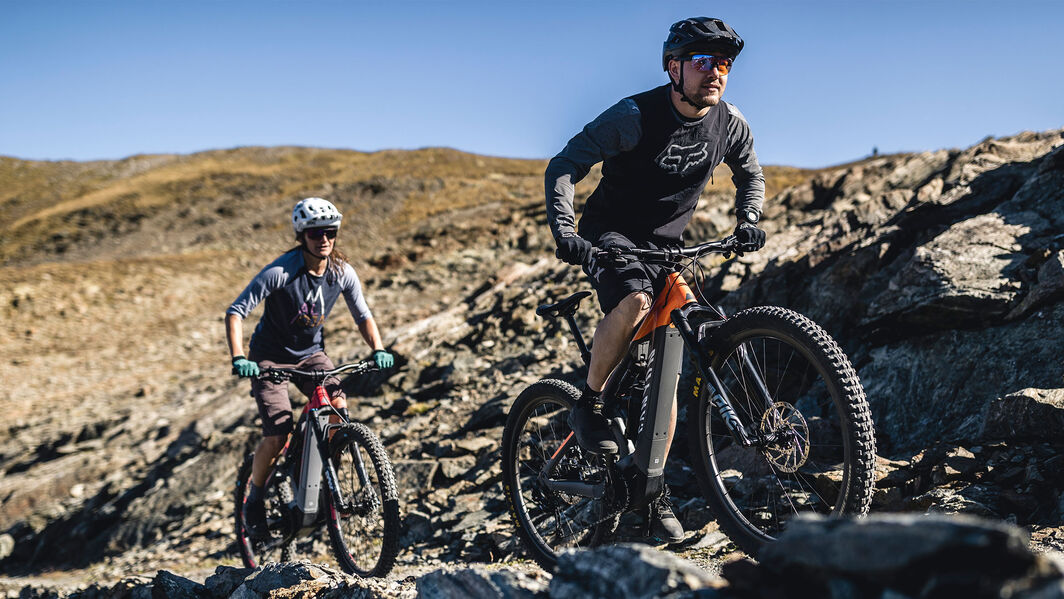 The Commuter
Commuting by bike is the best! You get a little workout twice a day and dodge all of that terrible traffic, but you also show up to work sweaty and out of breath. Making your commute easier (and less sweaty) is what e-bikes were originally made for. Most urban or hybrid style e-bikes have slightly wider tyres, disc brakes and comfort-focussed geometries. They also tend to use flat handlebars for added comfort and nimble steering. The Roadlite:ON or Pathlite:ON falls squarely in this space.
The Veteran
You've been riding for most of your life, but you can't quite keep up like you used to. An e-bike can be a great option to stay on the wheel of your kids or younger riding partners. Lucky for you, in the last few years a whole range of high-performance road and mountain e-bikes have been released. These bikes maintain most of the performance features of push bikes, but also manage to seamlessly integrate motors. The Neuron:ON and Spectral:ON are both examples of performance-focussed trail bikes that even an experienced rider would have a blast on.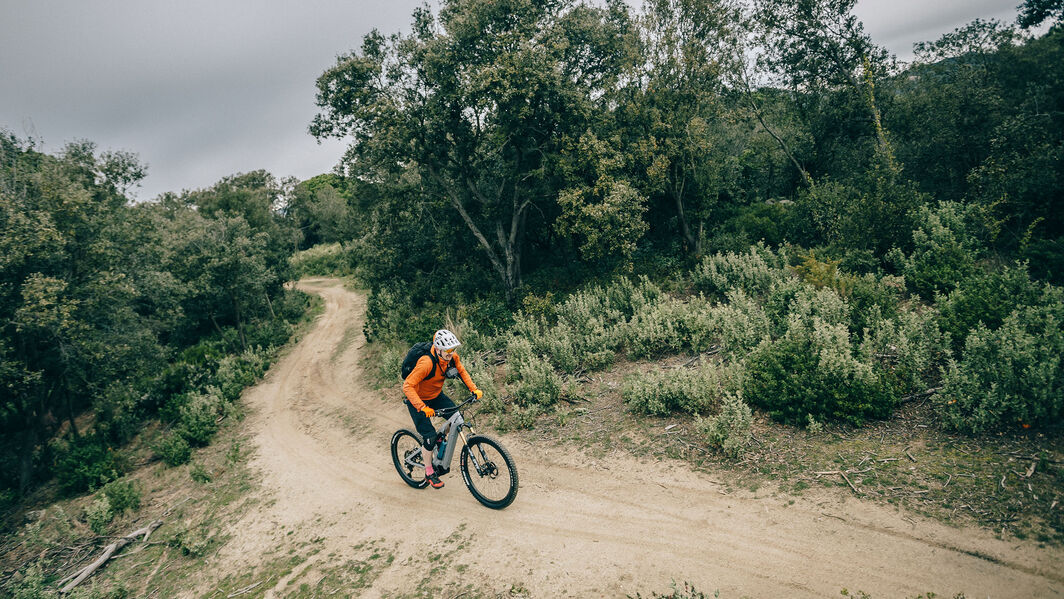 The Off-Road Rider
Why ride on the roads and deal with traffic when there is so much good single- and doubletrack out there! You want to explore more in the forest by your house? Or maybe you're thinking about some trip in the Alps: there are excellent hardtail and short-travel e-mountain bikes that could work for you. These bikes make it easier to get through the uphill sections with more energy to have fun on the trails at the top. They're also great bikes for beginner mountain bikers to get used to riding singletrack. Check out the
The Privateer
You're a serious mountain biker that tackles the occasional enduro race. There's even an e-bike for you! People used to think that e-bikes were made for out-of-shape riders, but that's been turned on its head. Bikes like the Spectral:ON make for great all-mountain or shuttle setups. With 150 mm of burly front and rear suspension these bikes bomb downhill but are easily pedalled back to the top. You'll save energy so you can concentrate on nailing the descents and get things dialled running lap after lap.
Will the battery run out?
With a dead battery, an e-bike suddenly becomes an unnecessarily heavy bike so it's natural to be concerned about battery life. The answer isn't simple. There is a wide range of batteries out there and they come in different shapes, sizes and capacities. The good news is, that whether it's on a handlebar-mounted display or a meter on a battery, most modern e-bikes do a great job of telling you exactly how much power you have left. Battery capacity all depends on how far you're riding and in what mode, but with most reputable brands you can count on a getting a full ride out of a charge. Canyon e-bikes use 3 different battery types:
Shimano Steps EP8.

The

Shimano EP8

is on board all of our 2021 E-MTBs and packs a whole bunch of features into a smaller and lighter motor. In addition to increased torque, you can now benefit from greater battery capacity for more time on the bike and less time charging.

Fazua Evation. The Fazua Evation battery used on the Roadlite:ON is a smaller more discrete battery that delivers slightly less power to the pedals. It's a 250 watt/hour battery but uses that capacity more slowly than its mountain bike counterparts. The battery can also be removed to save weight and ride the bike like a standard Roadlite.

Bosch Performance Line CX. A compact e-bike motor that features on many of our multi-terrain bikes such as the Grail:ON offering stability, reliability and power in equal portions.
Aluminium or carbon?
The frame material is really down to personal preference. Carbon electric bikes are more expensive even if they are a little stiffer, but aluminium is an unsung hero in bike manufacturing. Its robost properties allow us to produce premium quality e-bikes for a cheaper price point compared to carbon.

The frame of our lightest e-bike is made of the same material. The Roadlite:ON weighs only 15 kilograms and can be easily moved through the city even when the battery is empty.
What's a good price for an e-bike?
E-bike prices can vary dramatically, and it makes the most sense to think about the kind of riding you're going to be doing. If you plan on commuting around town, you can find options for as little as €1,000, but the average cost for urban type of bikes is around €2,700. E-mountain bikes tend to be more expensive with an average cost of about €3,500. That being said, it's definitely possible to find budget-focussed models for around €1,000.
Should I buy a new e-bike or a used one?
When hunting for a used e-bike it's important to learn as much about the motor and battery as possible. If a standard bike was taken care of, it could be 20 years old and still be a great choice. The same is not true for e-bikes. If the battery is already over five years old and was not regularly charged you could need to get it replaced fairly soon which can cost a lot money. New e-bikes are more expensive, but the main benefit is that you're getting all of the most modern technology as well as a new battery and motor system that are guaranteed to last you several years.
Canyon E-Bikes
We hope this guide was helpful to you. There are a lot of great e-bikes out there and while we don't make an e-bike for every application, we have a great range of urban and mountain e-bikes. If you have further questions, please don't hesitate reach out to one of our knowledgeable and experienced support agents via chat, phone or email. Good luck searching and learn more about Canyon e-bikes here!
Buying your first electric mountain bike can be overwhelming with the ever-expanding range available. Our buyer's guide has everything you need to know to help you decide which Canyon e-mtb is for you.

Feb 2, 2021

Canyon Neuron:ON vs. Canyon Spectral:ON - Not sure which e-mtb is the right for you? Just check this post!

May 20, 2020

Mountain, road, fitness and touring: find out why every Canyon e-bike is equipped with the ideal motor for its specific use and which one is right for you.

Oct 13, 2020