Leogang 2020: Snow, Mud, and Gold at the Mountain Bike World Championships
Find out how our cross-country and downhill athletes performed at this year's UCI Mountain Bike World Championships. Plus: get the chance to win a unique prize.
At this year's UCI Mountain Bike World Championships in Leogang, Austria, the conditions could hardly have been more challenging. Snow and rain took the courses – already technical – and transformed them into the most treacherous in years. This was Leogang's second time hosting the event after the 2012 edition, and what a weekend it was. What challenges to overcome. And in the end, the best of the best came together to compete in the toughest conditions imaginable for the ultimate prize. World Championship glory.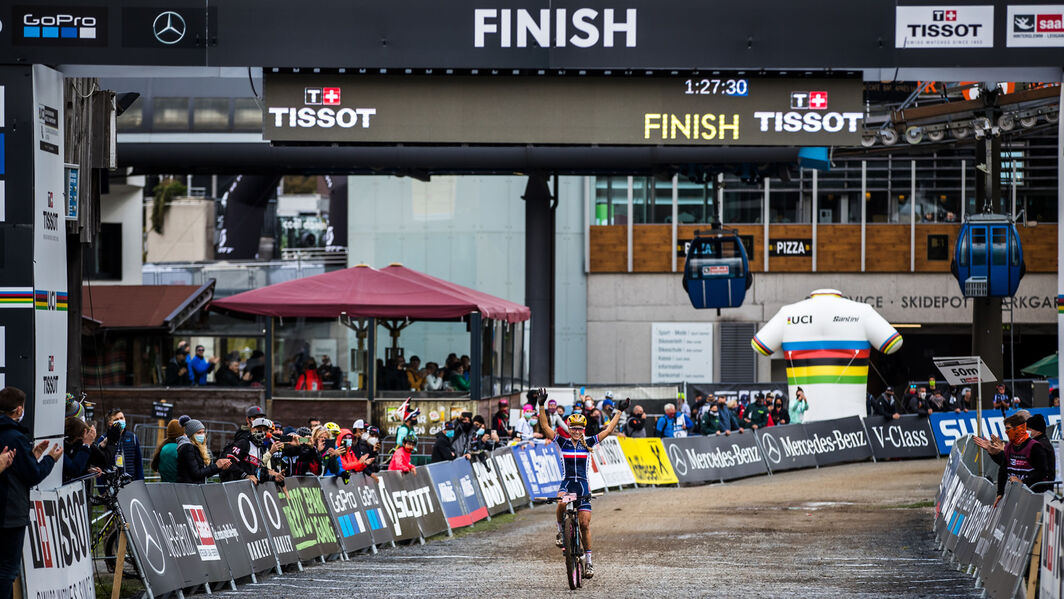 Gold for France! In the Elite Women's cross-country race, Team Canyon//SRAM's Pauline Ferrand-Prévot left nothing to chance in a dominant start-to-finish victory on her Exceed CFR – finishing with a huge three-minute gap to second. Right from the very start, Pauline built up her lead with consistency and relentlessness, underlining her credentials as one of the strongest riders in the world. Her third World Championship title marks a huge milestone for the rider from southern France, who has achieved success in cyclocross as well as cross-country. Dutchwoman Ceylin del Carmen Alvarado of Team Alpecin-Fenix also produced a strong showing, securing bronze in the U23 Women's category – and then winning the first cyclocross race of the season in Gieten the very next day. But there's not much time for rest and recuperation: next weekend it's the European Cross-Country Championships in Switzerland, at Monte Tamaro…
Downhill: ride into the danger zone
Thursday 8 October 2020: track walk time for the downhill riders in Leogang. Heavy downpours and gusting wind make it hard to even walk on a course packed with deep mud, slippery roots, and rocks. In the past many riders viewed Leogang as more of a 'bike park' style course – but opinions soon changed after the riders got a taste of the new sector introduced this year, placed right after the infamous 'motorway'. Very steep, very technical, straight down through the forest. Even in dry conditions it would have demanded everything of the riders. Everyone agreed: no debate, Leogang 2020 featured one of the most demanding descents of recent years.


In qualifying, it quickly became clear that nailing the new sector 4 was the key to posting a competitive time. If you got through it clean and quick, you had a good chance of making the top 20. The juniors got the racing underway on Sunday morning, with a field including British rider Dennis Luffman and the German Luis Kiefer. It was both riders' first time at a World Championships, and they both delivered performances to be proud of. Dennis finished fourth, only 0.09 seconds off bronze, and Luis came home in a strong 13th.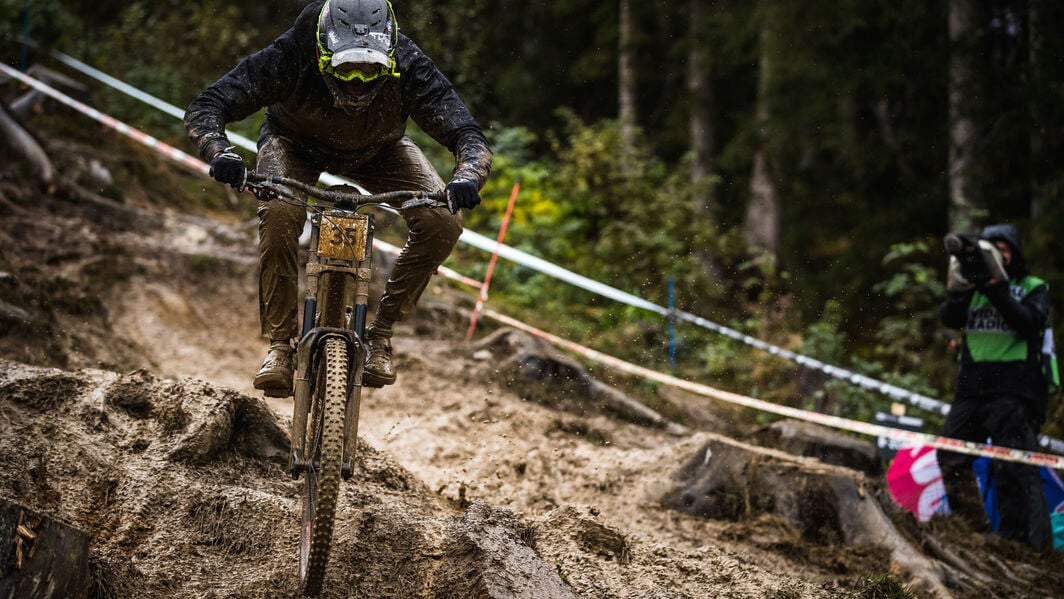 Next up was the Women's Elite race. FMD Racing Team's Tahnée Seagrave made a rapid start, going green in the first three sectors. Demonstrating all her mental steel and technical skills, it was an impressive comeback performance from the British rider who suffered an injury at the start of the year. Unfortunately, she fell in the decisive fourth split, causing her to lose vital seconds. In the end, she placed 11th.


Right after, the Men's Elite race got underway. Just like for everyone else, it was straight down to business: no World Cup races to warm up with, no season to build up through. Just all-in, with everything on the line. And again, the riders here had to battle through the new lower forest section. Our three Australian riders took up the challenge on their Sender CFRs . Last year's Junior World Champion Kye A'Hern was the first, recording a strong 17th place time. Last year's silver medallist from Adelaide, Troy 'Mr. Consistency' Brosnan, had gold in his sights, pulling off a stellar run. However, an unfortunate crash in the lower section of the forest put paid to his chances – in the end, he managed a solid 8th. Compatriot Jack Moir has stated his aim of concentrating more on Enduro racing and to only compete in selected Downhill races: so he took to his Downhill bike, and posted a hugely impressive time. 6th overall. But Canyon's top performer was Canadian rider Mark Wallace. On his Sender CFR, he was able to adapt best to the weather and course conditions – on his almost-flawless run, he made it look like he'd been riding such extreme conditions all his life. His reward: a huge 4th place. In summary, the Canyon CLLCTV produced the best team performance, with three riders in the top 8. The team left Leogang confident and ready for action at the Downhill World Cup, which gets underway in Maribor next weekend.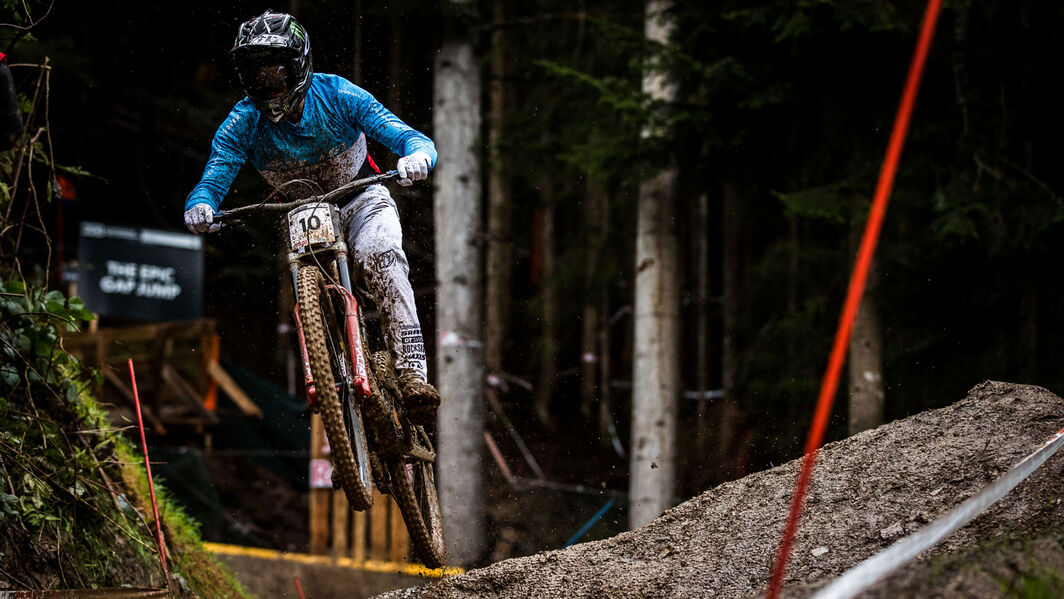 What a crazy week!
This World Championships will definitely live long in the memory, with extreme weather and course conditions. And all organised during these difficult times of Covid-19 – which also meant things looked a little different out on the course, without the usual crowds of spectators on site.

Congratulations to all our athletes – and thanks to all those who watched the live stream on their screens and cheered us on back at home.

To say thanks for your great support, we'd like to give something back to you fans as part of the Canyon CLLCTV: we're raffling off Troy Brosnan's World Championship Sender CFR from Leogang, with a special and exclusive paint design! And you can win it. How? Follow the link below and find out more:
Canyon Neuron:ON vs. Canyon Spectral:ON - Not sure which e-mtb is the right for you? Just check this post!

May 20, 2020

Rumours are spreading. About a mountain biker with incredible abilities. They say he's broken the sound barrier. That he can ride on water. And that's just the start…

May 12, 2020

With the incredible growth in Trail and Enduro riding, we've designed three specific ranges to tackle the varied terrain. Here's the crème de la crème of Canyon's 2020 offerings.

Oct 7, 2020