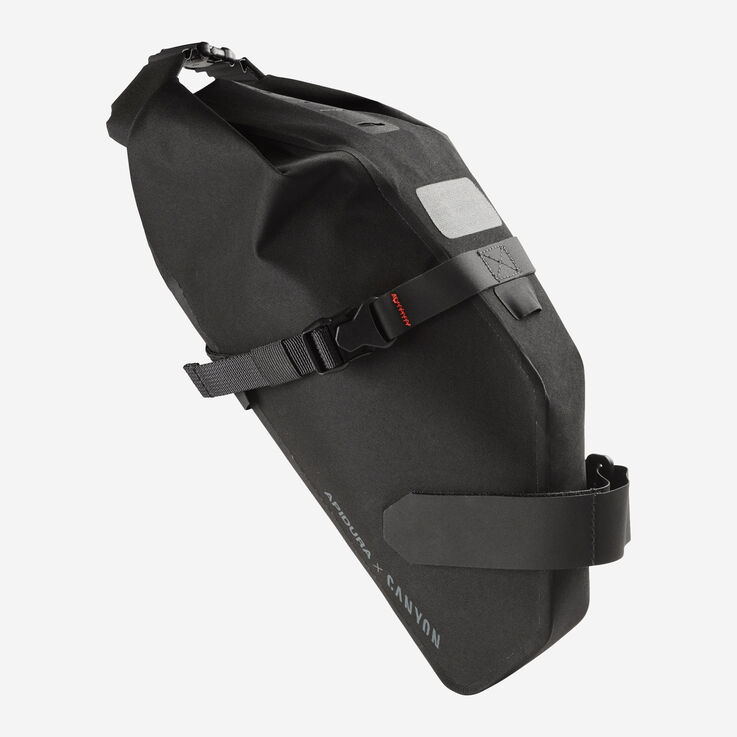 Apidura X Canyon Saddle Pack
Color only available to members. Register .
30 Day Return Policy

If you're not 100% satisfied with your Gear purchase, return it within 30 days in an unused condition for a full refund. The 30 day period starts once you receive your goods and is complied with by return of the goods to us within 30 days.

2-Year Guarantee

We take responsibility for defective products. If you notice any inherent issues with your Gear within a two-year time frame of receipt, please fill out a Guarantee Request under Customer Service below.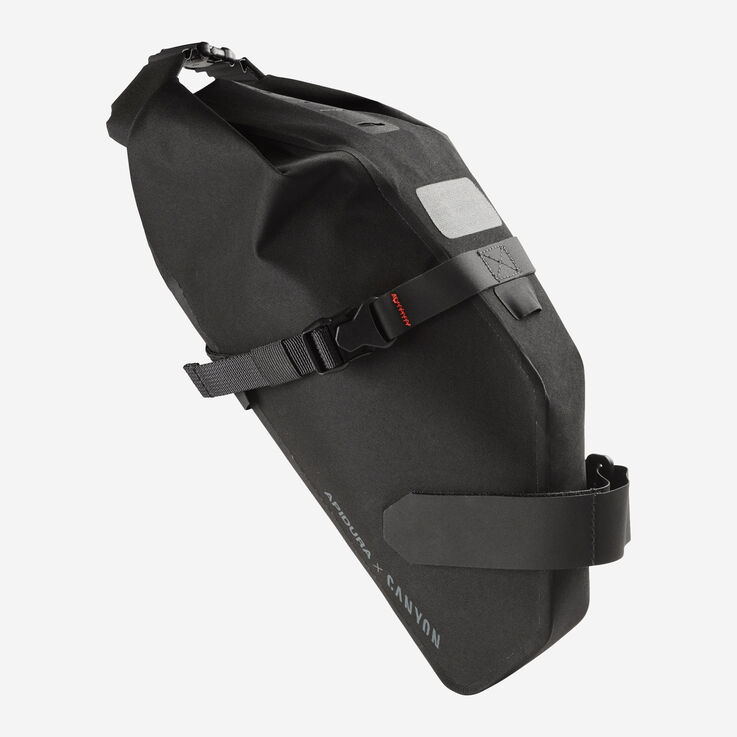 Apidura X Canyon Saddle Pack The quintessential bikepacking bag, reimagined to perfectly complement the Canyon Grizl. The Apidura x Canyon Saddle Pack is ready-for-adventure and performance-oriented. Much like the Grizl, the pack is designed to be lightweight and rugged enough to tackle anything from the hour-long spin before work to a 200-mile gravel race.

Constructed from an ultralight, waterproof laminate developed for Apidura and reinforced with an abrasion resistant panel, the seat bag is designed to fit ergonomically under the saddle, minimizing sway and reducing drag. A roll-top closure provides adjustable capacity, and tailored webbing, straps and buckles shed extra weight, while ensuring the simplest setup for ease of use when every second matters.
Apidura X Canyon Saddle Pack Gallery
Features
Made from Hexalon - an ultralight waterproof laminate, developed specifically for Apidura
Reinforced Structure - integrated thermoset material adds stiffness and strength
Abrasion-Resistant Panel - enhances durability, no matter the conditions
Anti-Sway Attachment - pack fastens securely beneath the saddle using a three-point attachment system
Flexible Capacity - roll-top closure accommodates different sized loads with ease
Light attachment - laser-cut into the fabric, increasing rider safety without adding unnecessary weight
Laser Etched Details - each Apidura x Canyon pack features laser etched coordinates for Canyon's HQ
Contents
1 x Apidura X Canyon Saddle Pack
We're in Control
Our business model gives us the advantage of knowing exactly where our products come from, how they are made and what they are capable of. Canyon products are exclusively available at Canyon.com, so you can trust the quality you are getting.
Disclaimer
Subject to technical modification without notice. Errors and omissions excepted.
To finance your order:
Select the 'Financing' payment method at checkout and enter the amount you wish to be financed. You will be forwarded directly to the online application page of our partner, Consors Finanz BNP Paribas. After you have entered your information, the application will be immediately checked directly online. If your application is accepted, you have to confirm your identity (1. over the Internet or 2. in a post office) and sign the contract (1. online via mTAN (SMS), or 2. print out the credit agreement, sign it by hand, and send it in by post). Your order will then be processed and we will deliver the goods to you as quickly as possible.
Instalment Calculator
No credit checks, 0% interest. Pay monthly for your order with your existing credit card.