Supporting Trails: A Spectral Giveaway
Win a Canyon Spectral AL 6.0!
Supporting Local Stoke: Canyon supports Braydon Bringhurst's mission to build trails with a Canyon Spectral Giveaway.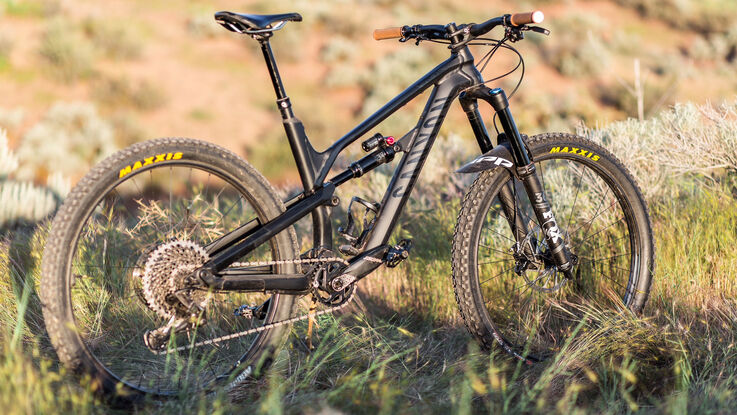 Canyon Spectral Giveaway
Canyon is supporting local trailbuilding with a giveaway.

Enter to win:
Zipp's 3ZERO MOTO carbon wheels
Every entry gives you a chance to win and supports building trails.
You want to win it? You can! Each $10 donation enters you for a chance to win the Spectral, all funds go to local trails in Idaho, and all prizes can be won by and shipped to anyone in the United States.
This fundraiser supports Southwestern Idaho Mountain Bike Association (SWIMBA) with the goal of creating a fresh network of progressive trails for the area. SWIMBA's biggest fundraiser to date, this is a chance to win The Whole Shebang. The grand prize is beyond epic: a Canyon Spectral AL 6.0 complete with a set of Zipp 3Zero Moto carbon wheels, as well as other goods from Braydon Bringhurst's other sponsors, a package totaling almost $8,500 in goods.
Giving Back
A year ago, the Boise, Idaho mountain biker was just a guy who could ride a bike really, really well. A year later, he's the darling of Instagram and YouTube, a rider who's two features have created more excitable chatter on forums following his film drops than any in recent memory. For some, this fresh fame is self-fulfilling, but for Braydon, it's a chance to give back to his local roots.
"I'll tell you a story," says Carlos Matutes, Executive Director of Southwestern Idaho Mountain Bike Association (SWIMBA). "I was talking to Braydon about a trail day at Wilson Creek—where The Whole Shebang was shot—and telling him there was going to be some NICA team kids there. Braydon was like 'hey, can we do a skills clinic beforehand?' I was like, 'well…. yeah!'"
It wasn't expected and there was no catch - Braydon was there to give. Tips. Stoke. High fives. The man behind the nose bonk that broke the internet delivered his brand of approachable, self-effacing stoke forward to show a bunch of young riders how to do anything from a simple manual to clearing gaps before the trail day began. And the kids, knowing Bringhurst as the guy who absolutely turned Captain Ahab trail on its ear with his gravity-defying riding in his debut movie Transcend, were simply riveted. So too was Braydon.
"We did a ride, just sessioning, and this gap he was hitting, he was showing them how to do a lower-consequence line," Matutes says. "These teen kids were so stoked seeing him soar this 20-foot gap, but he was equally stoked seeing them clear a two-foot gap, or manual a foot and a half. The kids love him, but Braydon lights up when he sees a kid doing something they didn't think they could do before."
And therein is the essence that is Braydon Bringhurst. Big air, big style, big heart. His smile draws in fans young and old. There's plenty of awe among fans, but as a family man, there's also a relatability that few pro riders have. How many pros respond to pretty much every comment from fans on social media?
Trailbuilding, Community Building
"I really just want to do my part, giving back to the sport," Bringhurst says. "That's always been my mission. Now that I'm a husband and a dad and part of a community, with the success I've had, I can do more with my resources than put money into my own pocket," Bringhurst says. "I feel I can do so much more to better my ride community. It's humbling to have the platform.''
Right now, that selfless drive has a singular platform: to make the Boise trails even better. Bringhurst has thrown his name and energy behind the support of Southwest Idaho Mountain Bike Association, Treasure Valley's biggest mountain bike advocacy arm tasked with building and preserving multi-use trail systems. One of his first activities has been driving what's hoped to be the state's biggest MTB tribe gathering, the inaugural Boise Mountain Bike Festival.
"There's a lot of groups that are great at trailbuilding—and we do that," Matutes says. "But we also want to put a focus toward community-building. We want to bring in more minorities, more women… more kids. Braydon has kids and sees the value in bringing them into a sport that's not as competitive as ball sports. People seem pretty excited about what we're doing. We want to get the community to get behind us."
Idaho MTB Trails for All
The end game of more trails for Boise is already underway, with SWIMBA volunteers out creating progressive new trails. With Bringhurst doing the initial testing, they're sure to be epic. "Yeah, I've been on some of them before they open, and they're looking good," he says.
Bringhurst and SWIMBA's goal is to raise funds to build and support trails for all. The drive (and bike giveaway) wrap up on August 24, 2019. "I look forward to seeing more riding opportunities out here on the trails, and sharing it with friends. The hours I've spent figuring mountain biking out… I just wanna share it!"
And for its part, SWIMBA is stoked to have one of mountain biking's most positive (and popular) figures flying the flag on their behalf. "Talking to him you wouldn't think he has a much a following as he does.. he's just really humble," Matutes says. "We respect that and try not to show pony him much. But it does help and he brings so much to the table, highlighting the great parts of our trail networks. He's getting people a little bored about our trails excited again, and the younger riders are finding a new excitement. He just wants to be of service, and that's pretty rad."