Spectral Young Hero
Color:

Shockwave

Color only available to members. Register .
Color only available to members. Register .
Current delivery times information.
Read more
$2,299.00
(Financing available for this product)
That's our quality promise – if you're not 100% happy with your bike, we're not happy either.
Front Fork Travel

140 mm

Weight

14.70 kg

Material

Aluminium (AL)
Spectral Young Hero Built around a 2XS frame, this bike is specially made for young riders and delivers impressive performance and a huge fun factor out on the trail. Add in specially adjusted and optimised suspension kinematics, and your Young Hero can enjoy the perfect balance of control and agility.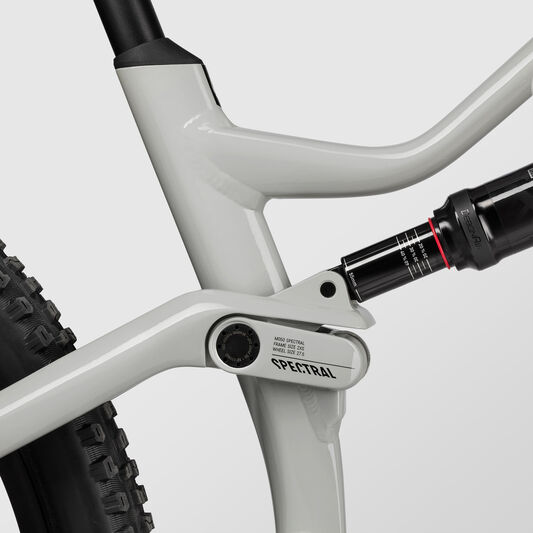 Optimised aluminium design
The Spectral AL's alloy frame is no mere copy of its carbon counterpart – we developed it independently from the ground up. To get the most from aluminium, we treated the design and manufacturing process very differently. And the results are clear to see – optimised, straighter tube sections create outstanding stiffness and strength, without the need for thicker walls. Plus a range of clever design features increase the frame's lifespan and make wrenching more rider-friendly than ever.
Fun-first geometry
For a maximum fun factor on any trail, the Spectral is built around a progressive geometry. The slack head tube angle, extended reach, and reduced-offset forks all unite to offer riders a blend of excellent high-speed stability and low-speed handling and agility. Plus, a steep seat tube angle shifts your centre of mass forward for more efficient climbing performance.
Cable and down tube protection
We've integrated a plastic cable channel into the down tube to protect the frame from flying stones and ground impacts. This feature also makes swapping cables quick and easy.
The highlights of this component set
This bike is made for young trail riders who are serious about MTB. We fit it with a range of reliable, high performance parts – top-end RockShox suspension, narrower Canyon Cockpit, and 27.5" RaceFace wheels.
Geometry Table
Understanding your bike's geometry is the key to a great fit and comfortable ride.
This category also covers the requirements of categories 1-3. In addition it includes use on very harsh, obstacle-scattered terrain with steep gradients and consequently higher speeds. Regular, moderate jumps pose no problem for experienced riders when using these bikes. Extended and regular use in bike parks should be avoided. The total system weight (rider + gear) should not exceed 90 kg. Due to increased stresses, these bikes should be checked for damage after every ride. Full suspension bikes with mid-level travel are typical in this category.
We're in Control
Our business model gives us the advantage of knowing exactly where our products come from, how they are made and what they are capable of. Canyon products are exclusively available at Canyon.com, so you can trust the quality you are getting.
Proposition 65 Warning
Warning: This product contains chemicals known to the State of California to cause cancer and birth defects or other reproductive harm.
Production Variations
We strive for complete accuracy with our technical specifications. However, specifications are subject to change without notice. Variation between posted information and actual specification does not warrant any changes, modifications, or exchanges to any products affected by a variation. If we may provide further details, please contact our Canyon USA Service Team.
Ready to ride delivery with velofix DIRECT
With velofix DIRECT, you can schedule delivery directly to your home or office. A professional technician can deliver, build, and dial in your e-bike.
Financing with Affirm Financing
Financing with Affirm Financing