Ready to ride delivery with velofix DIRECT
With velofix DIRECT, you can schedule delivery directly to your home or office. A professional technician can deliver, build, and dial in your e-bike.

Endurace CF SLX Disc 9.0 Di2
Selected color:

kerosine red
Frame Size: 2XS
Select batch number:
$5,219.98
Financing available for this product
Financing with Affirm Financing

No Hassle Assembly

We developed the Bike Guard box ourselves, to ensure your bike gets to you in perfect condition.

6 Year Warranty

On all Canyon-manufactured parts (frame, road bike fork, cockpit, etc.)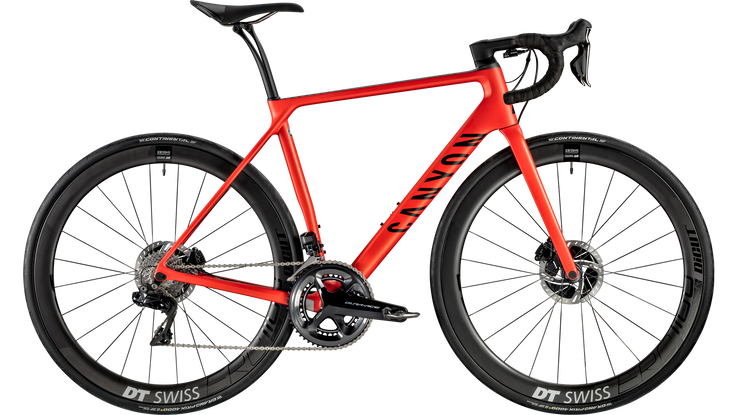 Wear level
Visual imperfections
This bike is offered at a deeper discount because there are minor visual defects from manufacturing. Please see photographs below for specific product images. All Canyon products include a 6-year warranty on our frames, Canyon-engineered components, and forks for racing bikes, triathlon bikes and commuter bikes. Please note, this bike is a final sale and may not be returned.

Bikes and framesets in this category are unridden new bikes that may have minimal color deviations, scratches or damage to paintwork. Put simply, these are bikes that don't quite pass our strict appearance quality standards to be sold as normal. However, they work just the same as any new bike, and have been assembled, tested, and (if required) repaired by our expert mechanics. The detail images show the optical defects, but there may be additional comparable optical defects elsewhere on the bike. As with all Factory Outlet bikes, these bikes come with a full guarantee just like a new bike.
Weight

7.00 kg

Material

Carbon (CF)
Endurace CF SLX Disc 9.0 Di2 The award-winning Endurace CF SLX Disc 9.0 Di2 is the flagship of our endurance road bike range, its combination of comfort, control and speed sets a true benchmark. You won't find a better balance of comfort and performance anywhere else.
Endurace CF SLX Disc 9.0 Di2 Ready for big mountain days, Gran Fondos, or whatever else you have planned. This bike feels just as capable on smooth pavement as on broken tracks and is dressed up to the nines with a premium 820 g carbon frame, Dura-Ace Di2, plus our H31 Ergocockpit, and S15 VCLS 2.0 seatpost to tip the scales at 7 kg. Don't settle for less.
All Road Bikes Outlet models