Rampage 2019: showdown in the Utah desert
Red Bull Rampage in Virgin, Utah, is the final stop in the 2019 FMB World Tour calendar – and it's also the most prestigious freeride event of the year. Only the world's very finest riders are invited.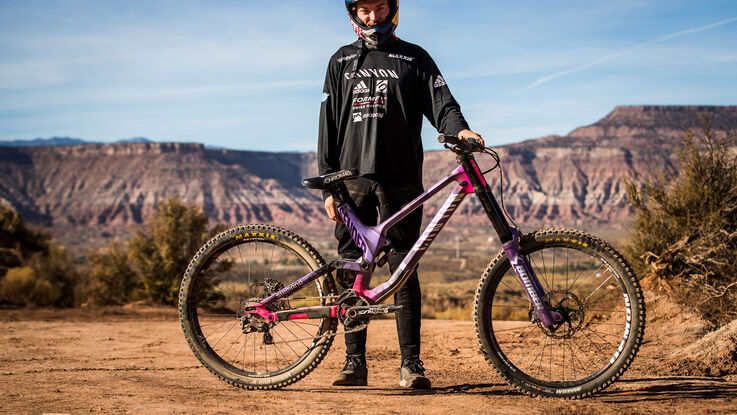 But what makes Rampage so spectacular? That's simple. The riders, together with their two-person crews, have to build their own lines on some of the biggest, steepest terrain out there. Then, they have to go out and do the business in the final. At the big showdown on 25 October 2019, the officials will be judging by four main criteria: line selection, tricks, jumps, and speed & style.
The 26-year-old Belgian Thomas Genon is one of the biggest names in the international slopestyle scene, and he'll be lining up in Utah on our downhill bike, the Sender. With his trademark style, he knows how to rack up the big scores from the judges – and he also knows exactly how to adapt his technique to the extreme, unforgiving Utah terrain. Switching from dirt jump bike to downhill rig poses no problems for this world-class rider. He's already collected four Rampage top-six finishes in recent years – in 2018, he strung together a mix of huge combos while displaying outstanding big mountain riding fundamentals to secure a fine 5th place. But this year so far, things haven't gone quite to plan…
In March 2019, Thomas went into the season with big ambitions. Then, from one second to the next, everything changed. At Crankworx Rotorua in New Zealand, his shoulder popped out in mid-air early in his run – he went down hard. Event over. Straight away, Tommy was flown back to Europe to undergo surgery, this year's dreams of consistently placing amongst the world's best riders up in smoke. Instead, he had to go through endless weeks of rehab – which also meant a long time off the bike. All of us who have had to take time off due to injury can understand the agony of only being able to watch, and not perform. But Tommy turned the pain into inspiration, putting everything into recovering and getting fit again as soon as possible. Things started turning around in mid-July – for the first time in four months, Tommy got out for a full day on his Enduro bike. He even pulled out some runs of Bikepark Châtel on his downhill bike, too. Right from the off, the shoulder felt good – things were moving the right way. In mid-August, Tommy didn't compete at Joyride in Whistler, to focus his preparation on Rampage. And right now, he's back in Utah, ready to throw down when it's competition time.
At Red Bull Rampage, Tommy G will be competing on the Sender CF, Canyon's downhill race bike. Developed for high speeds, big gaps and the most technical descents.