Rumours are spreading. About a mountain biker with incredible abilities. They say he's broken the sound barrier. That he can ride on water. And that's just the start…
Thomas Genon, aka Tommy G.

Age: 26. Nationality: Belgium. Profession: pro mountain biker.

Without doubt, Tommy is one of the top pros on the global freeride scene, famous for his unique style on the bike. The facts are crazy enough – but the legends are even crazier. They say he was the first rider to shred on the moon. They say he's broken the sound barrier. Rumour has it that he can even ride on water. And that's just to get warmed up. Don't believe us? Well, here's the proof:
Four questions for Thomas Genon
Which of the abilities in the video would you like to have in real life? Why?
As I am terrified of water, I would love to be Tommy Jesus so I could ride on water!
What's your favourite outtake scene that was NOT shown in the credits – and why?
I would have loved to have seen the behind-the-scenes video of the fake nose manual. It ended up a lot more dangerous and complicated to fake it than try a real one!
What was your favourite trail in Lenzerheide – and why?
There is one trail starting up high and going all the way down; it's a sick little adventure! Through small lakes, past cows, crazy landscapes. At the top there is even a bit of snow. You can see me ride these trails in the video!
What's your favourite Canyon bike?
That's impossible to answer! I rode the Torque, Sender, Strive, Spectral and of course the slopestyle bikes. . I love riding everything and each bike is just insane!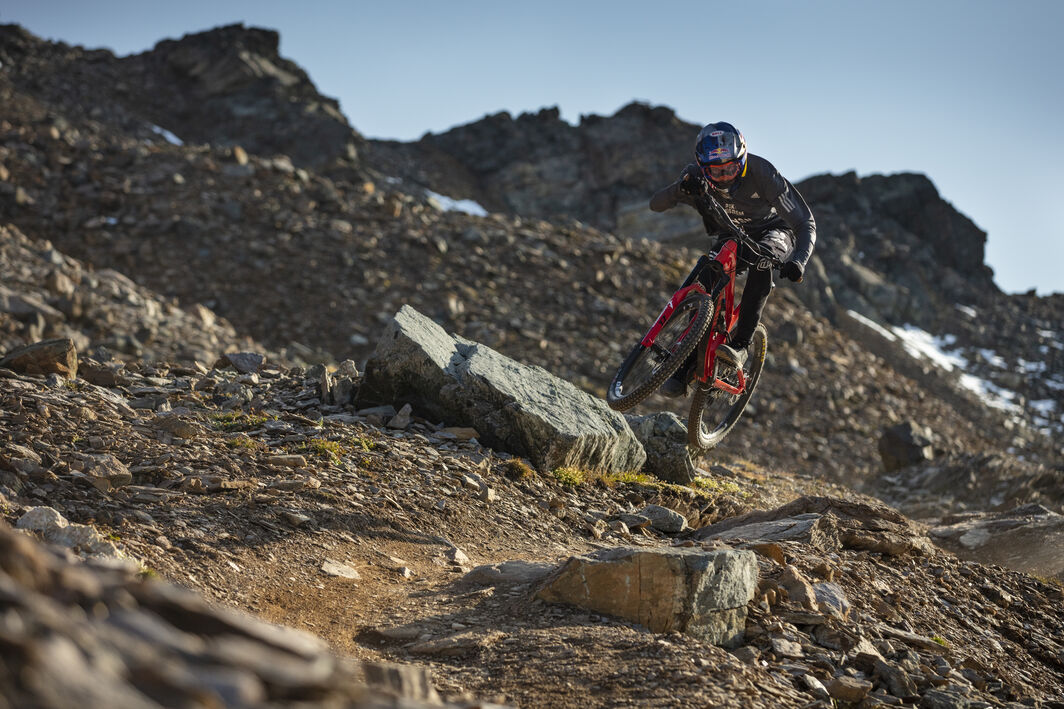 Which one will you choose?
When he's at the bikepark, Tommy G rides the Canyon Torque, our ultimate freeride bike built for max fun bombing downhill trails and jump lines. It's kitted with everything you need to run endless party laps with your mates: a hard-as-nails aluminium or carbon frame, agile 27.5" wheels, and 180 mm of travel. It's nimble on the ground and in the air, boasts huge suspension reserves, and it's available in a massive range of colours and spec levels. And if there's no gondola or shuttle to take you to the trailhead, you can climb efficiently thanks to a steep seat angle and dropper post. Call it an enduro bike, call it a freeride bike, call it a park bike. We call it the Torque.

Want to break the sound barrier like Tommy G, and save every second on the toughest downhill courses out there? Or land the biggest gaps you can find, Rampage-style? Then you need the Sender, our downhill race bike. With an efficient suspension setup with a huge 200 mm of travel, bomb-proof frame, and motocross-inspired construction, this rig has everything you need to go faster. It's built for riders who compete on the world's roughest downhill tracks, putting it all on the line for the win. It's also proven at World Cup level – when you compete at courses as varied as Val di Sole and Fort William, your bike needs to answer a completely different set of demands every week. For more stability or agility, you can adjust the chainstay length and steering angle. And a long, slack geometry allows for huge speed even when the trail gets treacherous. Put simply, with the Sender, you can ride anything.

Check out the bikes here:

TORQUE: Today: bikepark. Tomorrow: enduro trails. The true definition of Freeride.

SENDER: Built to beat the clock on extreme descents. A pure downhill race bike.
27.5", 29er or mullet bike setup? Let's take a look at the pros and cons!

Dec 1, 2020

With the incredible growth in Trail and Enduro riding, we've designed three specific ranges to tackle the varied terrain. Here's the crème de la crème of Canyon's 2020 offerings.

Oct 7, 2020

Canyon Neuron:ON vs. Canyon Spectral:ON - Not sure which e-mtb is the right for you? Just check this post!

May 20, 2020