Commuter:ON
A lightweight e-city bike with the essential features you need to get around town, quick.
No traffic, no parking, no pollution
The Commuter:ON is lighter than anything else in its class.

We did it by developing a light, strong aluminium frame, fitting a compact motor, and integrating essential city riding features.

The result: a fast e-bike that's light enough to carry around easily.
A compact, light Fazua RIDE 50 EVATION motor
Range

75 km*

Battery capacity

250 Wh

Max support

250 W

Top speed

25 km/h
The light, compact drive system offers enough torque and range to power you round town without adding significant weight.

You can also ride the Commuter:ON without a motor. Just fit the Fazua downtube cover (available separately).

* Varies depending on rider & bike weight.
2 stylish frame designs
To give riders of all sizes and physical capabilities the same performance and functionality, we created 2 different Commuter:ON frames.
Mid-step
Easier to mount and dismount. Even with a rear rack packed full of gear.
Step-over
A bold and more dynamic design, with an elegant, strong top tube line.
Dual-fit cockpit design
You can adjust the cockpit up and down by 10 mm to find the perfect fit.

The system uses a hidden spacer, keeping the cockpit looking super-clean, while also allowing ergonomic adjustments.
Commuter:ON 7

Fazua RIDE 50 EVATION, Shimano Deore XT, 12-speed

3.299,00 €

or from 549,83 €/Mo.

Commuter:ON 7 WMN

Fazua RIDE 50 EVATION, Shimano Deore XT, 12-speed

3.299,00 €

or from 549,83 €/Mo.
The E-City experts
Commuter:ON FAQs
Commuter:ON: How far can I ride on a single charge?

Commuter:ON: How much does the Commuter:ON weigh?

Commuter:ON: Can you charge the battery with it both on and off the bike?

Commuter:ON: What is the rack weight limit?
E-City Gear
Commuting or just cruising around town, our E-City Gear collection keeps you comfortable in style.
Buy today
Flexible ways to pay for your Commuter:ON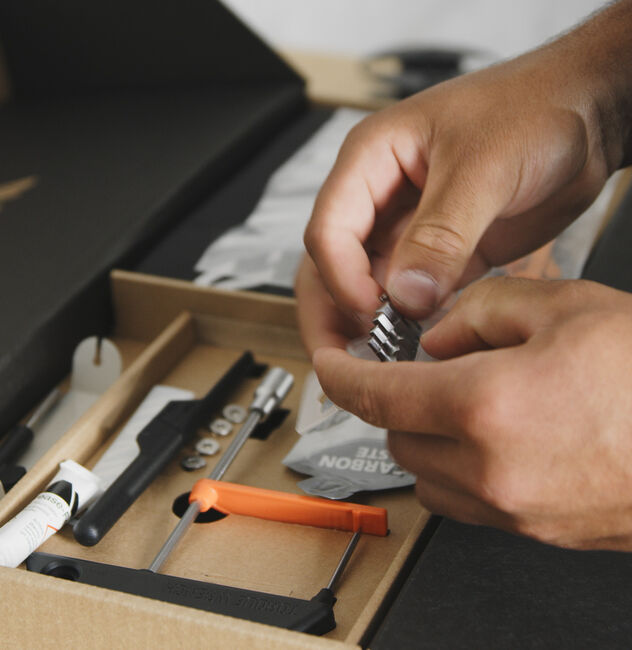 80% assembled
Unboxing and building your Commuter:ON