GRL PCK collects sunshine in Gran Canaria
Find out how the GRL PCK trip to Gran Canaria went and grab some tips before you head there yourself.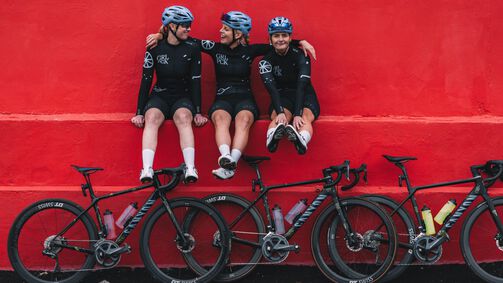 It's well known that Gran Canaria is one of the best cycling holiday destinations. Year after year, riders flock there in their thousands to enjoy the quiet, smooth roads of the Spanish island. But what happens when you get three best friends together for a week of riding in Gran Canaria?
Winter Sun Awaits
Blue skies, short-short outfits and finally the chance for tan lines in January – three very good reasons for us (Ami, Lawra and me, Laura) to escape the cold and get a little taster of how summer will be in a few months' time.
Two of us had already been to Gran Canaria a few years ago, so we knew what to expect. The island is very green, has the most hours of sunshine and a little less wind compared to the other Canary Islands. Along with many friendly tanned pensioners and a couple of serious cycling fans you can also spot some pros training there during the European winter.
The main reason for this is the variety of climbs. If you are really into climbing - this is your island! There is everything from nice and steady (Soria), high and cold (Pico de Las Nieves), beautiful switchbacks (Tauro Pass) and also a long wavy coast road to enjoy.
Check out our collection on Komoot with a few of our favourite routes. There's a little bit of everything including some long days but also more chilled options.
Learning the hard way
If you don't like climbing, don't go to Gran Canaria! However, we saw more people on e-road bikes than ever before. Ami, Lawra and I chose to take our Canyon road bikes to experience everything Gran Canaria can throw at us. The Endurace is always a good choice of to take, because it has the perfect gears for climbing. Pro tip: if you use the Eurowings credit card for your booking, all your bikes travel for free.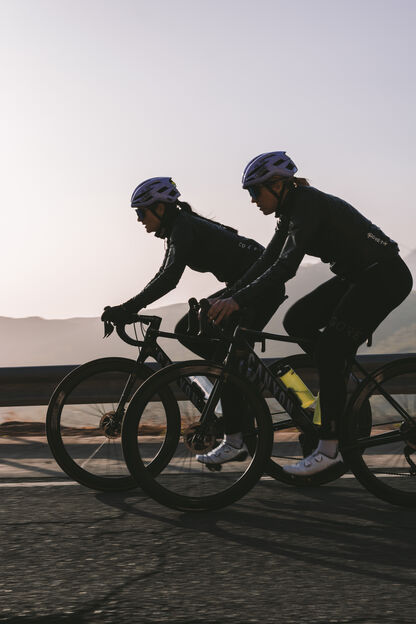 Some roads are annoying and bumpy (for example the road up to Ayacata). We were riding with 28mm tyres but we've already decided that next time we will take 30 or even 32 mm tyres for more comfort.
The highest point of Gran Canaria is "Pico de Las Nieves". 'Nieves' means snow, which translates to take a warm cycling jacket and maybe even gloves and leg warmers with you for this climb in January. We needed all of the above and wished for more!
Be careful what you have for lunch in a Spanish country. We thought 'papas arrugadas' (the island's national dish) would be the perfect carb loading snack before a long climb. It consists of wrinkled potatoes boiled in a lot of sea salt with a delicious mojo sauce. Turns out this sauce basically consists mostly of garlic, which was not a fun taste in our mouths for the next 3 hours on the bike (probably even for the next 3 days) after eating this tasty dish!
Car drivers were really friendly and they passed us with care while we were out on the roads.
What's next for GRL PCK?
Some of us have just signed up for 'The Rift' - an intense gravel race in Iceland. Even though it's in June, we have to expect cold temperatures and river crossings. We're excited to take our Grizl gravel bikes on holiday this time.
The other great Endurace adventure planned for this year will be Rad Race Tour de Friends in Italy in September, which you can sign up to here.
See you there!
Collect kisses not koms!
GRL PCK
The e-bike boom is going from strength-to-strength, as more and more people are coming back to cycling thanks to the power, and enjoying the health and ease of getting around. They're even taking them with them on holiday and using them instead of a rental car. Here's all you need to know about travelling with your Canyon e-bike.