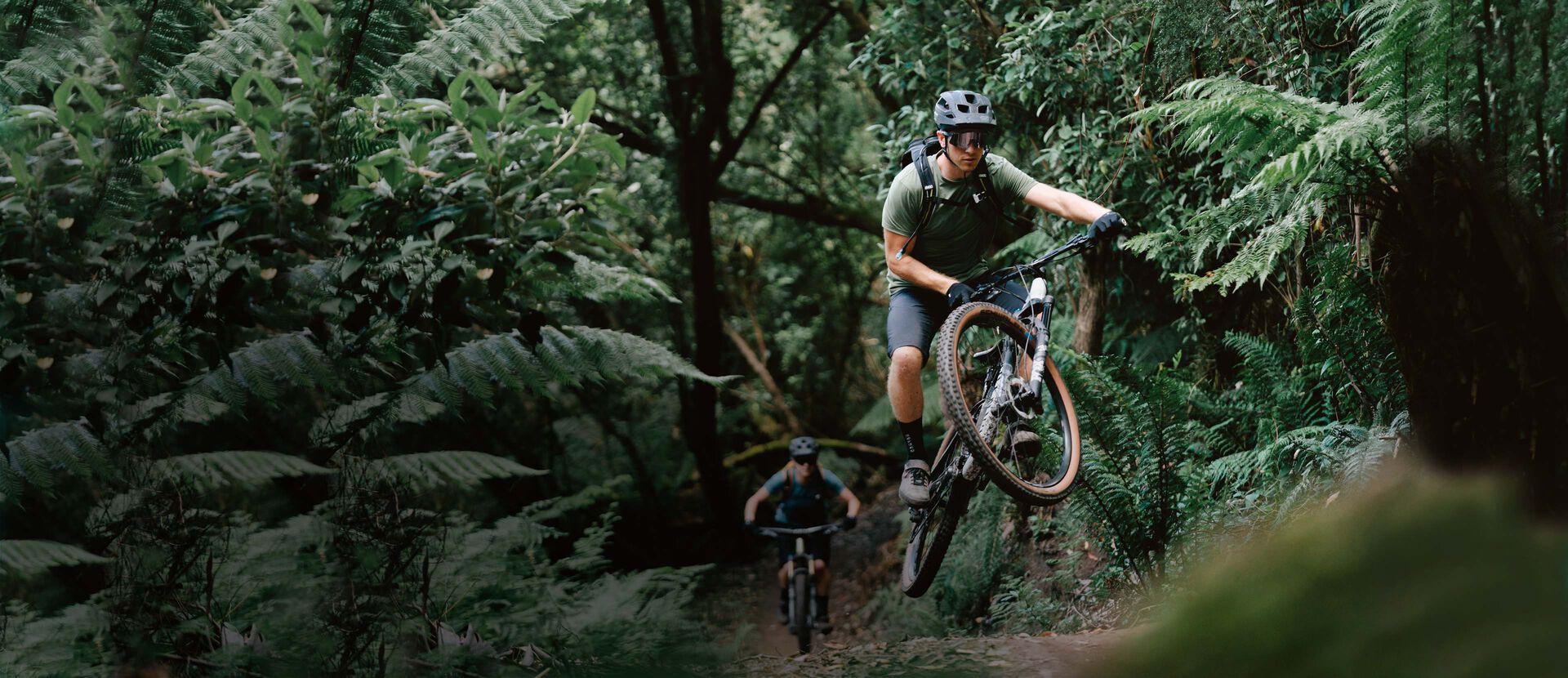 Mountain Bikes
Full-suspension or hardtail? 29er or 27.5? Electric mountain bike or pedal power? We've got you covered.
Confidently capable
Adventure is calling. Now even more trail-capable than ever, the new Neuron 5 offers all-day comfort and trail riding prowess at an entry-level price.

Trail bikes
Spectral
For every rider and every trail the full suspension Spectral is now even more versatile.
Mountain bike finder
Find your dream MTB
We know it can be tricky to choose the perfect bike. Try our new mountain bike finder to help you find the perfect match.
SRAM GX Eagle AXS Transmission, FOX 34 Float Performance GRIP

Color:

Real Raw

Color:

Barely Olive

Shimano SLX M7100, Fox 38 Rhythm Grip

Shimano XTR, 12-speed, FOX 32 Step-Cast Factory Remote

SRAM GX DH 7s, FOX 40 Performance Elite Grip

Color:

In The Valley

Color:

Out Of The Dunes

Shimano Deore M5100 11s, Suntour X1 Coil 27.5

MTB finder

We'll help you find your dream MTB, in a flash.

SRAM GX DH 7s, FOX 40 Performance Elite Grip

SRAM X01 DH, FOX 40 Factory GRIP2

SRAM X01 DH, FOX 40 Factory GRIP2

SRAM X01 DH, RockShox Boxxer Ultimate RC2

SRAM X01 DH, RockShox Boxxer Ultimate RC2

SRAM GX DH 7s, RockShox Boxxer Select RC 29"

SRAM XX1 Eagle AXS, RockShox Zeb Ulimate RC2

SRAM GX Eagle, RockShox ZEB Select+RC 29

Color:

Exhaust Black

Color:

Big Bamboo

Shimano SLX M7100, FOX 36 Rhythm Grip

SRAM GX Eagle, ÖHLINS RXF36

SRAM GX Eagle, ÖHLINS RXF36

SR Suntour XCR, Shimano DEORE XT M8100

859 US$

999 US$

You save 140 US$

Shimano DEORE M6100, Suntour X1 Coil 29

659 US$

799 US$

You save 140 US$

SRAM GX Eagle AXS, FOX 34 Float Factory FIT4

4,179 US$

4,649 US$

You save 470 US$
Parts and accessories for your mountain bike
Whether you're looking for the latest kit, computer mount, pedals, mudguards or you just want to personalise your ride, you'll find what you need in Gear.
Bike service direct from the experts
Canyon Service

An annual inspection will prolong the lifespan of your bike and keep all major parts working perfectly.

Learn More
If you're shopping for a new mountain bike, you're going to face an important choice: should you buy a full-suspension bike or a hardtail ride? Many different factors come into play when deciding on your ideal setup. The configuration that's right for you depends on your weight, the terrain, cost, maintenance and more.
Buy a Mountain Bike online
Canyon offers a variety of high-quality mountain bikes for every type of rider, from cross-country enthusiasts to downhill thrill-seekers. Whether you're a beginner or a seasoned pro, Canyon has a bike to suit your needs. With options like hardtail or full-suspension, as well as e-mountain bikes and youth models, Canyon has something for everyone. Read on to learn more about each type of bike and why Canyon is the perfect choice for your next mountain biking adventure.
If you're looking for a high-quality mountain bike, look no further than Canyon. We offer a wide range of bikes for every style of riding, including cross-country, trail, enduro, e-mtb, downhill, dirt jump, fat bikes, and youth mountain bikes.
Cross-Country mountain bikes
For those who love long, fast rides on smooth terrain, our cross-country mountain bikes are the perfect choice. These bikes are lightweight and efficient, making them ideal for covering a lot of ground quickly.
Explore our cross-country mtbs
Trail mountain bikes
Our trail bikes are designed for riders who want a versatile bike that can handle a variety of terrain. With a balance of speed and stability, these bikes are perfect for riders who want to explore new trails.
Enduro mountain bikes
For riders who want to tackle more challenging terrain, our enduro bikes are the way to go. These bikes have longer suspension travel and are designed to handle more aggressive riding styles.
E-MTB
If you want to take your mountain biking to the next level, try one of our electric mountain bikes. These bikes have a powerful electric motor that gives you extra assistance when you need it, making it easier to tackle tough climbs and go further than ever before.
Downhill bikes
Our downhill mountain bikes are designed for riders who want to go fast and tackle the most challenging terrain. With long suspension travel and a low centre of gravity, these bikes are built for speed and control.
Dirt Jump bikes
If you're looking for a bike to take to the skatepark or dirt jumps, our dirt jump bikes are perfect. These bikes are built to handle big jumps and stunts, with a lightweight frame and strong components.
Fat Bikes
Our fat bikes are designed for riders who want to tackle snow, sand, or other soft terrain. With wide tyres and a low tyre pressure, these bikes offer excellent traction and stability on unstable surfaces.
Youth Mountain Bikes
For young riders who want to explore the trails, our youth mountain bikes are the perfect choice. These bikes are designed specifically for kids, with smaller frames and components that are easy for them to handle.
Hardtail vs. Full-Suspension
The decision between a hardtail mountain bike and a full-suspension mountain bike ultimately comes down to personal preference and the type of riding you plan to do. Hardtail bikes have a rigid rear end, which makes them more efficient for climbing and more affordable than full-suspension bikes. Full-suspension bikes have a rear suspension that absorbs more shock and provides more comfort on rough terrain. Ultimately, it's up to you to decide which type of bike is right for you.
Why Choose Canyon?
Canyon is committed to creating high-quality bikes that meet the needs of every rider. Our bikes are designed and built with the highest standards of quality and performance, so you can trust that your Canyon mountain bike will perform at its best every time you ride. Additionally, we offer direct-to-consumer sales, which means that you can get a high-quality bike at an affordable price. Choose Canyon for your next mountain bike and experience the ultimate ride. Explore our range of mountain bikes.