Cycling Clothing
From your feet to your head, we've got you covered. Shop our range of cycling clothing, meticulously designed by Canyon or selected from the leading brands for top performance in every category. Wherever you ride, do it in style.
Gear - Clothing
NINEYARD collection
Canyon and NINEYARD have created a bespoke co-branded collection.
Send it to the moon when you're riding and look fly when you're not.
Keep on shredding
With technical tees to wicking waterproofs our MTB clothing gives you the freedom to tackle the trails.
Adventure Collection
Our clothes are built from our understanding of bikepacking. They're versatile, packed with features, protective and stylish. Perfect on or off the bike.
Our clothing is designed for the rigours of bikepacking. From odour-resistant merino to lightweight and waterproof jackets, stay protected and ready for everything. This is durable clothing for daily use.
Shop now
New Clothing
The latest colours, sizes and innovative products designed to improve your riding experience. Take a look at our latest clothing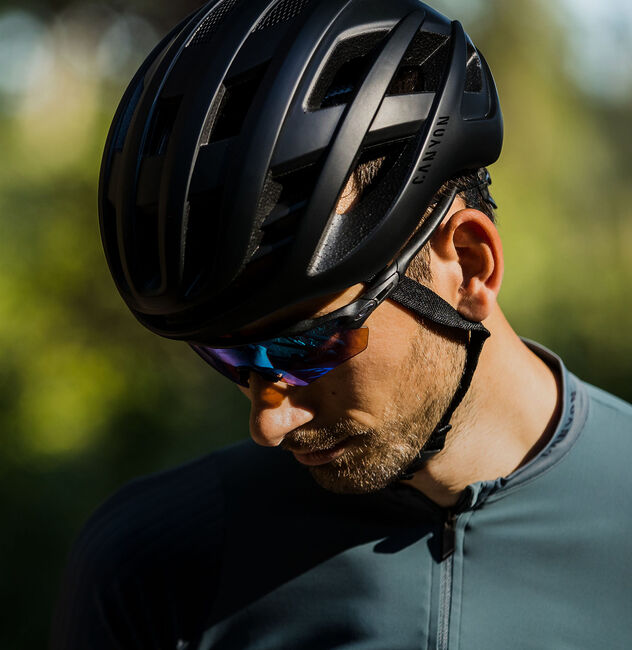 Helmets
Stay safe and protected with our selection of helmets
Canyon Casual Wear
Ideal apparel for days off the bike, explore the range of Canyon casual wear
All products of category Clothing
Color:

petrol

Color:

black/violet

Color:

black/turquoise

Color:

black/pink

Color:

black/purple

Color:

black

Color:

black/blue

Color:

black/sand

Color:

black/green

Gear clear out

Raise your gear game. Huge reductions in the Outlet (while stocks last).

Color:

violet

Color:

turquoise

Color:

black

Color:

orange

Color:

blue

Color:

green

Color:

black/petrol

Color:

orange

Color:

pink

Color:

rose

Color:

black/grey

Color:

black

Color:

blue

Color:

sand

Color:

lilac

Color:

black/orange

Color:

black/pink

Color:

black/grey

Color:

black

Color:

black/blue

Color:

black/sand

Color:

black/lilac

Color:

black

Color:

orange

Color:

red

Color:

purple

Color:

black

Color:

grey

Color:

white

Color:

green

Color:

blue

Color:

red

Color:

light green

Color:

sky blue

Color:

orange

Color:

red

Color:

white

Color:

black

Color:

white

Color:

black

Color:

black

Color:

green

Color:

black

Color:

green

Color:

red

Color:

white

Color:

black
Why is cycling clothing so useful?
Special cycling clothing has a huge advantage over conventional everyday clothing because it is functionally designed and significantly increases riding comfort. Functional cycling clothing not only increases comfort in a wide variety of weather conditions, but also makes cycling a lot more fun.

Anyone who has ever spend a day on the pedals and got completely soaked knows just how much you wish for good quality cycling clothing. Special cycling clothing ensures that moisture from rain does not get on to your skin and perspiration can be wicked away from your skin to the outer layers of your clothes. Breathable materials allow this moisture exchange.

In addition, functional cycling clothing is developed in such a way that it does not chafe in key areas such as between your legs. The tailored cuts and integrated reinforcements not only ensure comfort but also last the test of time. Special cycling clothing offers good thermoregulation meaning you can keep riding for a long time.


What do you have to consider when buying cycling clothing?
When buying special cycling clothing, there are a few aspects that need to be considered. In this list we show you what you should look out for when buying functional cycling clothing:


The manufacturing plays a major role in high-quality cycling clothing. High-quality materials are used in our cycling clothing and they won't let you down.
High breathability is particularly important for good moisture balance.
he waterproof rating of cycling clothing is indicated by the water column. The higher the water column value (in mm), the more waterproof the material is. With a water column of 10,000, you're already very well protected from the rain.
In the course of waterproofing, sealed seams are also particularly important. Seams connect the fabric panels and are the weak points. However if these seams are welded, no moisture can get through.
Freedom of movement and fit play an important role in cycling clothing. Your cycling clothing shouldn't be too tight or too loose. Instead, it should fit perfectly to your body.


Cycling clothing for road bikes
Functional clothing is crucial on a road bike. It's not surprising that you tend to only see well-equipped racing cyclists on the road. In addition to the aforementioned advantages of breathability, waterproofness and warmth, ergonomics and a perfectly fitting road cycling clothing are particularly important. There is also a chamois pad in the bib shorts or bib tights, which ensures you can sit in the saddle for longer.
Canyon offers you different bike clothing for women and men, including bike clothing from Alpecin-Deceuninck, Movistar, CANYON//SRAM and Arkea-Samsic professional teams:


Cycling clothing for mountain biking
Cycling clothing for mountain biking uses the advantages of breathability, waterproofness and good fit and combines it with great durability. Jerseys, cycling jackets, tights and shorts for use on mountain bikes are hard-wearing and tear-resistance so that the fabric is less likely to be damaged in the event of a fall. Mountain bike clothing is usually combined with protectors and gloves. When it comes to protectors, knee and elbow pads are preferred often in combination with body armour. They are supplemented with shin or ankle protectors, neck protectors and of course a suitable bicycle helmet.
More MTB clothing:
Cycling kit for every season
Anyone rides bikes all year round should stock up on a basic set of high-quality cycling kit. It should consist of short jerseys and shorts for the summer, as well as longer tights and a cycling jacket for the colder days and as protection against the wind. A base layer can be worn all year round and increases all year round. In the following sections, we do a deep dive into all the different types of cycling clothing you need for the different seasons.


Cycling clothing for the winter
Functional winter cycling clothing is especially important in the cold months of the year. Good kit protects you from the cold and wet and ensures a more comfortable ride despite the icy conditions. You should not skimp on good winter clothing if you plan to ride throughout winter.


For the head:
Under the helmet, a warm and windproof cycling cap should cover your head and provide warmth. Cycling glasses with yellow lenses make a cloudy winter's day a little more enticing by providing high contrasts.


For the upper body:
Your upper body should be dressed according to the onion principle in winter. It all starts with a breathable base layer, which is an undershirt made from material that quickly transports sweat away from your skin thus keeping you warm. A thermal layer such as a winter jersey is suitable on top. The final layer should be a close-fitting softshell jacket, waterproof or other windproof layer.


For the legs:
In winter, tight-fitting thermal cycling tights are best for keeping the moisture at bay. Mountain bikers often combine thermal tights with looser MTB shorts over the top.


For the feet:
In winter your feet cool down quickly when cycling. Cycling shoes designed specifically for winter are here to help. Overshoes are waterproof and windproof covers pulled over the tops of your normal cycling shoes. These are suitable for road cyclists and mountain bikers who use clipless pedals.


Summer cycling kit
Cycling clothing in summer is not as extensive an issue as clothing for winter, however there are some items of kit for men and women that make sense during the hotter weather:


Make sure you wear breathable cycling socks to avoid sweating too much
Cycling shorts with pockets (sometimes called cargo shorts) are ideal for summer. Bib shorts with a chamois pad are sufficient for road cyclists and gravel riders.
A technical base layer close to your skin does no harm in summer either. Moisture is quickly transported to the outside and your body will keep cool.
A lightweight jersey over the top of your base layer is perfect.
Depending on the purpose, a suitable helmet should round out your summer kit.
Sunglasses with tinted or photochromatic lenses will improve your vision during peak hours of sunshine.


Cycling clothing for the shoulder seasons (autumn and spring)
In spring and autumn, the weather is often changeable. Sometimes it's warm, then cold again before a rain shower sweeps through your ride. If you're well prepared when it comes to cycling clothing, you'll be fine.

It makes sense to use your summer cycling kit and supplement it with these extras:


Arm and leg warmers provide extra warmth when the sun goes down or when a chilly breeze starts blowing.
A light rain jacket in your jersey pocket or backpack lets you stay dry in a brief rain shower and also acts as a windproof layer.