Canadian ripper, Jesse Melamed, joins the Canyon CLLCTV Enduro squad
Enduro World Series Winner, Jesse Melamed, will be joining their Enduro roster in 2023.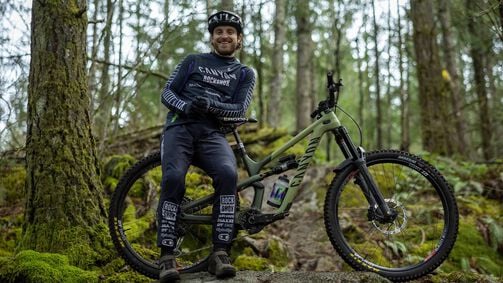 After months of rumours, the Canyon CLLCTV Enduro Team are proud to announce reigning Enduro World Series Winner, Jesse Melamed, will be joining their Enduro roster in 2023. Racing alongside Dimitri Tordo and Jose Borges, Jesse will complete one of the most competitive teams on the Enduro circuit.
Jesse took home the overall title from last year's Enduro World Series, after a hotly contested season. However, this isn't the first time the Whistler local has finished as the highest ranked rider in the series. Jesse also came out on top at the conclusion of the 2020 race calendar, although on this occasion no title was awarded due to the shortened season. Technicalities aside, there is no doubt that in recent years Melamed has become one of the fastest Enduro racers on the planet.
"Jesse has shown incredible speed in the past seasons, and already his input and approaches to racing and finding speed on track have been super valuable. Without a doubt Jesse will add a vital dimension to the team. His great performances will help us get to the next level as one of the most inspiring teams on the UCI EDR circuit" said team mentor, Fabien Barel.
With a long list of victories and podium results since the very early days of the sport, the Canyon CLLCTV Enduro outfit is stoked to have another huge talent in the line-up. Joining the Canyon CLLCTV Team will hopefully give Jesse everything he needs to continue to battle for titles.
"I am stoked to be a part of the Canyon CLLCTV! Canyon is a brand that is passionate about racing and one that will always push the limits of what is possible, and that's an exciting journey to be a part of. I can't wait to see what we can achieve together." says Jesse coming into the 2023 season.
Canyon CLLCTV Factory Enduro Team is lucky enough to work with some of the best partners in the biz on their hunt for glory. SRAM, RockShox, Troy Lee Designs, DT Swiss, Maxxis, Crankbrothers, Ergon, E-13, Chris King, Dynamic Bike Care and Maurten will support the team in 2023.
The new season starts on the 25th of March, in Tasmania, Australia. Follow all the action from the team at https://www.instagram.com/canyon_cllctv/
About Canyon Bicycles
What started life in founder Roman Arnold's garage as Radsport Arnold has evolved into one of the world's leading manufacturers of road, mountain, triathlon, hybrid and kids' bikes as well as modern e-bikes. Officially renamed in 2002, Canyon works hand-in-hand with the best athletes on the planet to produce an array of award-winning bikes that embody a pure passion for riding. With a strong reputation for true innovation, implementing leading technologies, clean and clear design as well as the highest standards in quality and service, Canyon continues to expand worldwide, selling more bikes outside of its native Germany than within since 2008. As a pioneering direct sales brand, Canyon products are exclusively available online at www.canyon.com.
With numerous Red Dot Design Awards, Canyon Bicycles represent a combination of technology, design, and quality like no other company in the bicycle industry. In March 2023, they collected another award for the Roadlite:ON CF 9 LTD. So, what makes good bicycle design, and what's the creative process?