Torque:ON
Throwing whips at the bike park or scoping burly lines in the backwoods, the Torque:ON range was made to shred trail, send jumps and bring you back to the top for more.
No shuttle necessary
Torque:ON CF
Bomb it on the downhill, throw shapes on the jump line, and cruise all the way back to top with the ultimate long travel e-MTB.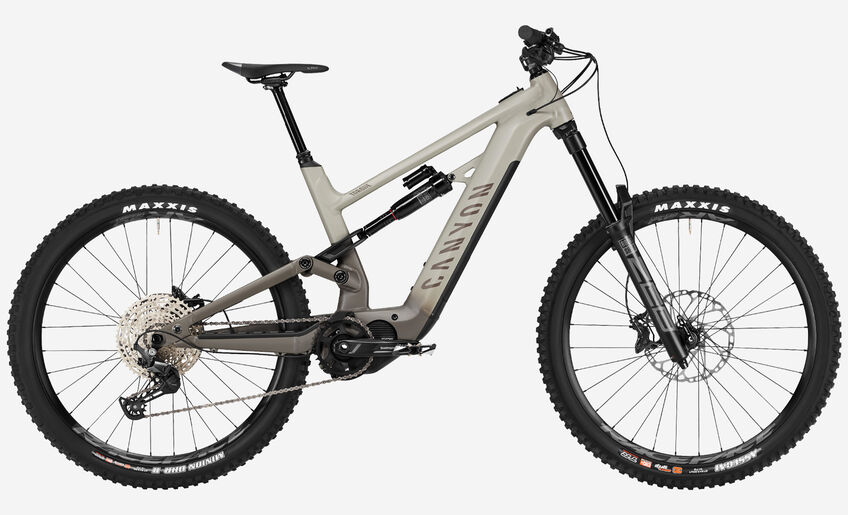 Leave the lift line behind
Torque:ON AL
Stable at speed, agile getting airborne, and powered up for lap after lap of gravity riding.
Torque:ON CF
The ultimate long travel e-MTB
Color:

Stealth

Color:

Bigger Bamboo
Torque:ON AL
For the bike park and beyond
Weight
24.6 kg

The new carbon frame shaves 1.5 kg to keep handling agile despite the larger battery options.
23.3 kg

The super-tough AL frame and lightweight battery make the Torque:ON AL playful and capable.
Wheelsizes
Mullet wheels

29 front, 27.5 rear — combine outstanding rollover and traction up front with rear-end agility for sending it on the steeps.
27.5 wheels

Smaller, lighter and more manoeuvrable. A 27.5 setup delivers an ultra-playful ride feel on the trail.
Massive battery capacity
900 or 720 Wh

Whether you have a 900 Wh battery for maximum range or 720 Wh for lower weight, both exceed the 630 Wh industry standard and are ready for a full day of laps on the hill. Note: Size small frames only fit 720 Wh batteries.
504 Wh

A battery to keep things agile and the weight down but still provide plenty of power for party laps.
RockShox ZEB Ultimate, Shimano EP801

Fox 38 Factory Grip2, Shimano EP801

Fox 38 Rhythm Grip, Shimano EP801

RockShox ZEB R, Shimano EP600

Color:

Stealth

Color:

Bigger Bamboo

Fox 38 Factory Grip2, Shimano Steps EP8 Motor

From 6.499 €

7.499 €

You save 1.000 €

Color:

Stealth

Color:

Chainsaw Orange

Fox 38 Performance Grip, Shimano Steps EP8 Motor

4.999 €

5.999 €

You save 1.000 €