The best bike rides in Copenhagen
Copenhagen has a huge range of bike rides for all abilities. Discover some of our favourites here.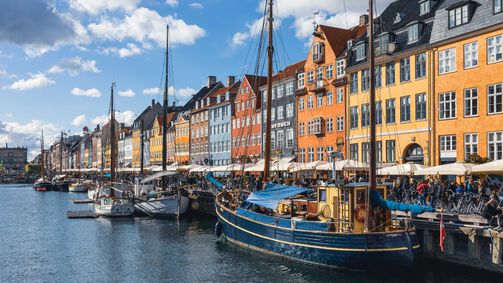 Riding a bike in the Danish capital, Copenhagen, is a fantastic experience. Whether commuting, transporting the little ones to kindergarten or dropping by friends on the other side of the city, locals live life from the saddle. Sunshine or wind, rain or snow – they aren't called "Biking Vikings" for nothing.
City bike adventures are super accessible. This is mainly because Copenhagen is at the architectural forefront when it comes to human-centric city living. It's ingenious bike infrastructure and integrated bike paths keep cycling the main mode of transport in the city. And – cool fact – there are more bikes than cars and people in Copenhagen!
Whether you're a local on a self-guided day tour or visiting on holiday, we've bundled history and culture-rich routes below to fit any riding style. Uncover the five giants, glide calmly along paths next to water or hop from jazz venue to jazz venue: these rides fit families and solo explorers alike.
Route 1: Visit the Superkilen park (30 km)
The variety of flora and fauna in Kongelunden is a remarkable sight. Flowers, birds, and all sorts of green treats such as sling, mirabelle and wild apples stimulate the senses. All of this, just a bike ride away from the traffic-filled centre.
The next stop, Superkilen, is half a mile long and houses a giant collection of global objects, representing the sixty nationalities of those inhabiting the neighbourhood. Find fountains from Morocco, swings from Iraq, exercise gear from LA, and an octopus slide from Japan!
The final stop of the tour is the South Harbour Tip, a lush, green area of Copenhagen. A good place to stop and eat your sandwiches! The peaceful vibe is a welcome break from the hustle and bustle of the main city. Spot the free roaming sheep and alpacas on your way back to Kongelunden. A truly ideal route to explore on your Canyon hybrid bike.
Discover the route
Route 2: The six forgotten giants' route (30 km)
Living calmly amongst the lush forests and calm waters of Copenhagen suburbs are the quirky wooden giants Teddy, Trine, Tilde, Oscar, and Louis. You'll fall in love with their personalities that shine through their faces and body language. Additionally, they're made from recycled materials and were built with help from volunteers!
The route is suitable for your gravel bike, mountain bike or city bike as the terrain diversity gifts plenty of hills and winding descents with stunning scenery.
Discover the route
Route 3: The jazz ride route (32 km)
The Copenhagen Jazz Festival takes place in July, so if you've booked your holiday visit for then, this one is for you! The jazz ride route connects many open-air venues (with free admission too), so don't forget your bike lock as there's plenty to explore.
Visiting Copenhagen during the other 11 months? You should still give it a spin – we recommend this route all year round as it weaves you through all kinds of interesting nooks and crannies of the Danish capital.
Discover the route
Route 4: Spot the longhorn cattle route (50 km)
Want to avoid traffic? This is a route for when your nervous system needs a break! It's particularly special, as in less than 15 minutes, you're out the urban jungle and into a real savannah.
It begins with a calming view over the still waters from the bridge before gliding along the Am beach. The path takes you along the water, where you'll spot grazing longhorn cattle along the way.
Hop off at the Naturcenter Amager to discover wide vistas, rare birds, protected amphibians, and droves of deer. Children and adults leave with renewed awe for nature all year round.
Discover the route
Route 5: Explore the Land of Skoldungerne (up to 180 km)
For a weekend-long epic, try this route exploring part of the trail in the 170 km² Skjoldungerne national park. With an awesome combo of cultural history and landscapes that formed in the ice age, the national park is named after the legend of King Shield and his remnants. Visitors with open minds and a heart full of curiosity will find an abundance of memorable gems, from the charming fjord of Roskilde to deep, lush forests.
Tick off the whole trail in one weekend or split it up into smaller sections. Either way, you will be spoilt for choice. The route houses tarmac, gravel roads, singletracks, hiking trails, coast trails and grassy areas – perfect for your gravel bike or mountain bike!
Discover the route
Bring your Canyon along for the ride
The Canyon Signature PRO bike transport bags are designed for stress-free bike transport and storage. If you're travelling to Copenhagen on holiday and don't want to leave your favourite Canyon bike behind, check out the transport range. They're ideal for touring holidays, as you skip any time-consuming hassle of removing the handlebars or rear derailleur when bringing your bike.
Travel in style with our range of transport & travel products.
See the gear
Germany is a cyclist's paradise when you know where to go. We've compiled six of the best routes for you to explore.