How to race XC mountain bikes
Your guide to getting started in the world of XC and XC marathon racing.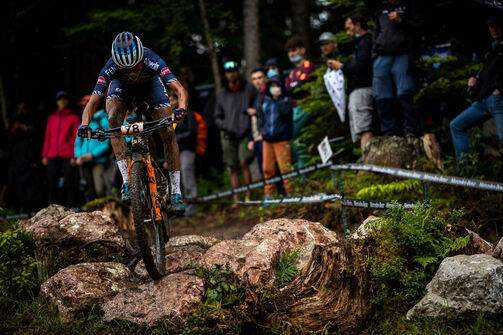 If you're looking for a bike race that's fast, technical and a true test of skill and fitness, cross-country mountain bike racing might just be it.
History of cross-country racing
The first ever cross-country MTB (also known as XC) race is thought to have taken place in 1978 in Colorado, USA. It took a further ten years until the UCI took control of the competition in around 1990. Since then, XC racing has gone from strength to strength. Some of cycling's household names are regulars on the cross-country scene, for example Alpecin-Fenix's Mathieu van der Poel.
But what is cross-country MTB racing all about? What do you need to race? How do you get started? And what kit do you need? Let's take a look.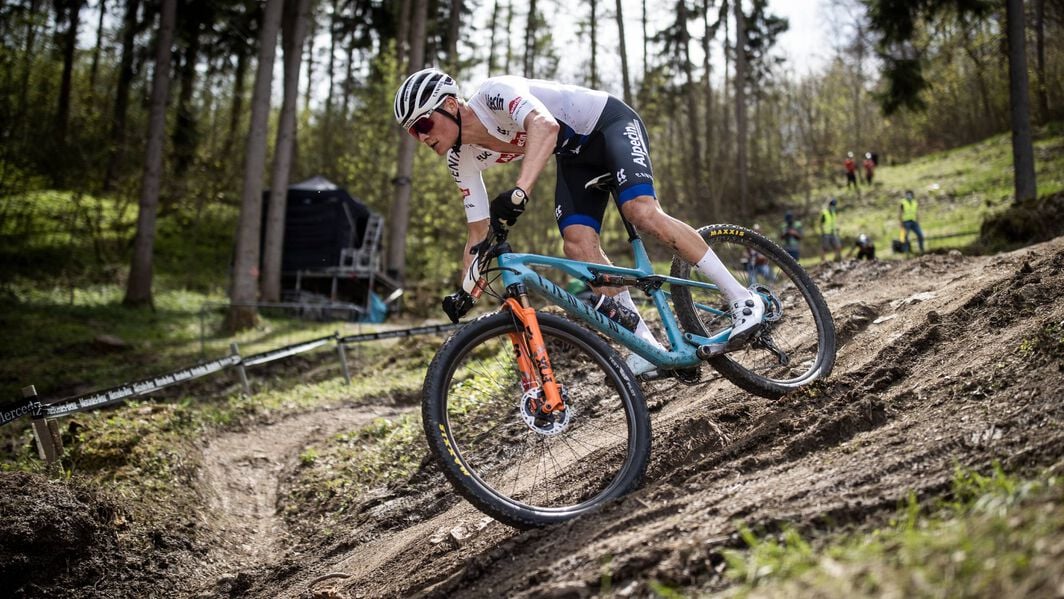 What is cross-country mountain biking?
Cross-country mountain biking is a discipline of mountain biking where riders use their technical climbing ability as well as descending prowess to challenge their skills and fitness. The emphasis is on exploring and discovery. On XC rides you'll find your tyres in contact with the ground far more frequently than other disciplines.
There are two types of cross-country racing: Olympic and marathon.
When are cross-country races?
Cross-country season begins in spring and runs until autumn. In most countries, the national governing body for the sport will deliver races as part of a league. You might need to get yourself a membership and/or licence to compete, so check with your organisation before entering.
At the elite level, the UCI oversees cross-country racing with events such as the MTB World Cup and MTB World Championships. Trade teams and national governing bodies will decide the riders they send to these competitions.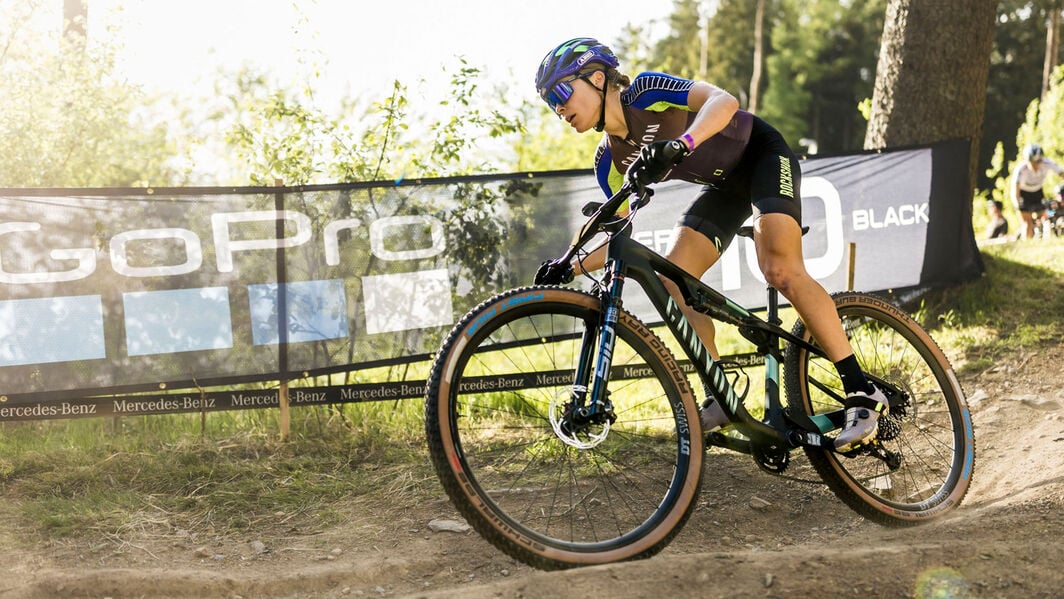 Olympic cross-country racing
Olympic cross-country mountain bike races are mass-start events. Competitors must out-sprint their opponents from the gun and try to get into the lead on an often techy course for a certain number of laps. The number of laps depends on your age and competition level. Elite and senior level riders will typically race 5-8 laps for a duration of around 90 minutes.
It's often an elbows out, full gas, heart rates through the roof event that makes for great viewing and, if you're willing and able enough, participation.
In recent years, cross-country courses have become a lot more technical by including root sections, rock gardens and ramps. A typical course will include climbs, descents and rolling singletrack sections.
During the race, riders can enter pits where their mechanics can fix any bike issues, they can change certain components and grab a drink.
The first rider across the line is the winner. Points are awarded based on finishing position and trophies are awarded for the best performing riders that season.
MTB marathon racing
The second type of cross-country racing is marathon. These races are still mass start events but the race distances are far greater than the Olympic races typically ranging from 40 km to 140 km and anywhere in between.
Similarly, there's a range of terrain including climbing, descending and smoother singletrack. However, due to the increased length, some of these climbs are much longer. Races like Dolomiti Superbike for example take riders over mountain passes in the Italian Alps (Dolomites).
A race like Cape Epic takes place over a number of stages and riders must be self-sufficient during parts of the race where mechanical support is lacking.
While some marathon events can be raced as an individual, some must be raced as a pair or a team for safety reasons. These events are great for exploring unknown territory within the safety of a pre-plotted, supported route with other racers. Your bags are taken from stage to stage and there are aid stations throughout for much-needed refreshments in the mountains.
"The thing I love about MTB marathon is how chilled out, fun and friendly it is," says MTB Product Manager Julian Biefang. "You can ride your own race, focus on your own goals and have a beer at the end of each day if you want!"
What do you need to race cross-country?
First and foremost, you'll need a suitable mountain bike. Mountain biking is a multi-disciplinary sport and the bikes differ depending on the type of riding and racing you want to do.
Cross-country mountain bikes
Cross-country is one of the few disciplines where you have the option of a hardtail or full-suspension mountain bike. Which one you choose depends on the terrain you ride. If it's technical and rocky, you'll want something with a bit more bounce (suspension) than a more straight-forward course.
A hardtail cross-country mountain bike like the Canyon Exceed is lightweight, fast and designed with victories in mind. With the absence of a rear shock, it's easy to maintain both on the trailside or at home. Hardtail mountain bikes are more affordable than their full-suspension counterparts, so they're a good option for beginners.
For racing more technical courses, you can't go wrong with a bike like the Canyon Lux. The addition of a rear shock makes the bike more capable on tough tracks. These bikes can also corner faster and take small drops and jumps. But that ability adds weight, which can affect climbing performance. An extra component also means more maintenance but it's often worthwhile.
The ultimate decision will depend on the terrain you prefer riding, your experience and of course your budget.
Our selection of XC MTB racing bikes will help you to achieve your goals and conquer your fears.
View all
What else do you need to start XC racing?
You've got your bike, but what else do you need to make sure you have in your kit bag before your first race? Thankfully, there's no specialty equipment required for cross-country racing. You'll just need a helmet, shoes and cycling kit. However, typically XC MTB apparel consists of bib shorts and cycling jerseys to help make you fast and as comfortable as possible for longer distances.
If you're looking to be a little more competitive, you might want to consider which pedal and shoe combination is best along with a proper cross-country-style helmet if you don't already own one.
Depending on the style of race in which you'll compete, you'll need to bring spares and tools to fix minor mechanicals or set up issues you might get before the start line. Spare tubes, perhaps even a spare tyre along with CO2 canisters or a pump are the bare minimum.
Since cross-country racing is about going all out for around 90 minutes, think about your post-ride recovery. Bring some food that's high in protein to get those all-important post-race gains.
How should I prepare for my first MTB marathon race?
We sat down with our MTB Product Manager Julian Biefang and his girlfriend Kathrin. While Julian is a very experience marathon racer, Kathrin hadn't ridden a mountain bike until early 2020. To their surprise, they scored a podium position in the 2021 TransAlp MTB Marathon event.
"I work a full-time job often working 60 hours a week, so I knew it'd be a challenge to train properly," says Kathrin. "I had to learn how to ride and race a mountain bike from scratch!"
Kathrin would ride her bike at every opportunity testing both her fitness and technical skill across various terrain. The greatest challenge of all, she says, was the mental challenge. Racing day after day takes its toll physically and mentally. You must ride your bike when you don't feel physically able to and likewise, perhaps your mind is elsewhere when your body is raring to go.
"The altitude was a real shock for Kathrin," says Julian who lives in Koblenz with his girlfriend. "We're practically at sea level here and we went up to 2800 metres, which is a huge jump when you've never ridden in the mountains before."
Kathrin is a person who knows what she wants and when she puts her mind to it, she has to get it. "I knew Kathrin was a very motivated person, so I had no reservations about riding with her," he says. "I said we should just have fun, enjoy the course, take in the views but from the gun, Kathrin insisted we were racing!" he laughs.
The pair started strongly, settling into a rhythm together and climbing the leaderboard day by day. Tragedy struck on day 3 when Kathrin suffered stomach problems. After 24 hours of taking care of Kathrin, they began riding again with the aim of just getting to the finish.
Not content with simply getting around in one piece, Kathrin and Julian put their foot on the gas. By the time they reached the finish line, they were back on the podium in third place overall.
So, what advice would they give to newcomers? "Just go out there and have fun otherwise it's a long and hard week. Train hard, play hard," says Kathrin. "I've since ridden my own individual race and loved it!"
"Marathon is a really social discipline within cycling a bit like gravel riding. The professionals are on the same startline as the amateurs and it's all really great fun," says Julian. "Train for it but set your own goals and race your own race. Then have a beer!"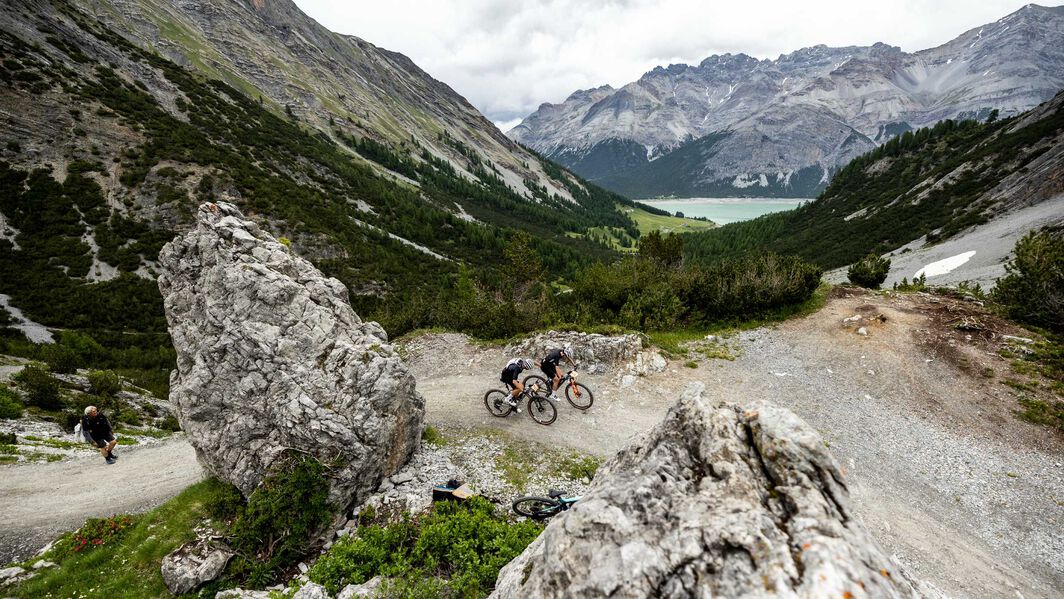 Sign up and race
Tempted to line up at your first race? Don't delay it any longer – there are prizes to be won! Most importantly, remember to have fun while you're out there. Racing is as much about learning as it is about trying to win.
Are you excited to have a unique experience riding your MTB? Here are some tips to get ready for your first MTB Marathon race.