Dec 10, 2021
Vedangi Kulkarni
Dec 10, 2021
Vedangi Kulkarni
Vedangi Kulkarni: Neuron Adventures Part 2
In the second part of Vedangi's tales, she shares what it's like to jump in the deep end with the help of those around her.
Riders ready?
Paul led the way, followed by Daniel and then me. I told myself that I needed to be fast. Then we left and I kept on Daniel's tail, until he flicked some dust at the corner and I just knew that I had to try doing it too.

I turned confidently into the corner with more weight towards my front than rear to avoid slipping off but still keeping the speed up. The next thing I knew, I was down, face first. I laughed my head off and gave everyone a thumbs up, secretly hoping that my silly crash would make the cut into the film.

I continued riding to where Daniel and Paul waited, giving them fist pumps like every other mountain biker I know.
Learning on the job
It took a fair bit of coaching from Paul and Daniel's side for me to be able to ride back up the steep bit. Technical climbs are very much not my thing. It was a fair attempt though, and I was quite proud of it.

That day, we rode along some forest tracks and some seriously rocky trails which I absolutely loved. My partner and I went to Scotland for a mountain biking holiday this year, where we coined a phrase, "Rocks are V's friends". I remembered this every time I felt scared to go down some rough terrain. It also became my motto for the Sardinian adventure. Luckily, the fancy full-suspension MTB didn't allow me to be stuck in any holes as long as I was quick enough!

A memory that stands out from that day is when the crew waited for me at the bottom of a descent. I had my saddle all the way up and a nut butter sachet in my mouth. As I descended, I forgot to lower my saddle and ended up with nut butter all over my mouth as I rolled up to join the crew!

It was a happy moment. Our adventures on this island made me realise it wouldn't be the bike that stops me from enjoying the terrain or doing any hard features. Instead, it would be my lack of confidence. The Neuron made me feel more badass than ever before. Where my Canyon Exceed had helped me fall in love with mountain bike, the Neuron made me feel comfortable doing the rough stuff.
How to hike-a-bike properly
Over the next couple of days, Daniel and Paul taught me how to hike-a-bike using the correct technique. The trick is to squat, bend over, grab the seat tube with one hand and fork with another and lift the bike up as you straighten your legs. The bike rests upside down or horizontally across your shoulder blades. Apparently, it's even more comfortable if you rest it on your hydration pack!

It was a surreal moment when I realised that I'd been doing it wrong all my life, and hence, absolutely hating it. We walked up a fair few stairs to get to a viewpoint from where we saw mountains for as far as our eyes could see. Bigger, sharper rocks marked the descent and I found it especially challenging to mute the voice of my risk-assessing brain.
Adventures on the Neuron Part 1
---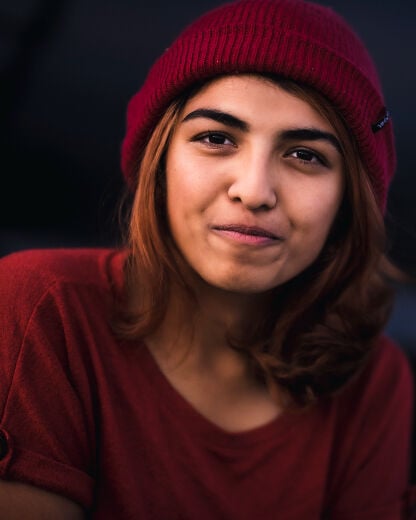 About the author
Vedangi Kulkarni was born in India in 1998 and currently lives in the UK. She's an adventure traveller, endurance athlete, public speaker, writer, expedition manager and a business owner. In 2018, she rode 29,000km around the world in 160 days, mostly solo and unsupported, at the age of 19/20, becoming the youngest woman to circumnavigate the globe on bike. When she's not riding her bike or floating on her back in some body of water, you can find her reading non-fiction books (mostly philosophical, nature writing or reflective adventure stories) or surfing the web about anything and everything related to the Arctic.
---
Take a closer look at all our mountain bikes and find out which one might be right for you.