All systems go - Canyon MTB Racing Team officially launched
With all systems go, we're proud to officially announce that a new player is entering the XCO game in 2021: Canyon MTB Racing.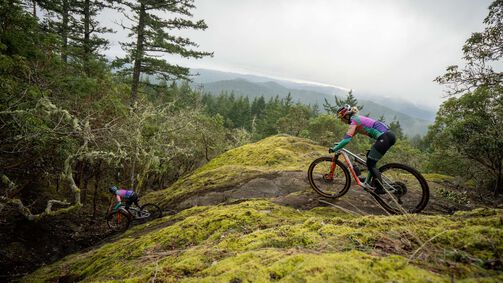 Bikes: ready. Setup, testing, preparation: done. Team colours, team kit: looking sensational. Boxes: checked. This latest update comes soon after Canyon's January acquisition of Canadian cross-country star Emily Batty (32), and the signing of talented young XCO rider Laurie Arsenault (23) a few weeks after that.

In the 2021 season, Emily and Laurie will represent the Canyon MTB Racing Team, supported by Team Manager Simon Williams and Emily's husband and coach, Adam Morka. The team's planned schedule includes an entire World Cup series, the XCO World Championships in Val di Sole, and a shot at Olympic gold in Tokyo at the end of July. "I wanted partners that are aligned with our vision and our initiatives," Emily Batty says. "Our program sets me up for my next chapter in the sport, and my performance will play a significant role in moving forward." Her teammate Laurie Arsenault is equally optimistic before her first senior season after last year's U23 campaign: "It's a dream to be on a team like this one, and it's a great opportunity for me to learn from the best and with the best. I remember watching Emily at the Olympics and getting her first national title, and she was someone I wanted to be like. I'm just so excited!"

To lay a solid foundation for such an ambitious first-season itinerary, there's been no shortage of work for the team over the past few weeks. A new website and whole new range of Canyon MTB Racing social media channels to manage. Close collaboration between sponsors, suppliers, and Canyon's in-house gear team and designers to create a seamless, consistent design identity including special custom bike and kit artwork. And last but by no means least, building up Emily's and Laurie's bikes, and tuning them to perfection. "It's already been a great journey this far, involving some wonderful people" enthuses Lars Hartwich, Canyon's Pro Sport Manager Gravity & MTB. He continues: "I've known Emily for some time now, from my time on the World Cup scene. She's a one-of-a-kind athlete, a real role model, and I'm sure she'll be a fantastic mentor for Laurie. It makes me proud to be able to be part of the Canyon MTB Racing story." Both Emily and Laurie will be competing on Canyon's full-suspension Lux and hardtail Exceed cross-country race bikes, depending on the individual race's demands and course profile.

This intense collaboration over recent months is a clear indicator of Canyon's serious commitment to cross-country. As Lars Hartwich explains: "XCO is hugely important to us. Emily and Laurie are so much more than high-profile riders chosen to just showcase for our Lux CF SLX and Exceed CFR MTB race bikes – they are going to deliver sporting success as well as valuable input for our R&D and service teams." Emily Batty is similarly enthusiastic ahead of the coming season: "I can't thank Canyon and all of the new team partners enough for believing in the new team and everything I have yet to accomplish in mountain biking and sport in general. 2021, let's go!"

Team Canyon MTB Racing will contest its first race at Bike the Rock on 24 April. Celebrating its 20th edition in 2021, this classic event in the German MTB-Bundesliga series is the ideal chance for the Lux and Exceed to make a successful start to the season. You can find all the latest information and the full race calendar at mtbracing.com.
The bikes in detail (frames: Canyon Lux CF SLX und Exceed CFR):
- Cockpit CP008 (Emily: 70/-17°, Laurie: 90/-6°)
- Fox 32 Stepcast suspension fork (60-70 psi)
- Fox DPS Float shock (110 psi)
- Schwalbe tyres (Racing Ralph 2.25" rear, Racing Ray 2.25" front / 18-23 psi depending on course)
- DT Swiss XRC 1200 wheels (25 or 30 mm wide, depending on course)
- Shimano XTR drivetrain (1x12 with 32-tooth or 36-tooth chainring, 10-51 cassette) / brakes / pedals
- Additional parts & gear: 4iiii, Wahoo, Ergon, Momum