Get to know Soraya Paladin - new signee of CANYON//SRAM
We chat to Soraya Paladin about her passion for cycling, joining her new team CANYON//SRAM and her goals for the season.
Who is Soraya Paladin?
"Soraya is a very simple girl. I consider myself mainly a cyclist. When I'm not on the saddle, I'm just a normal girl. I like going out for dinner and good food; I'm a fan of pasta allo scoglio and carbonara. I like spending time with friends and above all, being outdoors - I love going for walks in the mountains. I have a dog, Blue, who I take everywhere with me! I thought French bull dogs were lazy, but mine is super active and a fan of snow."
How did you start cycling?
"My parents were mountain bikers, they often did amateur races, so I got into the sport by following them. I was little, 6 years old, I asked my dad to take me with him. I remember my first training session at the sports center near my house, since then I've never stopped. I also played other sports: volleyball, football, swimming. One day my mum said to me: "Soraya, you have to choose" - she had to take me to 5 different trainings of 5 different sports in a week, if I think about it... (laughs).

I chose cycling because I enjoyed it more, I liked the after-race, the picnics, the bbqs, the atmosphere and the emotions that cycling gives you are fantastic. If I had chosen for the company, maybe I would have chosen volleyball, because all my friends played that sport. But my desire to be outdoors won out over everything else, the beauty of being in nature and visiting new places on my bike."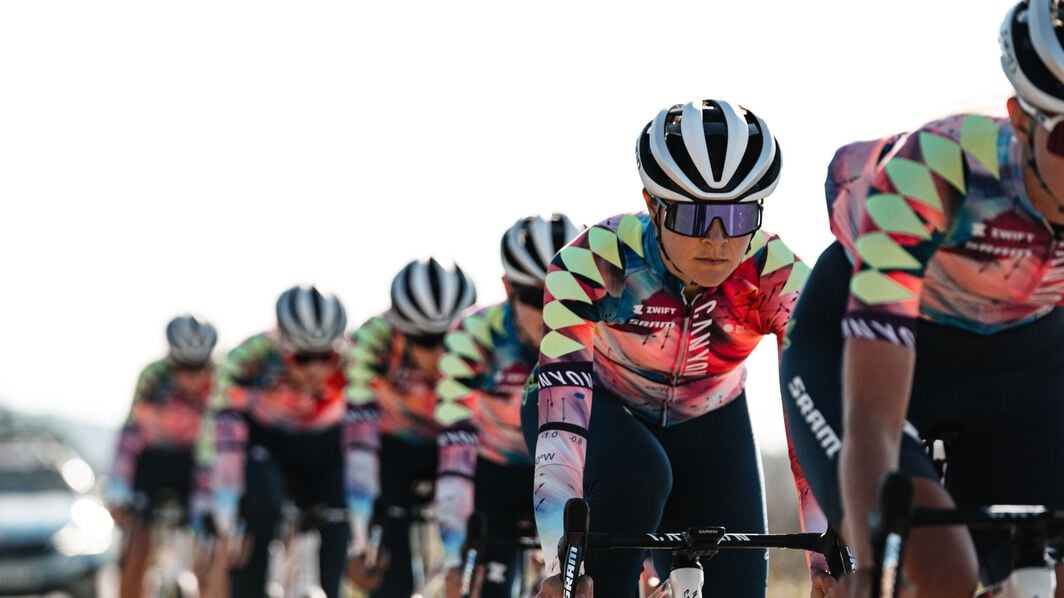 Since this year you are in a new women team, CANYON//SRAM, how do you find yourself?
"I had good expectations of this team from the outside. I have already participated in two retreats with them (Majorca and Valencia - ended this weekend) and I was impressed by the work behind this team, I felt welcomed even though I was one of the newcomers. It is a solid environment, you need to work hard but you feel good.

I have a good relationship with all the girls, I have a lot of strong teammates with important careers behind them, however, none of them are shy about teaching, sharing their ideas and experiences in the world of cycling. It's not easy to find riders ready to share their views, their goals, their preparation.

During the retreats, the Zwift challenges were very interesting. There's a lot behind these initiatives: a 45-minute/one-hour ride can bring together people from all over the world. It's an interesting reality to discover even if after the lock down I don't have a very good relationship with the rollers (laughs)."
Your first race in Italy will be Strade Bianche. What do you think about this race?
"One of my favorite races ever. It's not enough just to have a lucky day to succeed in it. It's a race that brings out the strength of the athlete. It's demanding, you need to be in shape, you need to ride intelligently, you need to be able to control your bike. It's a goal for the season, we're a strong team. The goal is obviously to win, not only me personally, but also as a team. Kasia Niewiadoma, who made podiums from 2016 to 2019, Alena Amialiusik and Pauline Rooijakkers, my former teammate in Liv, will be with me. We can do a great job, the level is high and we will give our best. The team I fear most is the SD Worx, one of the teams that knows how to work well together, they help each other to get to victory. Individual victory? Van Vleuten."
Where do you usually ride in training? What are your favourite places?
"Usually, if I'm at home, I ride in the Vittorio Veneto area in the Prosecco hills. It's never boring there, the roads are not busy and you find a good combination of climbs, flat and hilly routes. San Boldo is my favourite climb. When I'm not at home I follow the team's schedules, last years in the winter I was in Calpe and in the summer Livigno for high altitude: you're at 1800 m and it's perfect preparation before the stage races, Giro rosa for example."
I like the fact that Canyon wants to inspire more and more people to ride as many different types of bikes as possible.

Soraya Paladin - CANYON//SRAM
Do you always ride on the road or do you also like to practice other disciplines?
"In the youth categories I also did a few years of cyclocross, but I left that sport aside. Then a year and a half ago Asja, my sister, pulled me into the world of gravel. It's perfect because it takes your mind off things, you discover new routes, you appreciate new places in the hills near home, on the Piave river. I didn't know there were so many small roads and dirt tracks, I discovered them thanks to the gravel."
What does Canyon mean to you, do you identify with the philosophy of the brand?
"I like the fact that Canyon wants to inspire more and more people to ride as many different types of bikes as possible. The Generation team, the new development team alongside CANYON//SRAM is the proof of this. We will help girls who come from less fortunate countries to make cycling their job. We have to learn more from them than they do from us. We were all surprised by the struggles certain worlds need to face. The Generation team did both retreats with us, we trained and spent time together. It's great to get to know different cultures, in some countries there are so many different problems to what we're used to in Europe: bad roads, crime... It's incredible how determined they are to keep up with this sport in those conditions.

One of these girls thought that she had to cycle 8 hours every day, as if it was a 'traditional' job. She told me that in her country if you are an employee of a company you have to work 8 hours, so for her it was natural to work 8 hours every day in the saddle - then the coaches explained to her that it doesn't work like that, fortunately. For some of them it's new to use the power meter. One Jamaican girl, who lived on top of a mountain, had to ride back and forth from the village every day in order to get her training done. Another girl, who is Islamic, explained to me that during Ramadan she trains in the morning at 5 am or at sunset in the evening. This experience reflects Canyon's aim of inspiring more and more people to ride and opens up new scenarios, you learn a lot, you take less things for granted."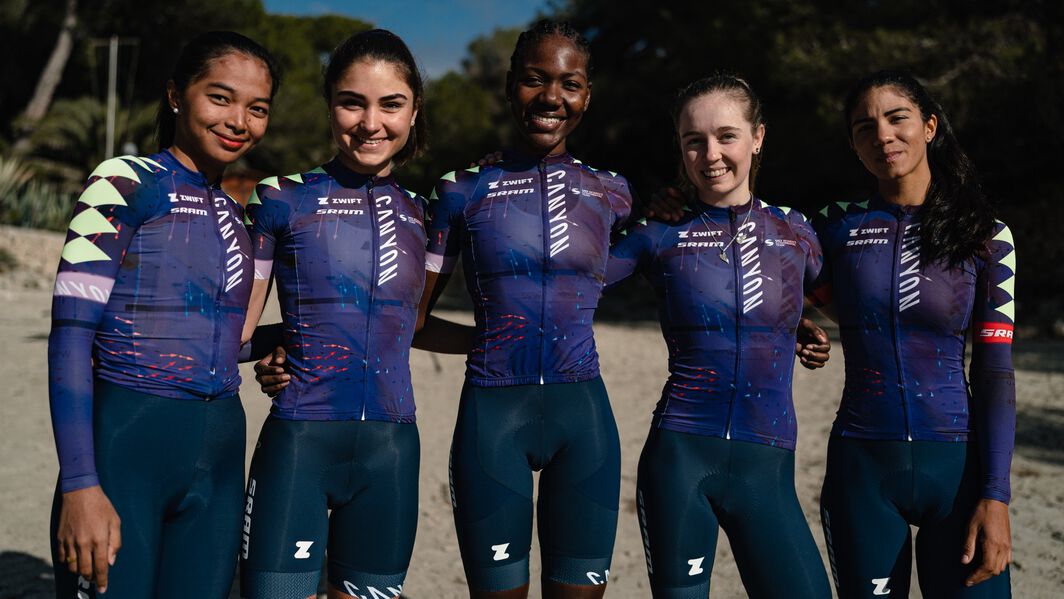 What are your plans for 2022?
"My main goals for the first part of the season are Strade Bianche, Flanders, the three Ardennes Classics, Amstel, Flèche Wallonne and Liège - my goal is the podium! And for the second half of the season the Giro Rosa: I've always come close to a stage win, so I hope this year will be a good year. At the end of the season, I'd like to take part in the World Championships in Australia, I've heard that must be a good course."
Your favourite Canyon?
"At the moment I've only used the Aeroad and I'm incredibly happy with it, but I also have a MTB on my wish list."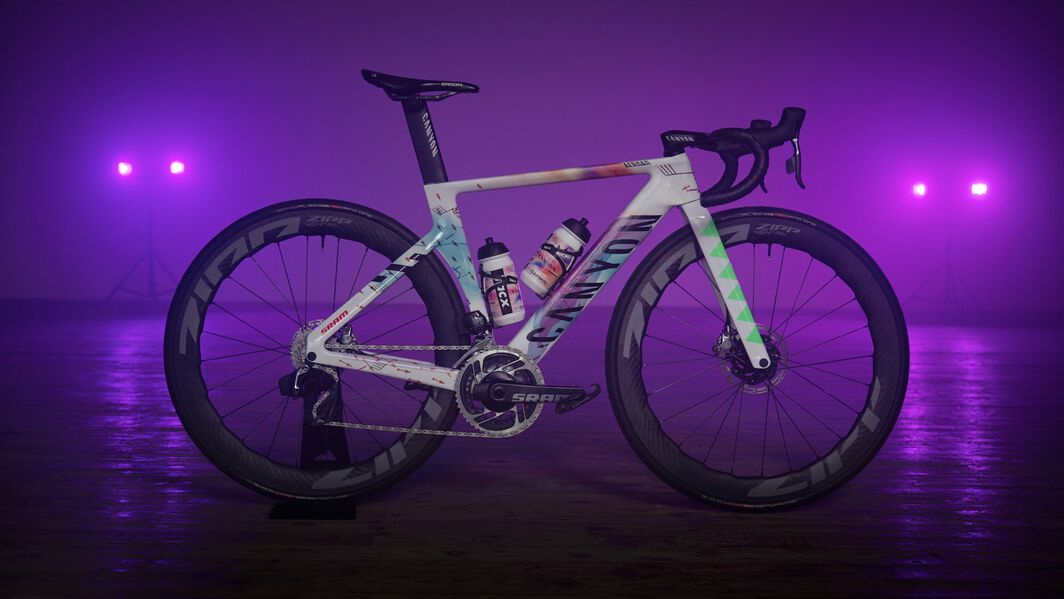 What advice would you give to someone just starting out in the world of road cycling?
"To travel, take the bike as a means of getting around and discovering new places. Or see it as a personal challenge to improve yourself. If you are the kind of person with an innate competitive streak, you will love cycling. The best part of cycling is, however, for me travelling. Riding from city to city on a bike gives you enormous satisfaction. There are incredible villages and towns in Italy that you can only really see and experience on a bike. You stop to drink a coffee at a small cafè, meet and get to know people, experience the place like no other way.

The last trip I took was a three-day tour: from Cima d'Olmo (where I live) to Rome, passing through Cervia, Gubbio, Assisi, I slept in Perugia, then from Perugia to Rome, I covered 800 km and about 5000 m of elevation gain. Because of my sister Asja I did it in only 3 days, I had to come back home to celebrate her birthday."
Canyon//SRAM Racing Collection
We chat with kit designer Ultan Coyle about the inspiration behind the 2022 CANYON//SRAM Racing kit.