Canyon unleash all-new gravel bike, the Grizl
In the name of maximum versatility and all-round capability, the Grizl is also packed with a range of progressive components and features unprecedented on a Canyon gravel bike.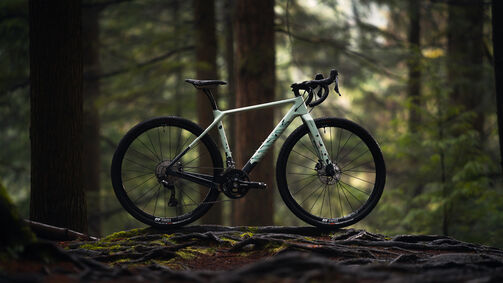 Much has been said of Gravel over recent years – defining, interpreting, trying to put a finger on just what 'it' is. But one thing's for sure. Gravel is fully established. And it's here to stay.

In 2018, we released the Grail: the bike that applied Canyon's bold approach to this new world of riding. With its iconic aesthetic and revolutionary Double Decker Bar design, its impact was immediate, and its impact was huge. But there was a whole lot of substance to go with the hype – light, compliant, efficient, and straight-up rapid, the Grail set a new performance benchmark on mixed dirt and asphalt terrain.

So, why another Gravel platform? That's an easy one: because the sheer variety of riders, styles, and terrains encompassed by Gravel means there's no one Gravel bike to rule them all. No silver bullet. Just like mountain biking, it's all about the right horse for the right course. That's why at Canyon, we no longer see Gravel as one product. But an entire world. From fast, capable all-road bikes to XC mountain bikes – we believe that you need a full range of bikes to fully cater to every Gravel rider. We call it the Gravel Spectrum.

That being said, we created the Grizl to answer a simple question: how could we expand our own Gravel Spectrum to cover more bases for more riders? One area we identified was modularity, giving people the ability to customise their setup to how they want to ride. Be it for bikepacking, racing, or everyday fooling around, we wanted to give more people more choice. We also identified the progression in Gravel towards 'underbiking' – drop-bar riders adding ever more technical terrain to their gravel routines. So, could we justify developing a second Gravel family to complement the Grail? Hell yes. So we did.

The result is the Grizl: our interpretation of a do-anything, go-anywhere, all-you-might-ever-need Gravel bike. With everything covered for unforgettable rides, from big days out to week-long trips, the Grizl brings tough Swiss Army Knife functionality to our proven performance DNA. At home on the rough stuff, equipped for real adventure.

The Grizl is available in two platform levels: the rough-and-ready Grizl CF SL, and the premium CF SLX with its superlight 950 g carbon frame (painted, size M, including small parts). All models feature the precise, composed Gravel Pro geometry we originally developed for the Grail – and to create consistent riding dynamics for everyone, we offer seven frame sizes (2XS – 2XL) for one of the broadest ranges on the scene. Furthermore, to optimise fit and handling for smaller riders, 2XS and XS bikes use smaller 650B wheels, with bigger sizes rolling on 700C.

For more demanding off-road terrain, we fit wider tyres so you can get away with more when it's trail time – all Grizl models come with 45 mm rubber as standard mounted on tubeless-ready rims, with clearance for 50 mm for those wanting to go even wider and wilder. So riders can carry all the tools, spares, clothes and hydration they need, the Grizl features two fork mounts, a top tube mount, and a third bottle cage mount beneath the down tube (CF SL models only).

In the name of maximum versatility and all-round capability, the Grizl is also packed with a range of progressive components and features unprecedented on a Canyon gravel bike. For more confidence down technical trails there's internal routing for full dropper post compatibility. The Grizl is also both 1-by and 2-by compatible, with Shimano GRX and Campagnolo Ekar builds available on release.
Finally, we teamed up with Apidura, the best in the business, to create a set of packs tailored to the Grizl. The Apidura x Canyon Packs are as ready for adventure and as performance oriented as the Grizl. Drawing inspiration from Apidura's Race and Backcountry Series, the packs are lightweight, waterproof and rugged enough to tackle anything from an hour-long spin before work to a 200-mile gravel race. The collection is exclusively available from Canyon and Apidura.com.

The entry-level Grizl CF SL will be available from €1,999-€2,699, and the range-topping Grizl CF SLX will come in at a price point between €4,499-€4,599. All seven models in the Grizl family will be available from 11 May, exclusively at canyon.com.


About Canyon Bicycles
What started life in founder Roman Arnold's garage as Radsport Arnold has evolved into one of the world's leading manufacturers of road, mountain, triathlon, fitness, urban and kids' bikes as well as modern e-bikes. Officially renamed in 2002, Canyon works hand-in-hand with the best athletes on the planet to produce an array of award-winning bikes that embody a pure passion for riding. With a strong reputation for true innovation, implementing leading technologies, clean and clear design as well as the highest standards in quality and service, Canyon continues to expand worldwide, selling more bikes outside of its native Germany than within since 2008. As a pioneering direct sales brand, Canyon products are exclusively available online at www.canyon.com.