How to pack your bikepacking bags
Ensure your bikepacking bags are packed correctly with our helpful guide.
Pack your bags, we're going on an adventure! It's sometimes easier said than done, especially if you've never been bikepacking before. Even if you're more experienced, you can always fine-tune your setup.
Bikepacking bags are great for cycle touring, lightweight touring and racing. In a lot of ways, they enable you to experience a pure and freeing way of riding bikes: carrying everything you need for a few days' cycling.
Guide to bikepacking bags
Getting the right bikepacking bags for all your kit is the first hurdle you'll need to overcome. A standard bikepacking setup usually includes the following bags:
Saddle bag
Handlebar bag
Frame bag
Accessory bags
Before we get into the items we recommend putting in each bag, you need to make sure the bags fit on to your bike frame.
Measure the length of the top tube. Next, put bottles in your bottle cages and measure the space available underneath the top tube. This will help when sizing up frame bags and making decisions about how to carry water on your bike.
Bikepacking bags (sometimes called packs) come in all shapes, sizes and specifications. You can choose between waterproof, super lightweight, bolt-on, Velcro, harness attachments…the list goes on. There's something for every preference.
Canyon's bikepacking bags use Velcro straps and bolt-on bags. We find this offers a versatile, easy-to-use and simple setup for most bikepackers.
What to pack in your saddle bag
Most bikepackers use their saddle bag (often called a seat pack) for their sleep system and other heavier items they're unlikely to need frequently.
Sleeping bag
Sleeping mat
Night clothes (e.g. an insulated jacket)
Rainwear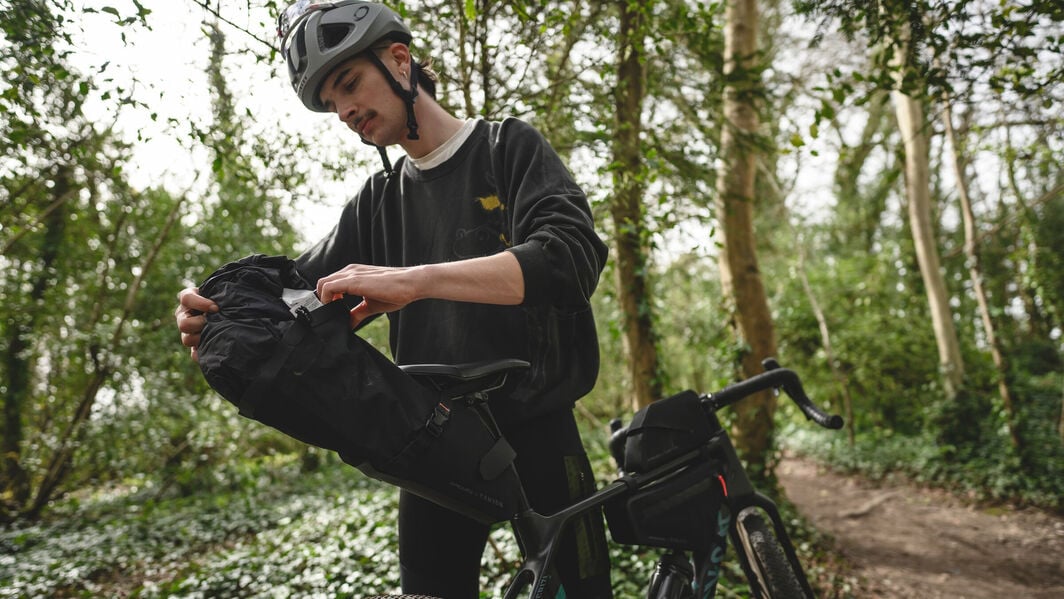 Pack the heaviest items towards the bottom of the bag. This will prevent the bag from swinging as you ride. If your bags aren't waterproof, you might wish to pack your sleeping bag into a dry bag if the weather looks like it might turn sour.
If you have a dropper post on your bike, ensure your saddle bag is compatible with it. The last thing you need is a broken strap moments into a long, multi-day ride.
What to pack in your handlebar bag
Handlebar bags are another great place to store infrequently used items. Be mindful of the weight of your handlebar bag as this will affect the handling of the bike especially off-road.
Sleeping bag
Nightwear
Cooking equipment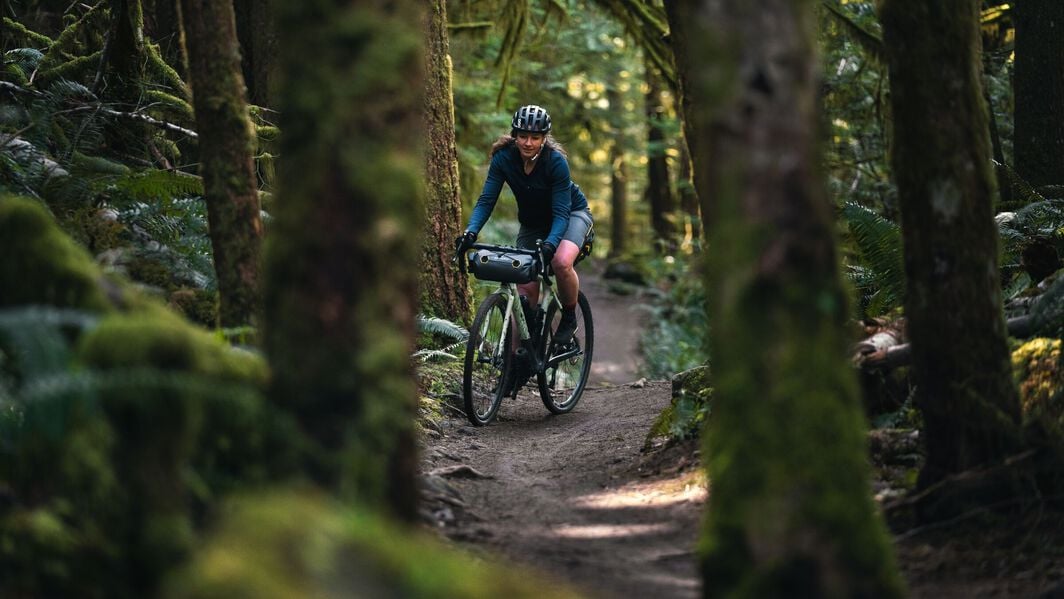 Handlebar bags tend to have double-sided entry. They're a little trickier to open than other bags due to the proximity to the brake levers and drop bars (if you're riding with them). Therefore, you'll be better off only opening and closing this bag at the start and end of your days.
A tent is therefore perfect for stashing in your handlebar bag. You only need to reach for it at the end of your day and it's neatly stowed away from everything else in the meantime. Cooking equipment or evening meals are also well-suited to living in a handlebar bag.
What to pack in your frame bag
Frame bags can be easily accessed during your ride. Keep useful items you're likely to need at a moment's notice in your frame bag.
Tools
Spares (e.g. tubes, quick links, puncture repair kit)
Food
Battery pack
Lightweight layers (e.g. arm warmers or a packable jacket)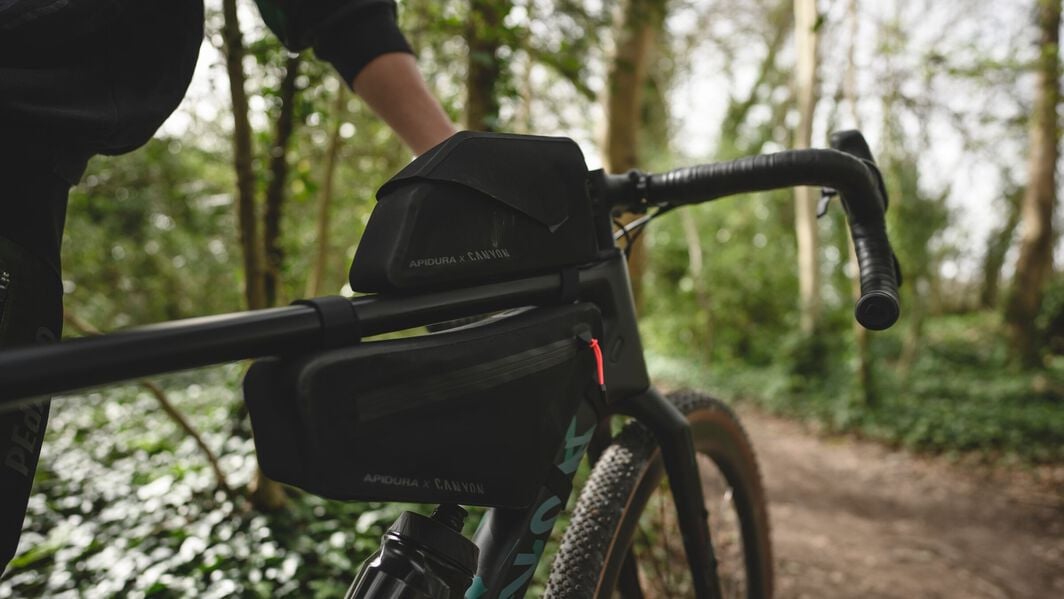 The trick with frame bags is to not pack them too full that they rub your knees while you ride. This might take some adjustment to get just right, but it's worth it in the end.
Riders with smaller frames may need to consider whether they have the room available for a frame bag. When your water bottles are included, space may be limited.
Riders with large frames sometimes opt to fill the frame bag with a water bladder. This can mean you're able to carry a lot more water therefore meaning you don't have to stop as often.
Other bikepacking bags
A saddle bag, handlebar bag and frame bag are the three most commonly used bags in the bikepacking world. There are however a number of extras you may find perfect your setup.
Top tube bag: great for storing your phone, small snacks and money.
Stem bag: a cylindrical bag that can carry more food or another water bottle.
Fork bags: if your bike has cage mounts on the fork (like the Canyon Grizl), you can attach more gear to ensure you're even more self-sufficient.
A packable musette is great for running into the supermarket and stashing your snacks for a little later in your journey.
Is a backpack good for bikepacking?
Backpacks are completely fine for bikepacking if you don't pack them too heavy. A heavy pack on your back for days at a time will do you no favours in the long run.
Tips for packing your bikepacking bags
How you pack your bikepacking bags is entirely up to you. It's personal preference and what works for one rider may not work for you.
We recommend sticking to these three tips when you're packing your bags:
Don't overpack: carefully consider if every item you take is worth it. A heavy bike means a slow ride.
Look for lightweight alternatives: while you might not need to go as far as sawing your toothbrush in half for marginal gains (unless you're doing a bikepacking race!), you might want to swap kit or your bike's components for lighter weight parts.
Shakedown rides: take your bike fully loaded on a short, local loop before you commit to your adventure. If anything is rubbing, squeaking or annoying you, you can sort it before you leave.
Now get out there and get lost in nature!
Planning a bikepacking route involves a lot of maps, trail knowledge and more. We share our tips and tricks for a successful bikepacking adventure.