Visit the place Canyon calls home, Canyon.Home. Don't miss the chance to test your next bike and take a look at our historic bikes in the museum.
Opening hours

Monday - Friday 10:00 - 19:00
Saturday 9:00 - 18:00

Workshop

Monday - Friday 09:00 - 18:00
Saturday 9:00 - 15:00

Service centre

Monday - Friday 8:00 - 19:00
Hotline +49 (0)261 9490 3000

Address

Canyon Bicycles GmbH
Karl-Tesche-Strasse 12
D-56073 Koblenz
Germany

Parking

PARKHAUS am CONTEL
Pastor-Klein-Straße 10
56073 Koblenz
3 hours free - parking validation available at the showroom counter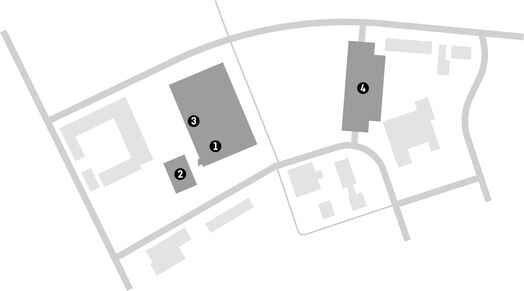 Location Map
SHOWROOM

Bikes & Accessoires

Register for consultation and pick-up

Checkout

Bistro

WC

CANYON:ON E-BIKE EXPERIENCE

E-Bike exhibition

Register for consultation and advice (E-bikes)

SERVICE WORKSHOP

FREE PARKING (3H)
We have a range of models ready for you to test ride. Find out which test bikes are available.

Learn More
More Highlights
The Canyon Showroom has a wide range of accessories and clothing. Our experts can help you get the right bike size with our Perfect Positioning System, and if you need any repairs, check out our workshop.
What parking options do I have at the Canyon showroom?

What hygiene measures are taken in the Canyon showroom because of the Corona pandemic?

Can I bring my bike spontaneously to the workshop for inspection?

Which bikes can I test in the Canyon showroom?