Ines Thoma's favourite trail around Lago Maggiore
Ines Thoma shows us a snippet of her favourite mountain bike trails around Lago Maggiore.
With the camper parking spot right at shore of Lago Maggiore, we discovered the little Italian village Cannobio as an ideal family mountain bike spot. The trail ride starts straight out of the village without long and time consuming transfers. This makes it super easy to do a quickish trail loop when you're stuck for time. With a playground next to the lake, a nice old town and several gelaterias in walking distance, it's also a top spot to hang out with the baby.
My riding slot today is straight after breakfast. I hurry up, unload my Canyon Spectral, start the navigation on komoot and rush along the lake road and into the climb. I tend to start too fast a lot these days as I try to make the most of the baby-free time.
MTB trails around Lago Maggiore
After the first 400m of climbing I start to remember that climbs are long and steep around Lago Maggiore, so it's better to start with gentle pace to keep the flow throughout the whole 1000 metre climb. We discovered this trail just the day before when we hiked up to the peak with Romy in the baby carrier. We didn't expect to find anything so close to a walking path. I know it is there now, but the rest is an adventure. The excitement is real!
Compared to the climbs we did the days before; this one is actually not too steep and almost all on a paved road. The view from the top is amazing. Lago Maggiore is such a huge lake and it looks stunning from up here.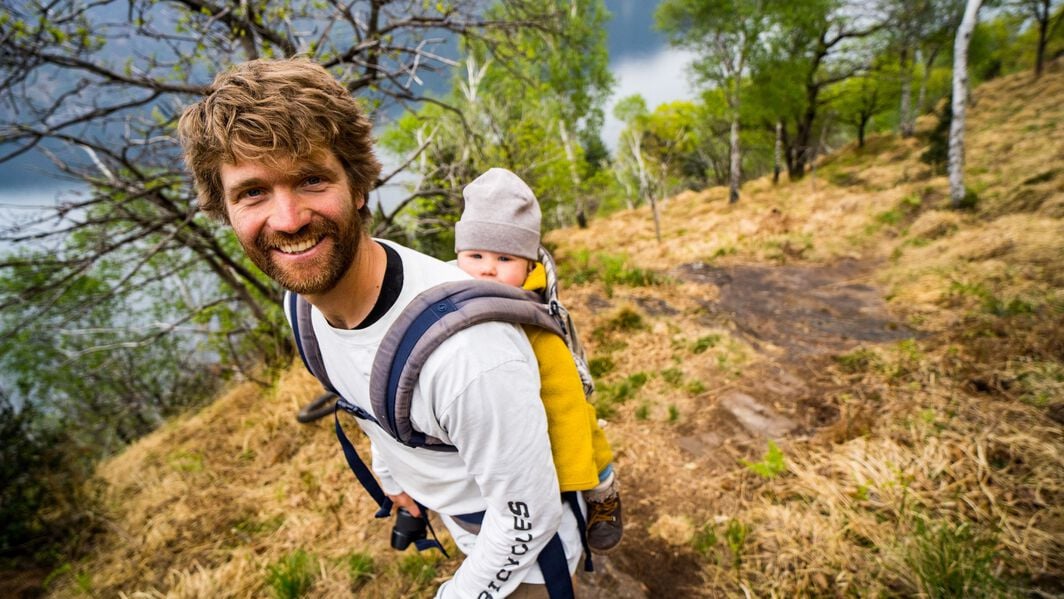 Ready, set, shred!
The start of the trail is pretty easy to see and the first minute is already very good, as the trail follows a natural and tight gully so that every turn is an actual berm. The trail follows an old path in some parts, while other sections are completely new. At the end of April (when we were here), there were still a lot of leaves, which makes it exciting yet slippery in some places.
The overall speed is not super high due to a lot of turns and a pretty mellow gradient. A lot of sections are flowy though, which is super special for the Lago Maggiore area. Towards the end it gets steeper and steeper.
Balancing parenthood with MTB adrenaline
Max and Romy are waiting for me at the only open section where the trail crosses some cool rock slabs. There are very good views here and it's the perfect spot to take some pictures! The trail finishes just 5 minutes away from the old town, so we get a nice lunch pizza at the lake side. Pure Dolce Vita!
EXPLORE THIS TRAIL


About Ines Thoma
Ines Thoma has been part of the Canyon CLLCTV squad since the very beginning of the Enduro Team in 2013. After 8 years of professional Enduro racing and several podium finishes, daughter Romy jumped into the bike trailer and changed some priorities. Ines will go back into racing in the upcoming season (a mixture of enduro bike and E-MTB). Touring and travelling together with Romy and partner Max will play an equally important part of her bike stories, as her first book "Toskana Trails", that she just published, shows.

Follow Ines on Instagram to find out more about her book.
About the author

Ines Thoma

Ines Thoma is a top female enduro mountain biker and coach from Germany who started competing in 2012. She runs her own coaching business, works with the German national mountain bike team, and is also a proud parent, balancing her career and motherhood.
Take a closer look at all our mountain bikes and find out which one might be right for you.