Our comprehensive guide to e-bikes will help you decide which e-bike is best for you.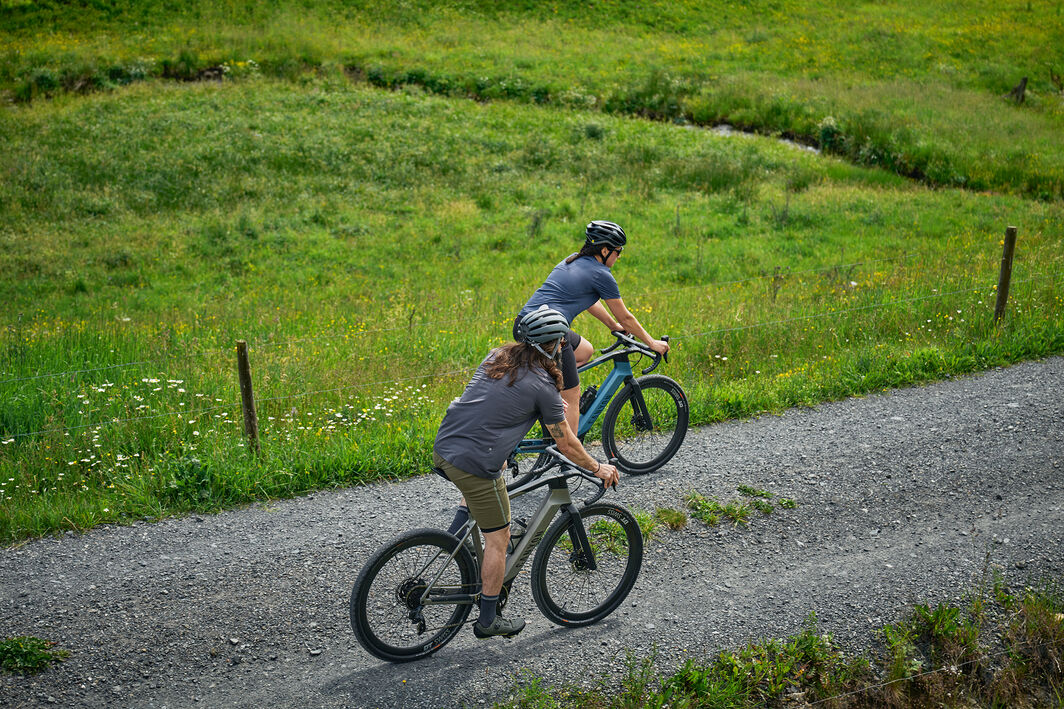 E-bikes are fast becoming a regular on the streets of towns, cities and bike parks across the world. Offering a little power when you're running low yourself, e-bikes attract riders of all shapes, sizes and abilities and it's really great to see. E-bikes are not the heavy, clunky and cumbersome electric bikes of years gone by. Nowadays, you can pick up (quite literally) an e-bike that's as lightweight as just 16kg.
What is an e-bike?
Simply put, e-bikes are bicycles that integrate an electric motor and a battery to make pedalling easier. While they have motors, e-bikes are more similar to standard bikes than mopeds or motorcycles and more modern e-bikes are powered by pedal assist systems. Pedal assist means the bike's motor only engages when you're pressing down on the pedals and while you're getting a helpful push from the motor, you're still putting in work to ride. Most systems have multiple power output settings so you can decide how much assistance you want to get from the motor.
Why should I use an electric bike?
People have electric bikes for all sorts of reasons. E-Bikes are great for everyone: commuters who don't want to break a sweat on the way into work, people returning from injury, people with mobility issues, mountain bikers getting a boost to the top of the trail - the list goes on.
Do you still get exercise using an e-bike?
Electric bikes definitely have benefits to health and wellbeing. We wrote a whole article about how e-bikes can help boost your fitness and it goes even deeper than just physical health. Studies have shown time and again that bikes, and indeed e-bikes, boost mental health. There is nothing better than getting outside in the fresh air and an e-bike allows you to do exactly that. What's not to love?
How fast can e-bikes go?
Almost all e-bikes from major cycling brands have a built-in motor limit of 25 kmph. This means that once you hit that speed, the motor drops out and you have to pedal without assistance until you dip back under. The reason for this is to guarantee that the bike can be legally used riding around your town's cycle paths and forest paths without posing a risk to both you and other road users.
Do I need a driving licence for an e-bike?
E-bikes are pedal assist vehicles and therefore don't require a licence to ride but you must be over 14 years old to operate the bike. There is also no requirement to pay any vehicle tax.
Do I need insurance to ride an e-bike?
The law doesn't require insurance in the same sense as motor vehicle insurance, however you may want to insure your bike against theft or accidental damage. After all, it's a big investment and insurance offers protection and peace of mind.
Should I get a hub or mid-drive motor?
A hub-drive motor is one that is integrated into the rear wheel of the bike. Hub drives are common across more affordable, entry-level e-bikes. Mid-drive motors are placed in the bottom bracket area of the bike and literally put power to your pedals. By placing the motor between the pedals, your e-bike has a more stable centre of gravity and gives you the sense that it's barely even there.
Mid-drive motors are considered more of a premium option but as technology improves, so too does the price. They're also a lot more convenient if you find yourself with a flat rear tyre on the side of the road. Removing the wheel is much easier on a mid-drive motor bike than a hub-drive bike.
What size battery do I need on my e-bike?
The size of the battery determines how far you're able to go on one full charge. Battery capacity is measured in Watt hours: the higher the Watt hours, the longer you're able to ride without recharging.
Off-road e-bikes generally have bigger capacity batteries. This is because riding on uneven, loose and challenging terrain is less efficient and therefore requires more power. The smooth asphalt and rolling terrain of urban environments means a smaller battery (250Wh) is more than capable of the job.
You can extend the life of your battery by taking good care of your e-bike battery. Today's e-bikes allow you to choose how much assistance you want from your bike. The integrated computer on the handlebars displays the modes, battery level and other useful information such as current speed. Of course, the higher the level of assistance, the quicker your battery will drain, so bear this in mind.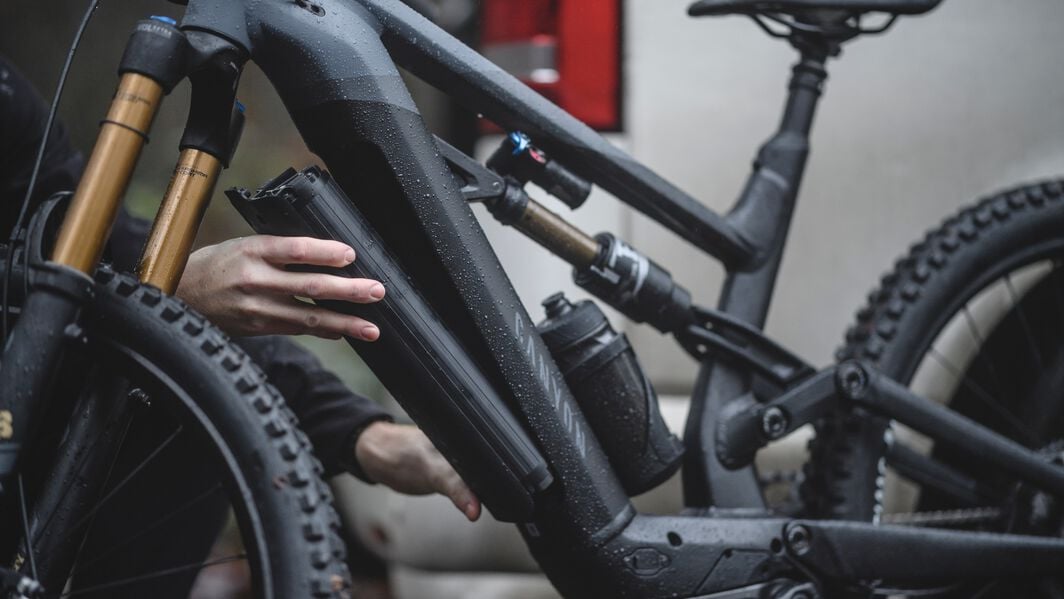 What happens if my battery runs out mid-ride?
There's no need to panic if you're out and about when your battery dies. An e-bike will function just like a conventional bike albeit slightly heavier. You'll still be able to pedal and enjoy your ride. Some of our E-MTBs come with a dual-battery option for when you're out for a whole day session. We sell spare batteries in our shop if you need an extra (with a handy discount if you get an extra battery at the same time as buying your bike!).
Can I ride an e-bike without a battery?
Of course you can! After all, an e-bike without a battery is just a little closer to being a conventional bike. If you ride in the rain without your battery, just make sure the contact points are dry and clean when you go to put the battery back in.
Should I get an aluminium or carbon e-bike?
The frame material is really down to personal preference and budget. Carbon electric bikes are more expensive, however with the extra weight of a motor and battery, the lightweight benefits typically associated with carbon engineering are somewhat negated.
Aluminium is an unsung hero in bike manufacturing and allows us to produce premium quality e-bikes for a more affordable price point compared to carbon. The frame of our lightest e-bike, the Roadlite:ON, is made of this same material. It weighs just 15 kg and can be easily moved through the city even when the battery is empty.
What kind of e-bike should I get?
When deciding which type of e-bike you should get, you need to first decide your preferred terrain. Will you ride on sealed pavement? Do you prefer traffic-free trails and bridleways? Or perhaps you would like to do some cycle touring in the summer where you'll enjoy a mix of everything.
Electric Road Bikes
For those of you who enjoy road cycling but need a boost up the hills or a way to arrive at your destination a little less sweaty than usual, an electric road bike is the answer to getting out and about on tarmac.
These models use lightweight Fazua motors with a concealed battery in the frame. The Endurace:ON is capable of up to 90km and mirrors the geometry and style of our Endurace models. Alternatively, the Roadlite:ON is a more relaxed e-road bike in terms of geometry and it's the best way to explore the roads a little further out of town.
Electric City Bikes
There is no "correct" bike to commute to work on but if you're looking for something dedicated for the journey into and out of the office an e-commuter bike is a strong contender. With a reliable motor and robust components, an electric city bike is designed to be ridden in all weathers across varying surfaces.
Our Commuter:ON uses the capable and dependable Fazua motor. Ride up 75km on your bike with everything you need for the day ahead without the worry of parking, pollution and traffic jams. It's powerful enough to navigate busy city streets but light enough to carry down stairs.
Advances in design and engineering have paved the way for style, comfort and function. Our Precede:ON sits proudly in the centre of that Venn diagram. If you need a bike that's capable of replacing your car, the Precede:ON is it. It has multiple mounts for carrying extra luggage, integrated lights and brakes for seamless operation and a powerful Bosch motor.
Electric Mountain Bikes
Do you love hitting the trails but find yourself grovelling to the top wondering when the fun starts? An E-MTB is your ticket to sweeping trails, clearing big gaps and making the most of your time at the bike park.
We've compiled all our knowledge into one helpful E-MTB guide to help you decide which bike is best for you.
E-Touring Bikes
Cycle touring opens up a whole new world you never knew existed but some sights and destinations are just a little further away than you'd like. With an e-touring bike, you can unlock those doors and make the best use of your time on the bike.
Electric touring bikes are a little rougher and more ready for mixed terrain than our other bikes. They're great for a mish-mash of paved roads, gravel tracks and traffic-free trails. Basically, if you want a bike that'll handle the unexpected, an E-Touring bike might just be the answer.
Our Pathlite:ON is a versatile e-bike suitable for various rides and routes you find yourself on. It's even approved for towing the kids along in a trailer!
Electric Gravel Bikes
With its meteoric rise in popularity, gravel bikes have also entered the e-bike world. The beauty of gravel riding is it opens up the world beyond the tarmac. We've added a motor and battery to our beloved gravel bike to create our Grail:ON. If you're unsure whether e-gravel is right for you, we've written all about the pros and cons. Spoiler: we think you'll love it!
Which e-bike motor is best?
There is no one answer to this question unfortunately. The best motor depends on the kind of riding you do. E-MTBs require more power and oomph on muddy trails than E-City bikes on smooth tarmac for example. We wrote an in-depth article about finding out which e-bike drive is best for you.
Canyon e-bikes use Shimano Steps EP8 motors in the E-MTB range, Fazua Evation across a lot of E-Road and E-City bikes and Bosch Performance Line in our E-Gravel and other E-City models. All these brands produce market leading e-bike technology and we trust them to match the high standards we insist across all our bikes.
What other features should I consider when buying an e-bike?
Many e-bikes come with a multitude of accessories with which you can enhance your riding experience. You need to consider how you will use your bike and whether it will be compatible with your lifestyle.
Pay attention to the tyre width if you want to increase your comfort or prefer to ride off-road. If you're in the market for an E-MTB, wheel size may also be a deciding factor for your style of riding.
How much does an e-bike cost?
E-bikes vary in cost just like traditional bikes but you can expect to pick a high-quality, reliable Canyon e-bike up for as little as 2.029 € This also includes a 6-year guarantee, so that you can ride away worry-free.
The individual specifications of your bike like the components and accessories can add comfort, style and function to your bike if you have a little more budget available.
Should I buy a new or used e-bike?
When hunting for a used e-bike, it's important to learn as much about the motor and battery as possible. A well looked after traditional bike can be 20 years old and still be a great choice but the same is not true for e-bikes. If the battery is already over five years old and was not regularly charged, you would need to replace it fairly soon which can be an unexpected outlay. New e-bikes are more expensive, but the main benefit is that you're getting modern technology, brand new batteries and a guarantee that the bike will last you for years to come.
Head over to our outlet for the latest deals on e-bikes. These bikes are a mix of previous models and ex-demo but all come with the standard Canyon guarantee.
Going out on a gravel ride means being ready for anything. It means leaning into adventure and being open to off-road exploration.