Introducing the Spectral 125: The Shredder's Short-travel Mountain Bike
With 125 mm of rear suspension travel mated to an aggressive and low-slung chassis, the Spectral 125 is short on travel and big on rowdy.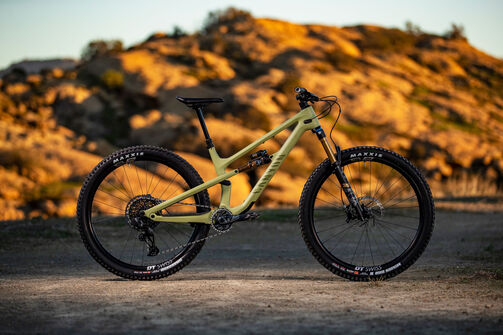 What Kind of Bike is the Spectral 125?
Playful and poppy, the newest trail bike from Canyon is perfect for jibbing every little trail feature in sight. The Spectral 125 borrows heavily from its longer travel cousins in the Spectral family, offering the same downhill control you expect from a trail bike badged with the Spectral name. Enjoy the confidence to jib any trail feature you see, and the smaller, lighter frame allows aggressive riders to charge hard even in gnarlier conditions.
When Canyon set out to create the perfect short travel trail bike, we knew that the bike needed to be lightweight, playful, and quick pedalling, yet also boast the same downhill control you would expect of any trail bike. The end result is a totally new frame, ready for aggressive romps up and down any trail.
Get to Know the Newest Spectral Chassis
The Spectral 125 was designed with a relatively slack headtube and long reach (64 degrees, and 486 mm respectively for a size large) to boost shredability. Yet we matched it with a 76-degree seat tube angle to place the rider in a more efficient climbing position, allowing you to get up the trail as quickly as you can get down it. The end result is a nimble and well-balanced bike.
The Spectral 125 also features a low standover height and compatibility with longer-travel dropper posts, meaning riders in the middle of the sizing curve can either size up or down to suit their desires. If you want to explore the geometry in depth, check it out here.
The new frames also feature more anti-squat and less travel than its Spectral 29 cousin, thanks to a 140 mm fork and 125 mm of rear travel. There's quicker suspension ramp-up, lighter weight, and smaller rockers. In the United States, expect to find 5 different Spectral 125 models, 2 with aluminium frames, and 3 with carbon frames.
With 3 carbon and 2 aluminum models available, there is sure to be a Spectral 125 whose build and budget fit your needs. Explore the options here.
View All Models
What Kind of Rider is the Spectral 125 For?
Don't be mistaken; the Spectral 125 was designed for through-and-through trail riding, giving aggressive riders an opportunity to charge hard and get rowdy. Riders looking for the fastest way to the top of the trail should consider the Lux Trail, while riders looking for efficient, comfortable all-day riding should reach for our Neuron.
Riders looking for a poppy, playful feel of a slacked-out trail bike, but who don't want 160/150 mm of front and rear travel will love the Spectral 125. Other riders who simply don't need 150 mm of travel where they ride will be right at home atop the Spectral 125. If you're not regularly knocking the O-ring off your shock stanchion, do you really need 150 to 180 mm of suspension travel? If you answered no, then the Spectral 125 is the horse for your course.