Canyon becomes the new official bike partner of DATEV Challenge Roth powered by hep
Canyon is raffling sought-after entry slots for this year's race in Roth, Germany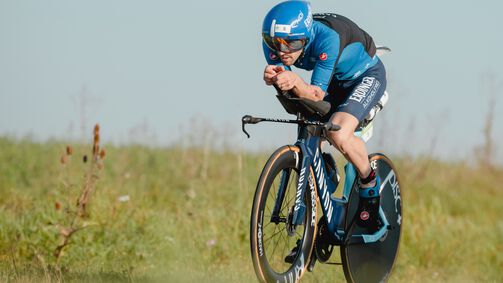 ROTH / KOBLENZ. Canyon is the new official bike partner of the world's biggest long-distance triathlon race. The premium bike brand has been active in the world of triathlon for years, sponsoring and developing bikes with multiple world-class athletes including Jan Frodeno, Patrick Lange, Daniela Bleymehl and Laura Philipp. And now, Canyon is doubling down its commitment to the sport with a new long-term partnership with DATEV Challenge Roth powered by hep.

Canyon and DATEV Challenge Roth powered by hep share more than just a passion for the sport of triathlon. Both organisations are headquartered in Germany, and both combine deep local roots with a modern, international perspective. Just how riders from around the world choose Canyon bikes because of the unique performance they offer, DATEV Challenge Roth powered by hep welcomes athletes from around the world too, with half of its participants coming from outside Germany.

And both also hold a deep significance for reigning Roth champion and two-time triathlon World Champion Patrick Lange: "Canyon and Roth stand for the very highest quality standards. Canyon bikes are simply world-class – they've helped me to achieve so many titles and victories. The Canyon Speedmax is the fastest triathlon bike that I've ever ridden. I'm already so pumped to take it up the Solarer Berg climb again and just drink in the energy from the fans. Not least since my victory last year, Roth is simply one of a kind for me. That the race is booked out in seconds every year – and has recently been awarded best race ten times in a row – speak for themselves."

But Canyon doesn't just make bikes for the world's best pros: the brand has an enormous range of models, especially when it comes to triathlon. With the Speedmax CF SL, Speedmax CF SLX, and Speedmax CFR platforms, every triathlete can get a bike tailored to their individual needs, depending on their own budget and racing ambitions.

In addition to its online portfolio, Canyon will be also on site at this year's DATEV Challenge Roth powered by hep on 3 July, with a special Speedmax test experience available for visitors. Event participants can also drop by Canyon's on-site mechanics and get their Canyon bike serviced for free.

But that's not all.

As a special highlight to celebrate the new partnership, Canyon are giving away four individual starting slots and two relay slots for the race – one of the last chances athletes have of getting onto the start line this July. You can enter the raffle here.

Simon Summerscales, Head of Marketing & Brand at Canyon, hailed the new partnership, stating: "I'm delighted that Challenge Roth and Canyon will be collaborating in the future. As a brand, Canyon has always been known for its outstanding passion for the sport of triathlon. Year in year out, the world's top triathletes put their trust in the Speedmax, and in our triathlon expertise. The partnership with Challenge Roth is the logical next step for us on our way to establishing Canyon as the number one bike brand in triathlon."

Felix Walchshöfer, Race Director of DATEV Challenge Roth powered by hep, shares his excitement: "Patrick Lange, Daniela Bleymehl, Jan Frodeno and Nils Frommhold – we've seen five victories by Canyon athletes in the last seven years here in Roth. That doesn't just demonstrate outstanding quality, but also shows Canyon's mindset of not only building the best possible bikes, but also constantly improving them and never resting on their laurels. We identify with that completely. We're just proud that Canyon have decided to collaborate with DATEV Challenge Roth powered by hep. Even during our first meetings, we came up with countless ideas that we can develop together in the future for the athletes – both during race week and beyond."

DATEV Challenge Roth powered by hep will take place on 3 July 2022. Athletes will get the race underway with a swim in the Main-Danube canal, before doing two laps through the countryside around Roth, Germany, and finishing up with a marathon run. A legendary event taking place in the heartland of European triathlon, the race traces its lineage all the way back to 1984, with the 2022 event marking the 20th edition under the Challenge name. The race has been the stage for some unforgettable performances over the years – from Jan Frodeno's 7:35:39 in 2016 to Chrissie Wellington's time of 8:18:13 in 2011 – still a world record long-distance time to this day.
About Canyon Bicycles
What started life in founder Roman Arnold's garage as Radsport Arnold has evolved into one of the world's leading manufacturers of road, mountain, triathlon, hybrid and kids' bikes as well as modern e-bikes. Officially renamed in 2002, Canyon works hand-in-hand with the best athletes on the planet to produce an array of award-winning bikes that embody a pure passion for riding. With a strong reputation for true innovation, implementing leading technologies, clean and clear design as well as the highest standards in quality and service, Canyon continues to expand worldwide, selling more bikes outside of its native Germany than within since 2008. As a pioneering direct sales brand, Canyon products are exclusively available online at www.canyon.com.