Dec 10, 2021
Vedangi Kulkarni
Dec 10, 2021
Vedangi Kulkarni
Vedangi Kulkarni: Neuron Adventures Part 3
The final instalment of Vedangi's Canyon Neuron Adventures is here. We find out how she overcame her nerves on tricky terrain.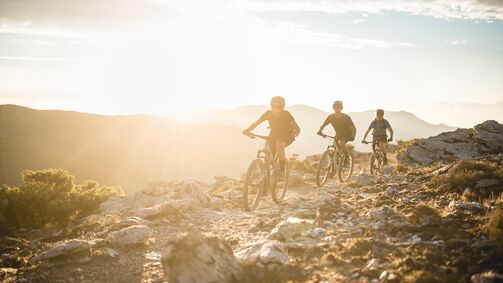 Realising what's real
We were filming around a mountain whose name translated to "The Nipple". The shots mostly consisted of some stunning singletrack with breathtaking backdrops. After back to back shots, I found a moment to breathe while the crew took some shots with the guys. I sat on a rock taller than me and wider than a small hatchback car.

I looked around at the scenery and reminded myself that this was real. Whenever I feel lost in my thoughts or more invested in what someone else thinks of me, this view and this moment will remind me of what's real and what's been around centuries.

When we moved to the next location, I realised that we had to go down a few rocky drops. A gradual fire road climb followed before we dropped into a slightly steeper climb. To finish, we went down some steep and slippy scree blowing a fair bit of dust.

We took multiple shots at each of these features. Over and over again, I told myself that if I wanted the chance to get an opportunity like this again, I had to get comfortable with not looking at features for hours before riding them. That, I'd say, was the hardest part.
Conquering fears and technical trails
My fear of others not taking me seriously far exceeded my fear of crashing. Before I left for Sardinia, I frantically called a friend who works in the mountain bike industry. He told me to think less. Whilst it was a hard pill to swallow, most of this adventure demanded less thinking, more riding. That day ended with a section of trail that our guide described as steep and rocky and that I'd probably have to walk. Now that sounded like a challenge to me!

I reminded myself of every downhill trail that I've ever ridden on a less than ideal bike for the course. While the guys took turns in front of the lens, I took my time riding the whole thing without the cameras.

Much to my (and everyone else's!) surprise, I didn't just ride down the whole thing unscathed, but also only dabbed my foot down twice. Of course, nobody kept count and it wasn't filmed but I felt on the top of the world. I talked out loud to myself for the entire way down.

I well and truly channelled the "night ride V". During night rides, I usually tell myself what's happening around me, if anything, out loud. It helps me to remember that the moment is "real" and not a dream.
The mountain bike community rocks!
What I love about mountain biking (apart from the fancy bikes) is the community. Every single person present on this shoot knew that I was nervous. They knew that I was conventionally, very much, not a mountain biker. They counted me in as one of them and treated me like I knew what I was doing which, in turn, made me feel like one.

For every feature that I rode that was well beyond my comfort zone or perceived ability level, there was someone around who showed belief that I could do it. This sort of company really works for me. Daniel, Paul, Canyon and media crew and the guide were truly incredible to hang out with. Wherever I found something too challenging, the answer wasn't to skip it, the answer was to learn how to do it.
Saying goodbye to new friends
As you'd expect with most island adventures, ours ended with some sea swimming and paddle-boarding with a wild camp on the beach. Clear blue sky and comfortable water temperature made for longer dips in the water than I imagined. I couldn't believe my luck for being there. Daniel brought his paddle-boarding party tricks along whilst I floated on my back and immersed myself in that summery vibe.

After a choppy ferry ride where we all came frighteningly close to sea sickness, we bonded over some stories from familiar times. At Genoa, Daniel and I said our goodbyes to everyone as we headed to Milan Airport. Making his flight by a very close cut, Daniel headed back to the Pyrenees. Meanwhile, I crossed security and passport control to find the first pizza-serving place around. With aubergines, cherry tomatoes and pesto, it was as the least-Pizza Hut pizza I've ever tasted. That's all that I was looking for.

When I landed in the UK, I had a 3-hour national express coach ride followed by a 20-minute cab ride waiting for me before I got home. On arrival at 3AM, I found flowers on the kitchen counter, a tea bag inside a cup and a message on the whiteboard. Welcome home V!

I had a hell of an adventure, as promised. I am now back home with a higher-than-ever-before hype for mountain biking adventures and full-suspension mountain bikes. It well and truly was a great escape.
Adventures on the Neuron Part 1
---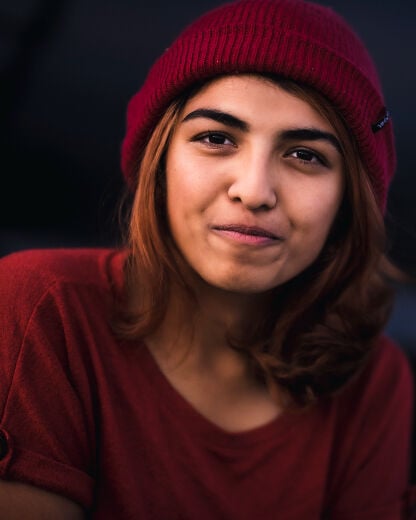 About the author
Vedangi Kulkarni was born in India in 1998 and currently lives in the UK. She's an adventure traveller, endurance athlete, public speaker, writer, expedition manager and a business owner. In 2018, she rode 29,000km around the world in 160 days, mostly solo and unsupported, at the age of 19/20, becoming the youngest woman to circumnavigate the globe on bike. When she's not riding her bike or floating on her back in some body of water, you can find her reading non-fiction books (mostly philosophical, nature writing or reflective adventure stories) or surfing the web about anything and everything related to the Arctic.
---
Take a closer look at all our mountain bikes and find out which one might be right for you.