From our Future Mobility Concept to testing our best e-bikes, here's what you missed at IAA 2021.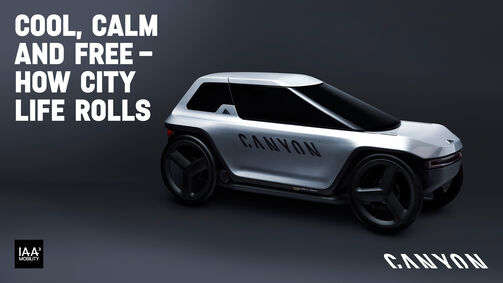 The biggest mobility show in the world took over the city of Munich last week. The International Automobile Exhibition (IAA) is a bi-annual showcase of innovation from the passenger vehicle, motorcycle and cycling sectors. Thousand of people travelled to the Bavarian city to see, hear and experience the future of transportation.
As pioneers of engineering, we're actively pushing the boundaries of how we move around towns, cities and the world as a whole by bike. We believe that bikes hold the keys to unlocking a more sustainable and more efficient way of getting from A to B and beyond.
Future Mobility Concept
We couldn't go to Munich without taking our prized Future Mobility Concept Vehicle with us. Visitors to IAA were both curious and fascinated about the vehicle and had the opportunity to ask questions and see it in the flesh. A number of our research and design team were on hand to explain how the concept came to fruition and our plans for the concept moving forward.
Our commitment to the future
We are taking steps to be more transparent regarding our commitment to sustainability and environmental protection. IAA was a chance to have these discussions more widely with both our consumers and the media. While we've already taken small steps in the right direction, we'll be sharing more detailed policies and analysis in the coming weeks to ensure we're doing our bit and more.
Jump in the saddle
We brought 67 of our best e-bikes with us to IAA. Visitors were able to test the bike for 90 minutes along the great open roads around Munich. We partnered up with a local coffee shop to offer riders the opportunity to refuel halfway through their test ride. What's better than sunshine, free coffee and riding bikes?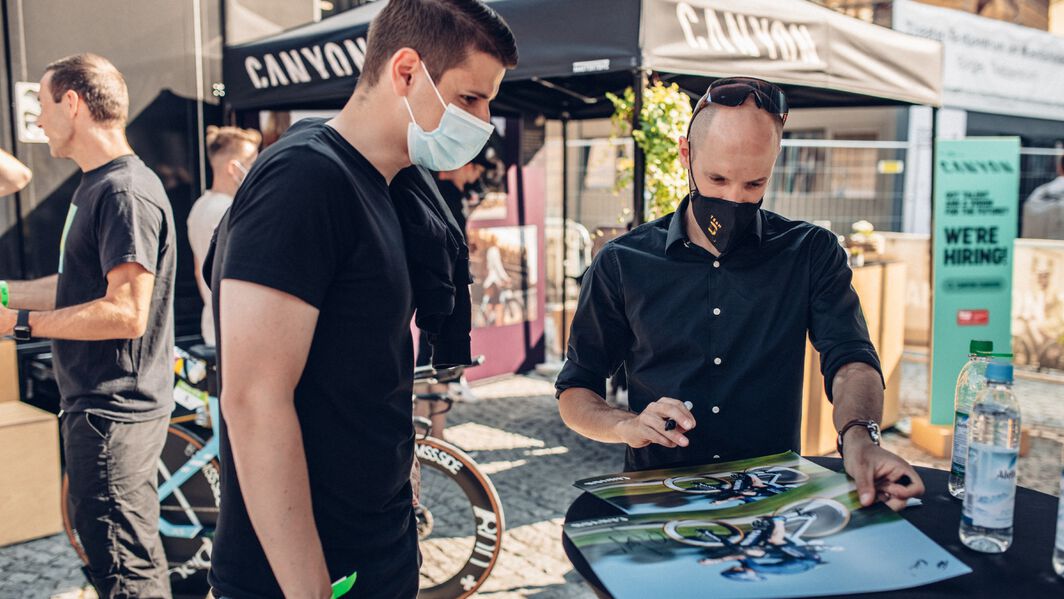 Meet & Greet with friends of Canyon
An opportunity like IAA doesn't come around very often, so we invited a couple of our friends to join us throughout the weekend.

Champion triathlete Patrick Lange had sufficiently recovered from the Tri-Battle triathlon to join us in Munich along with his Speedmax CFR. He spent time with fans at the show sharing training tips, answering questions and taking photos.

Canyon CLLCTV rider Gabriel Wibmer also came along to show off some of his coolest tricks. The 19 year old was a hit with budding mountain bikers wanting to know the secrets of success, so we're stoked that Gabe was able to nurture their dreams and shown them what's possible.

Germany's favourite TV host Kai Pflaume joined us for a few hours with many starstruck fans taking the opportunity to say hello. Kai chatted to us and his fans about how excited he is to keep exploring by e-bike both close to home and further afield.
Seizing the opportunity
It's rare we're able to engage with so many customers in such a short space of time. One of the greatest advantages of such an event is to test new products and find out what our customers really want. We recently launched a new Perfect Positioning System (PPS) tool which will enable us to collect key measurements and assist customers with getting their perfect fit.

Our HR Team also really enjoyed representing Canyon as a strong and future-oriented employer. They have been able to connect with lots of potential future team members and delivered insights on the day-to-day work at Canyon. If you missed us at IAA, you can check out our careers portal for current vacancies.
See you in 2023
We're looking forward to seeing you all again at the next IAA in Munich in 2023. In the meantime, we'll be conjuring up our next great innovation and we hope you'll join us for the journey ahead.