Canyon at Crankworx Whistler 2022
Are you planning on joining us at Crankworx Whistler this year? Read below to get a run down of all things Canyon as the Crankworx World Tour makes its stop in Whistler, B.C. on August 5th. Discover our expo, bikes to demo, rides, and more below.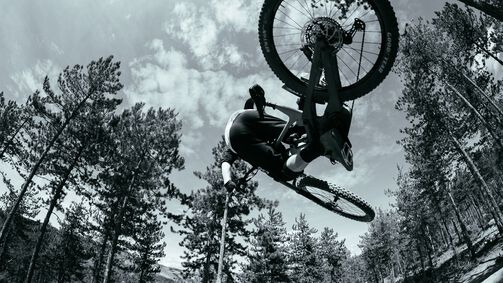 When and where will Crankworx Whistler Be?
Crankworx Whistler makes its stop in Whistler, B.C., Canada at the Whistler Mountain Bike Park, site of the original Crankworx, the biggest celebration of all things mountain biking since its inception in 2004. The event kicks off August 5th, and runs through August 14th.
What Can I Expect from Canyon at Crankworx Whistler?
As one of the world's premiere mountain biking festivals and venues, Canyon is pulling out all the stops to make it the best yet. You can find the Canyon booth in the demo area, just look for the Canyon flags. Our schedule of events is as follows:
August 5th-14th: Come demo the wide selection of Canyon mountain bikes we brought to this year's event (model lineups can be found further down.) Running from 10h to 18h, we can be found in at the demo area

Wednesday, August 10th: Join the Signing Session with Tomas Lemoine, Thomas Genon, Dennis Luffman and Kaos Seagrave

Thursday, August 11th: Come say "hello" to some of the world's best mountain bikers, including Brad Simms, Braydon Bringhurst, Samantha Soriano, Angie Marino, and Luca Cometti. Immediately following the CLLCTV autograph session, join the riders for CLLCTV Sessions on the mountain for Party Laps on Whistler Bike Park's iconic

trails

Friday, August 12th: Join the Canyon Family at the Troy Lee Designs Store for a party, and mingle and chat with athletes and riders. The CLLCTV

Downhill

Team will also be at the Troy Lee Designs store for autographs

Saturday, August 13th: Make your Crankworx Whistler experience unforgettable: Join the Canyon CLLCTV for CLLCTV Sessions Party Laps and ride with some of the world's best athletes—including Brad Simms and Samantha Soriano to name a few—on some of the world's best trails!

Sunday August 14th: Shake off your Crankworx Whistler hangover—come ride with Canyon CLLCTV athletes Tomas Lemoine and Thomas Genon on the last day of CLLCTV Sessions, and finish the final day of this epic festival in style.
Demo Canyon Bikes at Crankworx Whistler
What we are most excited to offer riders this year at Crankworx Whistler is the chance to demo some Canyon bikes—if you have questions about sizing, ride type, or are picking between two models, you can have all these questions answered at this year's event!
In order to demo bikes at this year's event, simply come by our booth, speak with one of our team members, and we would be more than happy to get you signed up and squared away for a demo. Demos will run from 10h to 18h, in Parking Lot 2 on Blackcomb Way. Ride the greatest mountain bikes we have ever made on some of the world's most celebrated trails!