Canyon SRAM riders Hannah and Alice Barnes – a Q and A on indoor training
We checked in with Canyon SRAM teammates and sisters Hannah and Alice Barnes to get their thoughts on indoor training setups and Zwift racing.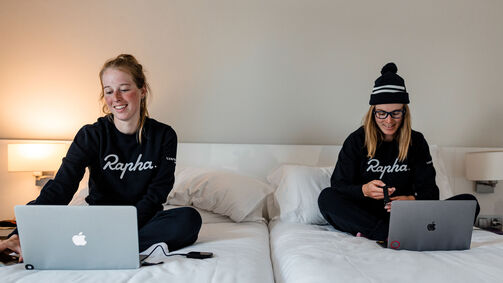 For those who are unable to get outside for regular exercise at the moment, training indoors can be a great option. A surprising amount of very effective workouts can be carried out on a bike attached to a stationary trainer, especially when combined with some off the bike body weight exercises.

There are many different options for indoor trainers, and they range in price significantly. However, all will allow you to do structured training in your own home and mean you can maintain fitness so choose the one that best suits your home and price range.

In addition, Canyon have also now approved all bikes to be safe to use on the turbo trainers taking away the stress of breaking an expensive bike. Rhys Howell, Canyon's senior manager of strategic partnerships stated that "for our testing for use on turbo trainers , we ran additional tests whereby we applied even greater forces in order to be 100% confident our products could withstand any additional strain that might occur during use on a trainer that clamps by the rear-axle". This means that your bike can undergo the strains and stresses of the turbo without voiding the warranty.

We chatted to Canyon SRAM riders Hannah and Alice Barnes who gave us an insight into their home workout setups.
What do you have in your home gym?
A: My home gym (spare bedroom) usually only consists of some stretching bands and a matt. Obviously with my Tacx Neo in the garage. I usually use the gym at British Cycling for my proper gym sessions but because that isn't possible I also have a barbell along with some weights at home and some dumbbells so am making home sessions work like this and just doing what I can.

H: My Canyon bike attached to my Tacx neo, a yoga mat, foam roller and exercise bands. Nothing special but it does the trick.
What's your go to core workout?
A: I don't really have a go-to work out. I have been using YouTube a lot and mixing it up a bit with the core sessions I have been doing and also using YouTube for stretching sessions and mobility as well.

H: I do 20 minutes of activation work which includes some core exercises before every ride and have tried to stick to the same routine during lockdown.


How do you keep it fresh on the turbo and not get bored?
A: I have actually been lucky to not have done too much turbo as am still able to train outside in the UK and have been able to throughout the lockdown. I have been on Zwift to ride with team mates and also join in with group rides and doing some Zwift racing so only been going on for exciting things really.

H: My bike was set up about a metre from my partners bike so we could talk and keep each other entertained. I also found a really good series on Netflix called White Collar that kept me busy for a lot of my sessions.


What's your favourite session on the turbo?
A: I don't have any set sessions that I go on the trainer for but I suppose my favourite ones are the ones that push me to my limit I but also within my limits so I am able to complete them.

H: I enjoy doing 5 x 5-minute efforts with 5 minutes recovery between each interval.


Do you enjoy Zwift racing?
A: I can honestly say that until the past few races I wasn't enjoying Zwift races because I was just useless at them but I have actually started looking forward to them and enjoying getting stuck in. I mean, it is never fun being the nail. It just turns out that a few simple changes have made a huge difference and I was kind of just punishing myself before. I have got a fan which I knew people said made a big difference but I really didn't think it would make as much of one as it did so I don't know why it has taken me so long. There is also a HUGE difference between a bad and good fan. Not just any will do. I have also approached races like I usually would on the road with my fuelling. Nutrition is so important but before I was sort of fitting my racing in around meals and not fuelling properly on the bike.

H: We spent lock down at our apartment in Andorra which is at 2000m's so I found the racing really hard while I was there. There is a skill to E racing that I haven't quite mastered but I will practice again before the next series starts.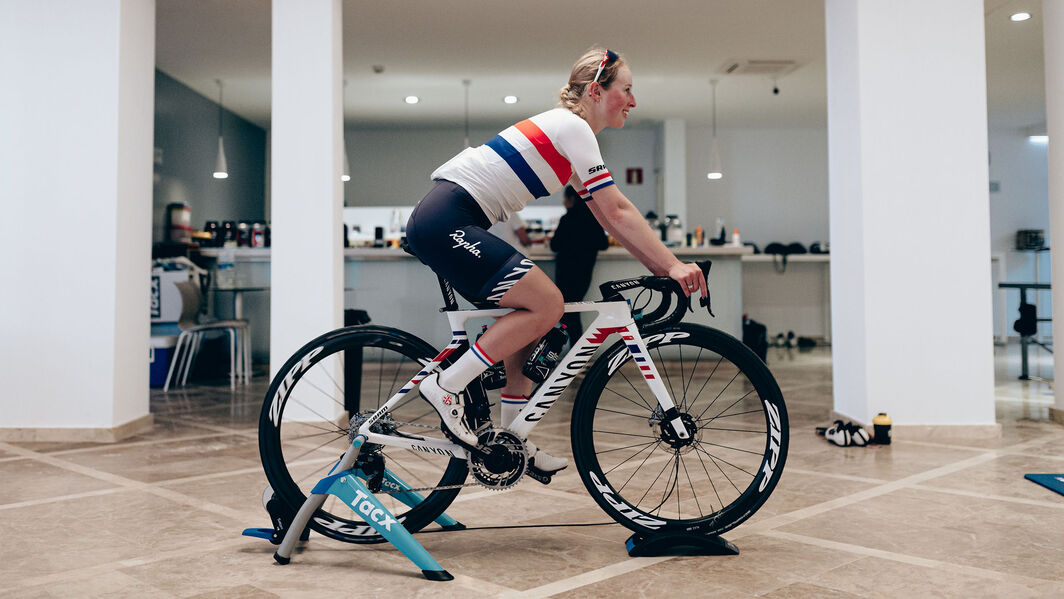 How do you get through long sessions on the turbo?
A: I think the main tool to make turbo more bearable is Zwift. Lots of riders have only used it since lock down but have really praised it which I suppose explains a lot. I have used it a lot since being on Canyon SRAM as living in the UK in winter it is pretty important to have a good indoor training set up for when I need it.

H: Music and funny television shows. I also try to find Zwift group rides to join because I find they really help the sessions go by fast.
What's your ultimate turbo playlist?
A: This changes a lot. It can be anything from Romantic Ballards to Songs to sing in the shower to Serotonin which are all Spotify playlists so you can have a listen and judge me from there I guess.

H: The best of the 90's is a good one.
Are you a roadie looking for a new riding fix this winter? There's no better way to round out your drop-bar riding routine than adding gravel into the mix. We're here to help you find the bike you need.

Nov 6, 2019

The Rapha Women's 100 is a celebration of the rising demographic that constitutes women's cycling.

Sep 2, 2020

Aero road bikes: with their futuristic looks and undeniable speed advantages, they can be somewhat divisive. More and more pros are using aero bikes, so why shouldn't you?

Oct 7, 2020