Mar 21, 2023
Vedangi Kulkarni
Vedangi and Maya's Welsh adventure
Mar 21, 2023
Vedangi Kulkarni
Vedangi Kulkarni and Maya Atkinson took the new Neuron on an adventure. Read their tales from the trails between Oswestry and Dolgellau.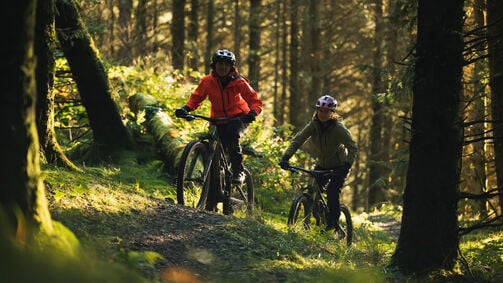 I come from India, a country that celebrates the rainy season. Growing up, I remember running outside to get soaked in the first rain of the monsoon period. Looking back at all that enthusiasm for rainy and cold days, I think I can now see why it seemed like a totally normal decision to ride a bike across one of the wettest places in the UK: North Wales. I was also looking for mountain biking and adventure, both of which are synonymous with the area.
My first ever ride on a Neuron coincided with my move to Scotland. Though the Exceed had, well, exceeded my expectation, I knew I needed a full suspension mountain bike to tackle the long, gnarly trails I now call home. Knowing that this Welsh adventure would give me a chance to ride the new, fancier version of the Neuron made me count down the days till I got to go on this trip!
Who we are and where we're going
I always have really high expectations from whatever adventure I plan. It pushes me to be a little more ambitious and when needed, perform better on a bike. That meant that I didn't just intend to have the best adventure ever in North Wales, but I also needed a great adventure buddy. That's when I found Maya Atkinson. She is a proper mountain biker. Living in South Wales, she's used to the terrain. And being a racer, that woman knows how to shred. I wanted to ride with her and learn from her. I was hoping I could drop some hints about riding long distances as she trains for her upcoming enduro season. No matter our mountain biking backgrounds, the main thing was that we both craved an adventure where we could test both ourselves and our bikes.
I was in charge of route planning and navigation. This complements really well with my obsession with maps. I was looking for was a mix of rocky bridleways, well-built trail centres, endless forest roads, great camping spots and an incredible landscape. Luckily, North Wales has a little bit of all of that! I plotted the route on Komoot along cycle paths and bridleways, with the road sections following an established national cycle route. I have ridden in most trail centres and bike parks in North Wales and wanted to cover a few of my favourites along the way too. Given the time of the year, we accepted the trails may not be in the best conditions, but with enough technical abilities and experience between us, I thought we'd manage it alright. If I struggled, I was sure Maya would help me find a good line. But the main point of this was to have an adventure, and with that prospect comes the element of surprise. In fact, sometimes, that's the best part.
Our MTB kit list
Being a spreadsheet nerd, I had an MTB kit list that I had put together and shared with Maya ahead of time. With it being November and all, the goal was to remain warm, dry and comfortable throughout our adventure. To that end, the list included:
Long sleeve MTB jerseys
Softshell jacket
Waterproof jacket
Primaloft cycling vest
Waterproof trousers
Merino wool socks
Thermal gloves
We also packed bike lights in case we arrived at our camping spot in the dark. We stashed everything into bikepacking bags and strapped them to our mountain bikes. Within the first few pedal strokes, I could barely feel the extra weight on the bike as we cruised towards the first climb. As an adventurer, that's all I needed to know!
Day 1: Oswestry to Ruthin
The first day was very short. While the forecast was uninspiring and more suitable for ducks, our spirits couldn't be dampened. We rode from Oswestry to Ruthin along country roads, forest roads and rocky singletracks. The Neuron felt perfect: light enough to climb well in the Welsh terrain and capable enough to really shred it on the downhill. My fears of the bike being sluggish on the tarmac sections were quashed as we tapped along between the off-road sections.
Before long, we were faced with an uphill hike-a-bike. Though I was convinced we were heading in the wrong direction, we were rewarded with panoramic views at the top making the steep trudge worthwhile. Maya made the loose, rocky descent look easy as she held her own over the mud. I followed her lines to the best of my ability. Soon enough that became a thing: chatting and smiling together up the climbs and going fast on the downhills, meeting again at the bottom. By the end of that day, our bikes and our clothes were in quite a state. Our accommodation for the night was probably the poshest place I've ever stayed at in the UK during a bikepacking adventure. We clambered up to our rooms via a labyrinth of wood-panelled corridors. With full bellies, we began to conjure up dreams of what the next day would bring.
Day 2: Ruthin to Penmachno
The first highlight of the day was a gentle morning spin around Llyn Brenig Reservoir. The magical view of sun breaking through the mist made up for the muddy and soggy first day. We continued our ride into Hafod Elwy Moor Nature Reserve, encountering some frozen trails, sloshy and sticky double track with grass up the middle and some rather interesting birds. A sweeping forest road descent allowed us to freewheel the whole way down, using gravity to lean into the bends and get some speed. The views of the stunning mountains from Eryri National Park were magnificent. We finished our day in Penmachno where we spent some time putting the Neuron to the test at the trail centre before finding ourselves a lovely camping spot.
Day 3: Penmachno - Dolgellau
The next day, Maya rang my phone to see if I was awake... If that doesn't scream Gen Z then I don't know what does! We both unravelled out of our sleep setups and hurried to pack everything up and get going. Knowing that it'd be our last day to hang out together, we were keen to make the most out of it.
In that spirit, we spent most of our day in Coed Y Brenin trail centre. I have a lot of appreciation for folks who make stuff look easy whether it's a massive jump or a tiny drop. Maya is one of those people. Following her down just about any track really boosted my confidence, be it flowy berms, rocky sections or drops. I learnt that when you cut out the overthinking, you can actually go quick on a bike. Who knew, aye?
Something I kept banging on about for the whole trip was that I wanted to learn to lift my rear wheel on the go. I had deliberately chosen to ride in flat pedals just to nail this skill. For a long time now, people have tried to teach me the motion and I've just found it impossible. Well, not with Maya. She explained it to me, filmed me doing it wrong a million times, kept telling me which muscles to use, reminding me to dip my toes, and just when we were both on the verge of giving up, I HAD IT! To say that I was delighted to be able to get that right would be an understatement. Well, we couldn't have thought of a better way to end this adventure.
The new Neuron: adventure potential
Our Welsh crossing taught me a lot of new skills on the bike. Riding the Neuron and feeling perfectly comfortable on the bike from start to finish increased my confidence massively. While I understand that bikes are only a medium for adventure, the more capable the bike, the better your adventure will be (and you'll have more fun!). I'm already plotting my next mountain biking adventure on that bike. Seeing as I am planning on riding mega-avalanche this year, who knows, I might even ride to the French Alps from the UK on the Neuron!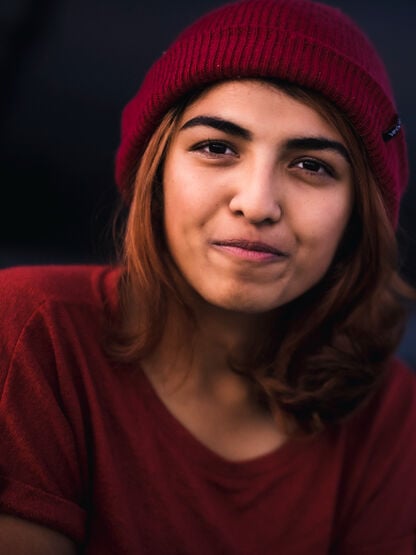 About the author
Vedangi Kulkarni was born in India in 1998 and currently lives in the UK. She's an adventure traveller, endurance athlete, public speaker, writer, expedition manager and a business owner. In 2018, she rode 29,000km around the world in 160 days, mostly solo and unsupported, at the age of 19/20, becoming the youngest woman to circumnavigate the globe on bike. When she's not riding her bike or floating on her back in some body of water, you can find her reading non-fiction books (mostly philosophical, nature writing or reflective adventure stories) or surfing the web about anything and everything related to the Arctic.