Version 2.0 of the Spectral:ON is now 1kg lighter, faster on the descents and still the most playful trail e-bike you'll ever ride.
Now 1kg lighter

We shaved a huge 1kg from the Spectral:ON and improved its already-impressive handling with a carbon front-triangle that sheds weight yet maintains steering precision.

Next, we improved your control on steep, techy climbs with a longer rear-centre that evenly balances your weight on the bike and maximizes your traction.
An integrated battery for rider control
Battery weight

2.9 kg

Motor weight

2.85 kg

Up-to speed

25 kmh

Torque

70 Nm
The Spectral:ON's new integrated battery isn't simply sleek—it also boosts handling and control.

Housing the battery inside the downtube lowers your centre of gravity, improves cornering and makes the Spectral:ON an absolute beast on the descents.




Improved 150mm suspension

The Spectral:ON gives you maximum control no matter where you're riding. Progressive suspension ensures that the bike is smooth over small roots and rocks, yet bottomless on massive hits.

Our Triple Phase Suspension is sensitive at the start of the stroke, stable through the middle, and finishes with a progressive ramp.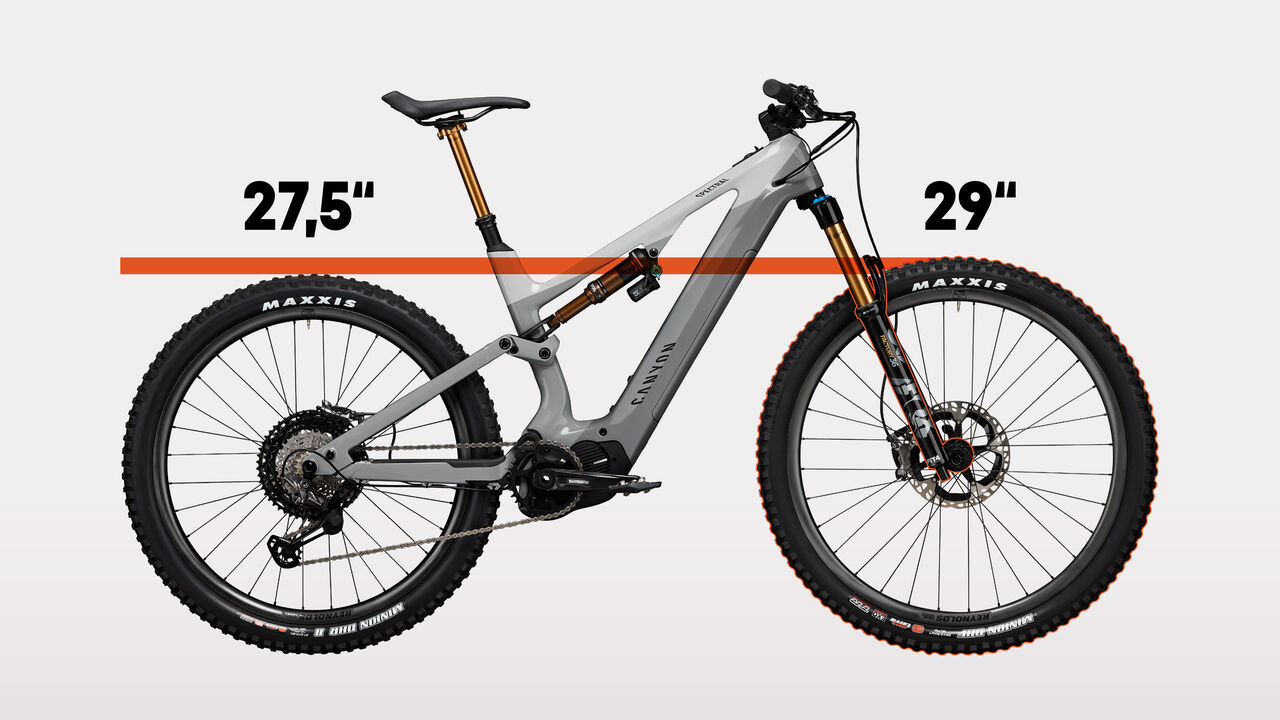 29" up front, 27.5" in the back
By pairing a 29" front wheel with a 27.5" rear wheel, we've created a bike that rolls easily over big hits yet boasts nimble handling.
E-Mountain bike details you'll only find on a Canyon:ON
E-MTB Magazine 03/2020

Suspension, geometry, tyres - it's a match! Alongside a whole range of well thought-out details and glamorous features. A top notch trail bike!

Canyon // Spectral:ON CF 9.0
Canyon Service

Full inspect and service package inc. a complete system diagnostics check and firmware update.

Learn More
What makes the suspension more linear on my e-bike?

Can I fit a coil shock on my e-bike?

Spare battery. How much do they cost and how much do they weigh?

How far can I ride an E-Bike on a full charge?