Endurance road bikes – the perfect choice for comfort as well as performance
Endurance road bikes are the rider's choice for long mile-crunching road rides, comfortable after hours in the saddle and with increased versatility for all road surfaces.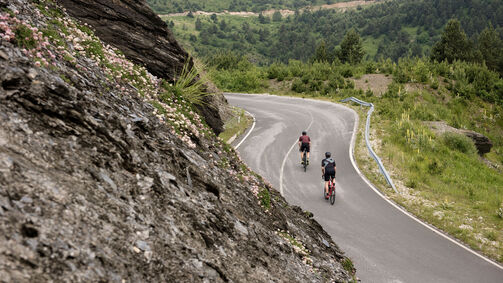 What is an Endurance road bike?
Endurance road bikes, also often described as sportive bikes, are drop handlebar road bikes with a more relaxed riding position and specific features that all combine to aid in comfort for longer rides on varied surfaces. The geometry is aimed at a higher front end to the bike, relieving the weight on your upper body, and with a longer wheelbase to make the handling more stable. More clearance for bigger tyres means the road feedback is lessened, and disc brakes are more prevalent, offering more predictable stopping power whatever the weather conditions.

Our Canyon Endurace range features aluminium and carbon disc brake specific bikes, with a range of components starting at fantastic value, to more performance driven builds that offer zero compromise whilst still maintaining comfort mile after mile.
How endurance road bikes have evolved
Comfort on a road bike has always been a key consideration during the buying process. Even if you're looking to ride fast, a harsh, bumpy ride will hinder your output. This is where the developments in engineering modern road bikes has thrived, none more so with what we can now do with carbon fibre to optimise both performance and comfort. Using specific layups of different carbon fibre throughout the frame, you can achieve specific attributes to the design with the type of material used. For example, slender rear seat stays sap out the vibrations from the road, whilst bulking out the area around the bottom bracket and chainstays will mean you have a comfortable ride that still delivers the energy you put in to the pedals directly to the rear wheel to drive you forward.

In the Canyon line-up, this is expertly demonstrated through the CF SLX models. Utilising the latest techniques to offer a lightweight carbon fibre frame, that provides class leading comfort over rougher roads, whilst still delivering the performance when laying down those pedal strokes.
Comfort and performance go hand in hand
Advancement in technology for racing and more performance driven road bikes has yielded advancements applicable to your trusty endurance road bike. There's no reason why aerodynamics, weight and agility need to suffer just because you're looking for a comfortable road bike to rack up the miles. There's no reason why your sportive bike can't have an aerodynamic front end, and features such as all-in-one carbon cockpits increase aerodynamic efficiency whilst also adding vibration damping qualities which will reduce discomfort on your hands and arms.

At Canyon, we've dedicated our efforts to offering the best performance bikes on the market, and this can be seen through our SLX range of bikes, including the Endurace; showcasing our engineering prowess and the lengths of testing we adhere to providing each rider the best bike available with confidence in its reliability.
It's all in the details
Your dream endurance road bike starts with a frame, yes – but there's more to it than that. You want a complete build and specification that suits your ride and ambitions. Offering more clearance for wider tyres means you have an array of wheel options, with wider rims for better tyre profiling, and even carbon to extend the aero-advantage. And the options don't end there: Electric shifting is now a popular choice for your next sportive bike, offering even more precise shifting performance and resistance to our less favourable UK weather conditions.

With hydraulic disc brakes across the entire range, we at Canyon know the importance of the complete build and the components chosen to compliment it. With original equipment such as our award winning VCLS 2.0 seat post that saps out the rumble from the roughest terrain, you can have confidence we've got you covered when the time comes to choose your next endurance road bike.