Finding the perfect gravel bike size
It's easy to find your ideal gravel bike size when you follow our simple advice.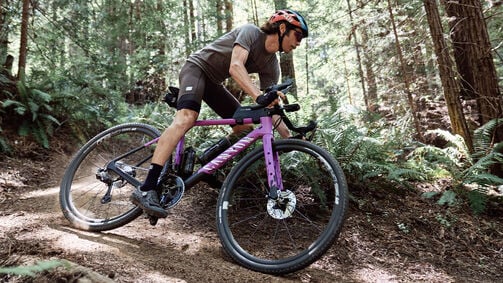 So, you fancy yourself a new gravel bike, do you? Maybe this is your first foray into the fascinating field of gravel riding. Maybe, you've seen the Canyon Grail or Canyon Grizl out in the wild and you want one yourself. We can't blame you.
Gravel bikes are the latest breakthrough in cycling. While they look a lot like road bikes, their capabilities overlap with those of mountain bikes, too. What does that mean for figuring out your bike size?
Anatomy of a gravel bike
Gravel bike geometry is very similar to road bike geometry. The main purpose of a gravel bike is to be a lightweight tool for adventure in all weather conditions. The riding position on a gravel bike is therefore more relaxed than an all-out racing machine. The components on the bike aid the adventurous spirit of the bike:
• Drop handlebars: offer multiple hand positions for all terrain

• Wide tyres: increased grip for speed and stability no matter where you ride

• Gravel specific groupset: easier gears for steep ascents and technical terrain

• Carbon seatpost: comfort on uncomfortable terrain

• Higher bottom bracket for additional clearance (think rocks and roots)
Other, more subtle, features include slacker head angles, longer head tube length and longer wheelbase. These features all add to the stability of the bike on rough terrain while promoting efficient power transfer.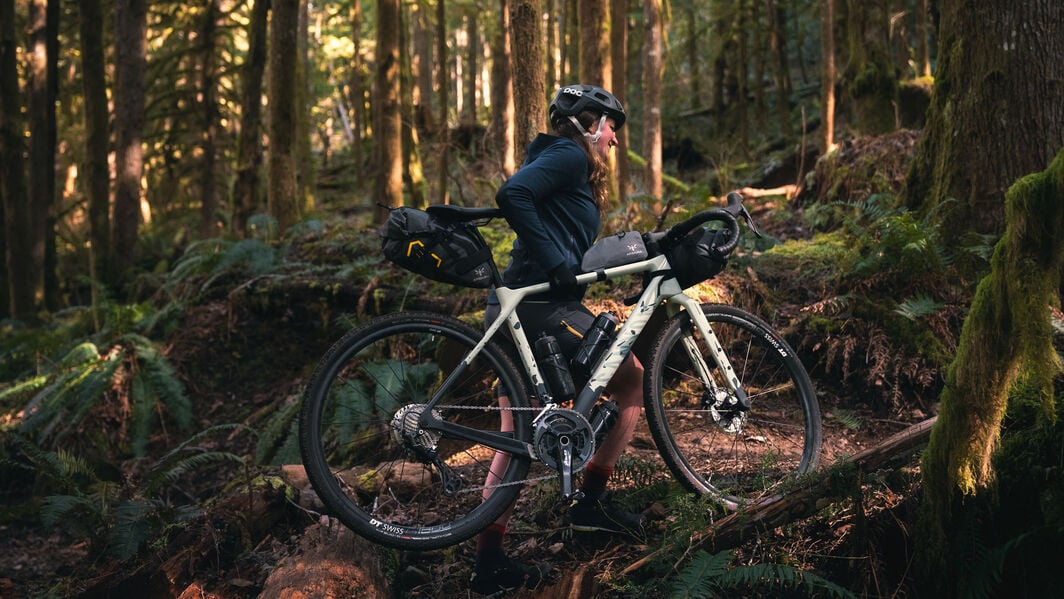 How to find your Canyon gravel bike size
Finding your Canyon gravel bike size is easy with just two simple measurements:
• Your height

• Your inner leg length
Once you have these numbers, find your preferred gravel bike on our website and put the numbers in the calculator at the top of the page. The Perfect Positioning System (PPS) is our trusted bike size finder. It will recommend the ideal gravel bike size for you based on your measurements.
Guide to Canyon gravel bike sizes
Unlike some manufacturers that use numbers to indicate the bike size, Canyon uses a more modern approach. Traditional bike sizes such as 52cm, 54cm, 56cm etc. were indicative of the seat tube length. Modern geometry means seat tube length is only half the story when it comes to a bike's fit.
Our gravel bikes are stocked in the following sizes. We've put the corresponding height measurements next to the size to help you get a rough idea of your gravel bike size.



| Gravel Bike Size | Height Measurements |
| --- | --- |
| 3XS | 152cm - 160cm (aluminium gravel bikes only) |
| 2XS | 160cm - 166cm |
| XS | 166cm - 172cm |
| S | 172cm - 178cm |
| M | 178cm - 184cm |
| L | 184cm - 190cm |
| XL | 190cm - 196cm |
| 2XL | 196cm - 204cm |
With 8 sizes across our range of gravel bikes, we stock one of the widest ranges of gravel bike sizes on the market. We have a gravel bike built with you in mind.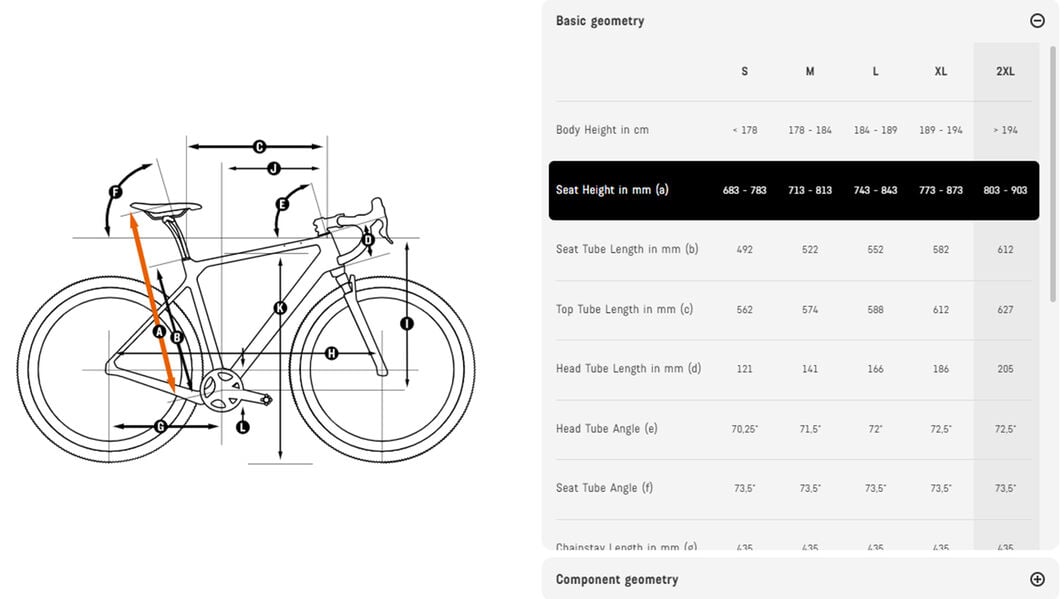 Using the gravel bike geometry chart
If you're between sizes, we recommend taking a close look at the geometry chart of your chosen gravel bike. The stack and reach measurements will help you figure out your riding position while on the bike. At Canyon, we use Stack+ and Reach+ which are more effective measurements which take spacers and stems into account.

When comparing bike models, a higher stack means your riding position is more upright. A longer reach means you have to stretch further to reach the handlebars. The latter point is important when it comes to drop bar bikes and being able to ride comfortably in the drops.

If this gravel bike is your first bike, you might be wondering how the bike should feel. Put simply, you should not feel too cramped up nor too stretched out. Make sure your knees don't hit your elbows when you ride in the drops and check you can safely operate the brakes from the hoods and drops of the handlebar.

Unlike on a mountain bike, you'll be riding in the saddle for a lot longer. It's therefore vital you get the perfect fit. Gravel bikes tend to mimic road bike geometry, so if you're already the proud owner of a road bike, the chances are your bike size won't differ too much.


Fine tuning your gravel bike
Most Canyon riders (98% of those inputting their details into the PPS are able to find their ideal bike size) discover their bike fits perfectly when it arrives. Some riders may have personal preferences that make them more comfortable on the bike. For example, shorter stems will mean a shorter reach enabling a rider to feel more confident when steering the bike.

A common component to change is the saddle. Everyone has their personal preference when it comes to sitting comfortably, so feel free to move the saddle along the rails or switch the saddle to one that's more suitable for you.


So, what's your gravel bike size?
Sizing up your perfect gravel frame is straightforward when you follow our advice. With similar geometry to road bikes, you'll probably find your gravel bike size is the same as your road bike size.

Want more off-road antics? Find out your ideal mountain bike size and head off on to some more technical trails.

If you order your bike and realise it's the wrong size, you can send it back within the first 30 days. We're confident you'll enjoy your perfectly fitting gravel bike and we look forward to seeing your gravel adventures and bikepacking trips.


Discover our Gravel Bikes
Wash your bike after every ride to reduce wear and tear with our quick and easy 5 step guide.