Spectral
Meet the Spectral Family. Our trail slaying all-rounders combine playful handling and grin inducing capability. If you have just one mountain bike, better make it a Spectral.
Which wheel size is right for me?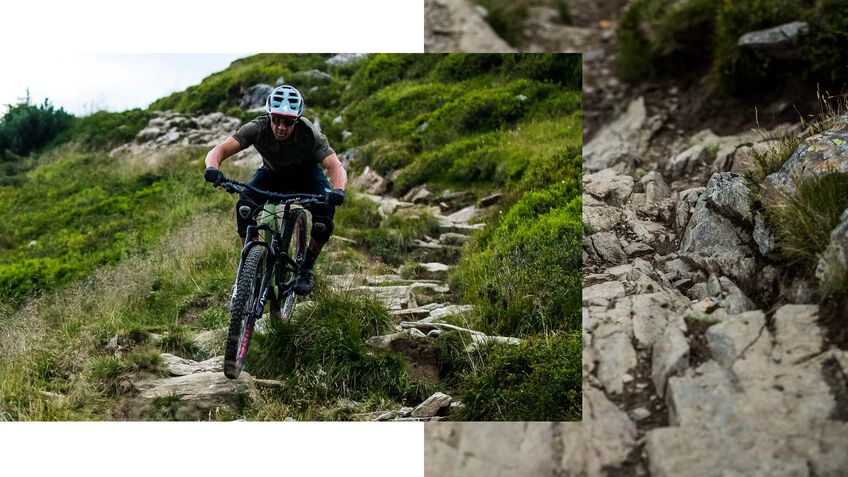 Big wheels keep on turning
29" fast and stable
Keep it rolling through the rough and flowing through the turns.
Available in sizes S to XL.
Whippable whip
27.5" agile and playful
Pump every jump and snap out of the turns.
Available in sizes XS to M.
Business at the front, party at the back
Mullet, steezy speed
Our special edition Mullet model rocks a 29er up front for more confidence and a 27.5 in the back for more agility.
Available in sizes S to XL.
Jo Klieber, Syntace K.I.S.
Keep It Stable
Take your riding to the next level.

All new Keep It Stable (K.I.S.) technology stabilises steering and improves control.
Blue beauty
Spectral CFR
The finest materials, the best components and the lowest weight. 300g lighter than the standard Spectral frame and just as capable, this is top end trail performance.

Less suspension more style
Spectral 125
Less is the New More
An aggressive, short travel 29er that's responsive and rowdy on any trail.

Spectral with extra boost
More range, less weight, more stoke. The Canyon Spectral:ON is the ultimate E-MTB all-rounder.
Gear
Clever accessories for smarter rides
Enduro packs, bottles, sideload cages and more on-bike storage gear so you can go pack free in comfort.
Clothing that looks as good as it performs. Ready to shred.