Canyon Winter Clothing Guide
What is the best clothing for winter cycling? Check out our detailed winter cycling clothing guide to know how to dress best for cold temperatures!
Dressing for summer rides is easy. Just throw on your favourite jersey, bib shorts, sports bra, socks and helmet and you're ready to ride. But when the weather gets colder, the days get shorter and there is a risk of rain and even snow, dressing for your ride becomes a little more complex. This means ensuring that you have the right winter cycling gear is essential. Our guide aims to make choosing your kit for winter rides a bit easier with handy tips to keep you riding in comfort throughout the colder months.
How to dress for winter cycling
Whatever you ride, the basic foundations of winter cycling are largely the same:
A thermal, insulating, waterproof or water-resistant jacket

Warm gloves offering dexterity

Either warm bib tights or waterproof MTB winter cycling pants
Whatever you ride, the key differences in clothing will be found in their fit.
How to dress for winter on a road bike
Upper body
Whether you ride a road bike or MTB, for warmth and comfort on colder rides, layering is vital. The base layer sits next to the skin, removes moisture and regulates body temperature. A mid layer provides insulation. The outer layer is windproof and often waterproof.
As the foundation of your layering system, a base layer helps regulate your core body temperature by wicking away moisture from your skin to ensure you don't overheat or get too cold. Winter cycling base layers come in a variety of styles and materials, from sleeveless, lightweight mesh options to thicker long sleeve merino wool items. Often described as a 'wonder fabric' merino wool is comfortable, breathable, insulating, odor resistant and absorbs moisture.
Next, and arguably most important, is your winter cycling jacket. The best jackets are warm, insulating and breathable without being cumbersome and bulky. They are often waterproof or water resistant and should offer reflective details.. The best winter cycling jackets usually feature pockets to fill with food for those long steady kilometres, extra clothing and valuables like your phone, money and keys.
Some road riders may choose to wear a winter cycling jersey either beneath their jacket or on its own over a base layer. Whether you wear a winter cycling jersey usually depends on temperature and how you individually react to particular weather conditions. Winter cycling jerseys should offer windproofing, breathability and insulation.
Lower body
Moving on to the lower half of the body, a good quality pair of winter cycling tights, thermal cycling shorts and/or leg warmers are a valuable addition to your winter cycling wardrobe. Many winter bib tights, shorts and warmers feature roubaix fabric, a nylon and lycra blend with a brushed lining for added comfort. Some models also use water resistant fabrics to keep your legs dry.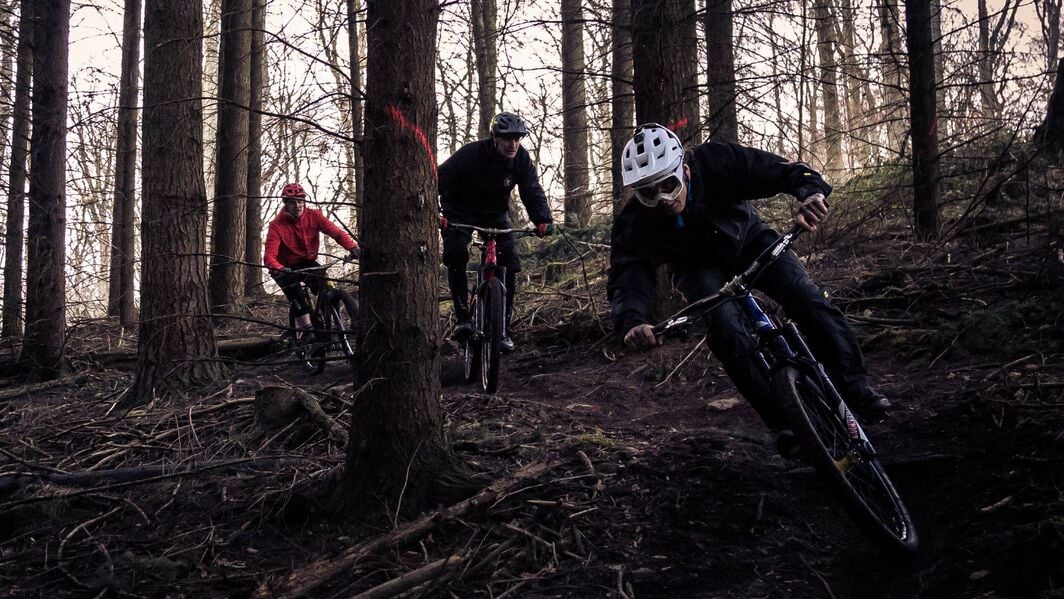 How to dress for winter on an MTB
When riding off-road in winter, you can expect mud, water and lots of trail spray. You can also expect encounters with tree branches, leaves, rocks and other debris. For these reasons, a durable, thermal, waterproof MTB winter jacket is a must-have. MTB clothing is typically looser fitting than road gear. As aerodynamics are less important, durability and ruggedness come to the fore. A good MTB winter jacket will be both waterproof and breathable- the holy grail of bad weather cycling clothing. Look for 15,000mm for waterproof and 10,000mm for breathability. Jackets with taped seams help keep water out along with waterproof zips and storm flaps. For breathability, air vents are also key.
Like MTB winter jackets, MTB winter pants or shorts should be waterproof, breathable and able to withstand the rigours of muddy, wet trails. Even if rain isn't falling , winter trails can still be wet, so waterproof trousers and shorts with taped seams will protect your legs from mud and spray. Overtrousers and shorts also protect your lycra undershorts and keep you comfortable. Like jackets, there should be air vents to prevent your lower half from overheating.
How to dress for winter on an urban bike
Urban riding is less focused on performance and high speed and more about reaching your destination in comfort. Winter jackets for urban cycling will be looser and able to fit over everyday clothing. Commuters, for example, will often encounter bad weather, street spray and oil. A good quality warm jacket with thermal and insulation features are essential. Some winter jackets may have a hood for extra protection and if it is not waterproof, carrying a packable dedicated rain jacket for shower protection is an excellent idea.
How to dress for winter on a gravel bike
Clothing for gravel riding often blends MTB and road clothing, depending on rider preference. Some riders may prefer looser fitting kit while others may wear road gear. Therefore, choosing either MTB style jackets and waterproof trousers or tighter thermal jackets and lycra bib tights are equally good options. As with MTB and road, the key factors to tick off are waterproofing, thermal and insulating features and breathability.
What else do I need on a winter ride?
You've got your jacket and tights/pants/shorts. What else do you need to keep you riding comfortably?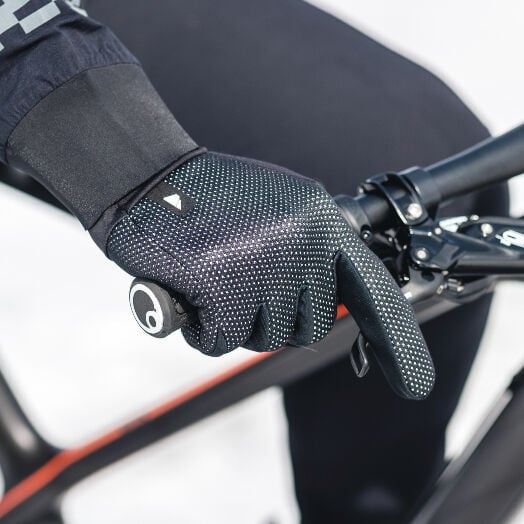 Gloves
As the temperature drops, a pair of thick, water-resistant or even waterproof gloves represent a wise investment. The colder it gets the harder it can be to operate both your gears and brakes, so keeping your fingers warm is vital. Look for gloves that keep your hands toasty while still allowing freedom of movement to operate your bike's controls.
Overshoes and winter boots
Many riders suffer from numb toes in the winter months. Add wet feet to this mix and the problem gets worse. Therefore, a pair of warm, insulated and waterproof overshoes to go over your cycling shoes is recommended. Some riders may even prefer a pair of dedicated winter cycling shoes. Available for both road and off-road cleat systems, these shoes are fully insulated and waterproof, keeping the feet warm and dry.
Headwear
Air vents in your cycling helmet may keep you cool during the warmer months but can mean your head very quickly gets cold during the winter. To combat this you may choose to wear the humble cycling cap, or 'casquette', a simple cotton cap that riders have worn since the early days of the sport. Placed under your helmet, the cycling cap acts as insulating layer to keep you warm. For added warmth and even colder days, winter caps are often made from thicker, double layered wool or cotton and cover the ears to ensure you are protected from biting winds.

For the neck and collar area, buffs, snoods or multitubes prevent cold air entering your winter jacket and can be placed over the chin and even the nose to protect your face from the chill.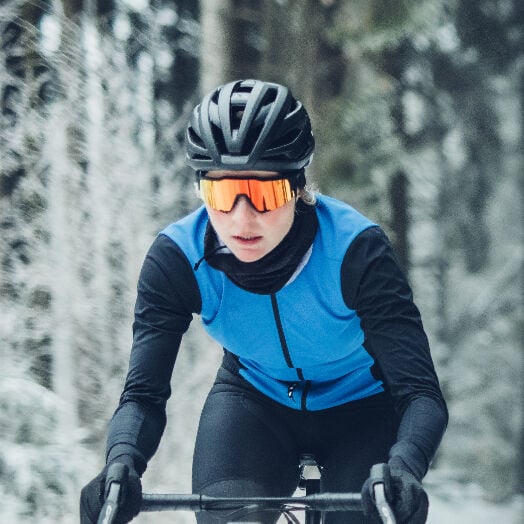 Eyewear
Many riders wear cycling glasses throughout the year for protection from the sun along with road and trail debris. For winter riding, particularly in low light conditions, clear lenses or lenses designed for low light are a good choice.
Conclusion
Though dressing for winter does involve more planning than for summer rides, following a few simple steps will ensure you stay warm, dry and comfortable. For the upper body, a good layering system is vital. For your lower half, finding a comfortable pair of bib tights and keeping your feet dry will make an uncomfortable ride a far happier one. As the old saying goes, there is no such thing as bad weather, just bad clothing. So, stay prepared and embrace the cold!
Short days and low light conditions mean lights are necessary to get around safely. Here, we take a look at some of the options.