Hub gears or derailleur gears?
Both hub gears and derailleur gears offer smooth shifting through the use of sophisticated technology.
Derailleur gears appear on all types of bikes and electric bikes. Hub gears are an interesting alternative depending on the type of bike and its intended use. They can take your cycling experience on a hybrid, city or electric bike to a new level. Find out which option is suitable for you in our guide.
Derailleur gears vs. hub gears: the differences
Derailleur
The most obvious characteristic of derailleur gears is the openness of the system. Depending on the version, you could have one, two or three chainrings located on the front crank. Sprockets, also called a cassette, are mounted to the rear wheel. A chain connects the two components. Shifters on the handlebars are used to operate the gear cables that control the position of the front and rear derailleurs.
The best-known manufacturers of derailleur gears are Shimano and SRAM. They are just as proven in everyday life as in racing. The most common gear rations for derailleur gears range from 1x10 (one front chainring and 10 rear sprockets) to 1x12 and 2x11. With the latter ratio, you have 22 gears available to use. In practice, however, some gears overlap.
Electronic derailleur gears such as Shimano Di2 or SRAM eTap are even more precise. They control the derailleur via electronic signals. Shimano uses electric cables while SRAM is a wireless system.
Internal hub gears
While the technology of derailleur gears is eye-catching, hub gears hide the tech inside the rear wheel hub. The moving parts are therefore protected from rain, dust, salt and sand. High-performance hub gears can achieve similar gear ratios to that of derailleur gears. Better yet, you can shift while stationary!
Modern hub gears work with a so-called planetary gear. Outer moving gears (the planetary gears) revolve around inner gears (the sun gears) that are rigidly connected to the axle. The gear selected determines which wheel combination is used. Combinations of five, eight, 11 or 14 gears are possible. These high-end shifting systems have little in common with the historic 3-speed hub.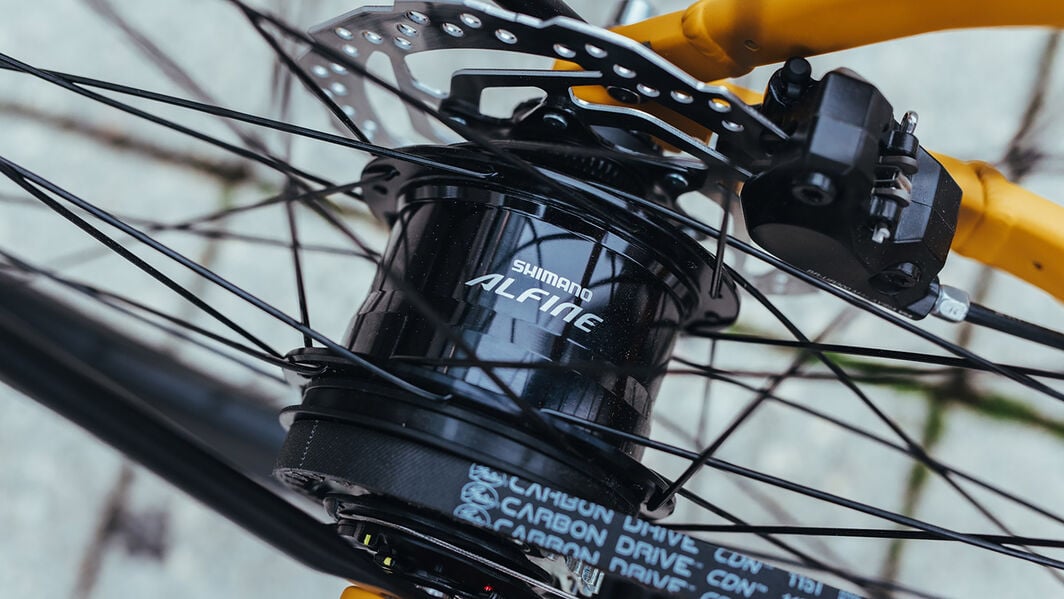 Strengths and weaknesses of the two gear systems
Both systems have matured over decades and offer many benefits. When comparing them, there is no clear winner.
Benefits of derailleur gears:
Cheaper than entry-level models of hub gears
Between 500 and 1000 grams lighter than internal hub gears
Can be shifted under load
Finer gradation more efficient pedalling than hub gears
Larger range possible
Disadvantages of derailleur gears:
Are exposed to wind and weather, therefore a risk of corrosion
Pick up dirt and dust from the road
Require regular care and maintenance
Cassette and chain need replacing often
Hub gears and derailleur gears are on par in terms of performance. The gears show their strengths in other areas than gears with exposed components.
Benefits of hub gears:
Transmission is protected from dirt and water
Significantly less wear
When combined with a carbon belt, there's no risk of oil stains
Intuitive shifting for beginners
Can be switched when stationary
Automatic, stepless gear shifts for electric bikes
Disadvantages of hub gears:
Slightly more expensive and heavier
Shifting under load not possible
Lower efficiency than derailleur gears
Limited gear ratio possibilities
Subsequent changes to your gear ratio is troublesome
Which shifting system is right for my bike?
Shifting systems are well suited to different bicycle and electric bike categories and for different purposes. Derailleur gears are popular when the focus is on price and performance. At the same time, the top models are unmatched when it comes to competition. Derailleur gears are found on the following bikes and scenarios:
Flexible adjustment of the ratio depending on the surface and route profile
Mountain roads and passes that require very large gear ratios
Mountain bike climbing
Steep ascents on road bikes where shifting under load is necessary
Entry-level models
In these cases, hub gears are the best choice:
Everyday use bikes e.g. city bikes or commuting bikes
If you don't want to spend time on servicing and maintenance
Avoiding oil stains on your clothing (on a belt drive bike)
Frequent stop-and-go cycling with the ability to change gears while stationary
Hub gears or derailleur gears on an electric bike?
Powerful mid-mounted electric bike motors and heavy batteries mean weight is less of a priority with electric bikes. The strengths and weaknesses of the two systems therefore have a different effect on electric bikes.
Our city bikes with mid-mounted motors come with either derailleur gears or hub gears. The Commuter:ON has a derailleur that is ideal for the commute to work. The focus of our all-round carefree city electric bike Precede:ON is ease of use. Here, a hub gear and carbon belt are ideal.
The Canyon Roadlite:ON has a 12-speed derailleur for riders wanting a workout when they ride. Together with the super-light integrated Fazua RIDE 50 EVATION electric motor, you can fine-tune your speed and cadence.
The situation is similar in the electric hybrid bikes category. The slightly lower efficiency of hub gears and the slightly higher weight penalty are a non-issue. The support of the motor easily makes up for those disadvantages. The comfortable off-road performance of electric hybrid bikes is complemented by the stepless Enviolo hub gears and a carbon belt. This is how you give your cycling tours and benefits from an easy-care bike.
Start the weekend ride quickly without having to inspect, clean and lubricate the chain beforehand. This is the decisive advantage of a combination of hub gears and carbon belts. Chain oil and quick links can stay at home!
SUV electric bikes: hub or derailleur gears?
The practical combination of hub gears and a carbon belt makes our new SUV electric bike Pathlite:ON the ideal companion for any adventure and terrain. The setup stands for maximum comfort and flexibility.
If you prefer a sporty ride, you can choose the Pathlite:ON with derailleur gears. If your planned ride is particularly long and varied, this setup gives you reserves on any terrain and steep sections.
Shifting options on a city bike
Derailleur gears and hub gears are suitable for city bikes. The latter benefits in city traffic with its reliability. A hub gear hardly wears out, too. You don't have to worry about the condition of the chain and rear derailleur before riding. In combination with a belt drive, dirty trouser legs are a thing of the past. Hub gears make your city or commuter bike the perfect urban companion.
The ability to shift gears while stationary is another advantage of hub gears on city bikes. You can start off in the appropriate gear at traffic lights or before uphill gradients. In city traffic, you often have to brake suddenly. With hub gears, you can quickly and effortlessly choose the optimal gear to continue your journey.
On your ride around the surrounding area, is there any traffic? Then the speed of derailleur gears comes to the fore. As a rider with a focus on speed and fitness, the Roadlite or Roadlite:ON is the right bike for you. A light, sport city bike with excellent derailleur gears awaits you.
Which gear setup should I choose on my hybrid bike?
The effectiveness of the gear setup is also important for sporty riding. Every bit of power counts, especially on rough surfaces and over longer distances. Adapted gears for stop-and-go are not a priority on forest paths and country lanes. With the derailleur gears, you are more dynamic on a hybrid bike and can vary the gear ratio. You can adapt your setup to each specific tour rather than the other way around.
Conclusion
It doesn't matter whether you choose a bike with hub gears or derailleur gears. With a high-quality fear system, you'll be fit, fast and reliable on your bike or electric bike. Which system is more suitable for you depends on the intended uses and your preferences.
Modern hub gears ensure a smooth ride on urban bikes and electric bikes. If you want to cycle easily, there is no better solution.
See the bikes
Discover our Hybrid Bikes
Want to save money, do your bit for the environment and improve your health? Commuting by bike is the answer. Our ultimate guide tells you all you need to know for getting to and from work by bike.