Best places to MTB near London
Where can you go mountain biking near London? Discover London's best MTB trails with our guide.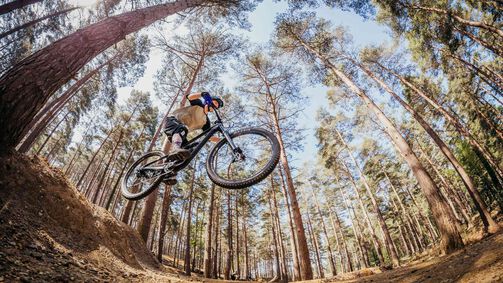 Mountain bike trails near London might not be the first thing you search for when visiting England's capital city. But London's mountain bikers have a decent variety of trail centres and forested areas to choose from.

Having grown up in East London, I learnt to ride off-road and develop my skills in many of the places listed here. And, with the help of the Canyon Crew in the UK, I'll give you a rundown of the best places to ride mountain bikes around one of the greatest cities in the world (and home to Cockney rhyming slang).

So, as we say in London:

'Hop on your clever mike (bike), my old china (china plate = mate) and get ready for a Charlie Pride (ride) around the best mountain bike trails of old London town.'
What's it like?
Starting in East London's borough of Newham and continuing through the county of Essex, this is one of the closest 'ride out of the city' areas for mountain bikers. In fact, most of Epping Forest's trails are within the M25 (the motorway that circles London).
What the trails lack in elevation they more than make up for with technical challenges on the tight, twisty singletrack packed into this densely wooded area.
Waymarking is mainly restricted to bridleways which are, in this case, dirt roads through the woods. But you'll find lots of tyre marks highlighting the more technical trails with just a little bit of exploring or, even better, pre-planning your route using Trailforks.
The clay ground in the woods is a big factor in the ride characteristics. Wet, even damp, clay is extremely slippery and sticks to tyres very effectively. And when you're not battling with the mud, you'll be trying not to be lacerated by the brambles that try to claim the trails for themselves.
How do I get there?
There are plenty of train stations and even London underground (also called 'the tube' by Londoners) services that are within striking distance of the trails.
The London Underground's Central Line runs almost parallel with the woods. Head to Snaresbrook station and you'll be just a few pedal strokes away from the first trails out of London. Alternatively, pick up an overground train from Liverpool Street station out to Chingford.
Restrictions apply for taking bikes on trains and the tube, so check with TfL before you set off.
Which bike is best for Epping Forest?
What do the Canyon crew say?
Paul Wootton, our service and events technician, says:
"Although the stats don't look like it'll make for good riding, don't underestimate Epping Forest as an MTB destination. There's enough there to ride all day and never hit the same trails twice. If you're more into tricks and whips there are some jumps around High Beech that beg to be sessioned."
What's it like?
Some argue that the Surrey Hills is the best place to ride mountain bikes in South East England. And it's hard to disagree with them.
The hills are a designated area of outstanding natural beauty (AONB) in the county of Surrey, about an hour's train ride from central London. They form part of the North Downs, a ridge of chalk hills that continue past the south of London and end with the iconic white cliffs of Dover.
Their elevation and terrain make for some exciting trails with challenging but short climbs taking you to the wide variety of technical, gravity assisted action.
Much of the area is pine and bracken forest land, with sand and rocks covering the chalk structure of the hills. So it tends to drain well when it's wet and doesn't suffer from too many blown out dusty corners in hotter weather.
There are, largely, 3 hills that receive most of the MTB crowds.
Pitch Hill and Holmbury Hill
These two hills are easily close enough to combine a visit in one day. Pitch gets slightly more attention from trail builders exploiting the gradient. But both sides of the valley have some excellent, well known (but not waymarked) lines snaking through the trees and undergrowth.
Leith Hill
The second highest point in southeast England at 294m above sea level. On paper, it may not seem like great mountain biking territory but the trails here are littered with bomb holes and some clever building to give even the toughest downhillers and freeriders big grins. Big compressions will test suspension set up (and muscles) while rhododendron bushes try to hide the next tight, rooty corner.
Leith Hill also has the blue graded, waymarked trail Summer Lightning. The trail boasts 4.7km of swoopy berms, jumps and challenges that start at the glorious Leith Hill Tower. Superb for kids and grown up kids alike.
How do I get there?
Public transport is patchy at best here. Dorking is the main station with the train taking around 1 hour from Victoria station, but it's a long and tiring ride to the 3 main hills. The smaller station of Gomshall is closer to Pitch and Holmbury hills. Or Holmwood for Leith Hill.
Restrictions for carrying bikes on trains apply. So please check with the rail operators before you head out.
By far the easiest way is to use one of the many car parks in the area. Any of the Hurtwood car parks near the village of Peaslake will plant you directly in the trails of Holmbury and Pitch hills.
Leith hill also has plenty of car parks right on the trail. Head to Starveall corner, Rhododendron wood, Shoe tree or Redlands car parks to start exploring.
Which bike is best for the Surrey Hills?
What do the Canyon crew say?
Jack Noy, our brand manager for MTB gravity, says: 'Surrey Hills hits the sweetspot between natural and established trails. There really is something for all types of mountain bikers here including jump lines, freeride and flow trails. It's a good idea to ask local riders for routes to follow so you get the most out of it.'
What's it like?
This is a managed woodland in the county of Berkshire, a short way from the southwest of London.
Part of the Crown Estate (owned by the royal family) this is an open area with 24 km of waymarked, graded and maintained trails.
The area is pine forest on sandy ground which drains fairly well. But during wetter weather the lack of gradient results in big puddles and energy sapping soil.
The lack of hills doesn't mean it's any less fun or any less of a challenge. Trail builders in Swinley have used the land resourcefully. Creating a series of blue and red trails to test the most experienced of riders.
Expect short, fun bermed trails with small jumps and drops mixed with pedally, twisty sections and even bits of north shore.
How do I get there?
Mainline trains take around 1 hour to Bracknell Station from Waterloo. And the station is a flat 5 km ride from The Look Out, the forest's centre and cafe.
There's plenty of 'pay and display' car parking spaces at The Look Out as well. All day tickets cost £6, the costs of which help to fund the upkeep of the area.
What do the Canyon crew say?
Anna Curran, our customer service and social media coordinator, says: "Swinley's great for all levels of rider as the trails there are varied and clearly marked. There are flow trails and technical singletrack and jump lines that you can session or hit once and carry on. It's worth checking out the Summit Hub. I've had a membership there for the last year and it has an amazing set up.
"If you want progression, the Summit hub has it. From flat corners to 3 m drops, you'll be able to spend hours there and coaches are always on hand to help. It is members only but worth checking out for locals looking for development."
What's it like?
You wouldn't think you could fit a bike park in as small a space as Rowney Warren but you'll be amazed at the number of different lines the builders have squeezed in under the pine trees.
The whole park is dedicated to learning how to be brave and fast, boasting progressive jump lines, dual slalom, 4X, downhill, pump tracks and drop offs among other things.
As the name suggests, Chicksands is sandy, which means it drains quite well in all but the worst of weather. I've been even been there in the snow and it was still awesome.
You can ride on a weekend day ride ticket 8.30 to 6.30pm for £10 & weekdays for £7.50.
For more information visit chicksandsbikepark.co.uk
How do I get there?
Trains to Bedford (the closest town) run from King's Cross or St Pancras International, taking around 1hr 30mins but it's another 15km ride to the bike park.
A much easier way is to drive and park at Rowney Warren.
Which bike is best for Chicksands?
Slopestyle and dirt jump bikes, like the Stitched are perfect for the jumps, dual slalom, 4X and pump tracks here. And a downhill MTB or freeride bike like our Sender, Torque or Torque:ON will rule the drops and downhill course as well as being great fun on the side by side courses.
What do the Canyon crew say?
Robbie Firth says: "If you want to progress your riding skills Chicksands is a great place to learn. There are fun learner sections that get progressively bigger. Make sure you wear helmets (they're compulsory) and body armour is a good idea too."
Other places to ride near London
Aston Hill

The South Downs

Hadleigh Park mountain bike trails

Deer's Leap bike park
---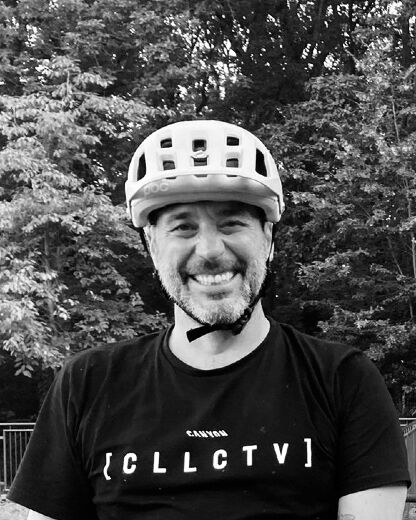 About Chris Harding
Chris has been riding mountain bikes since he was 13 (way back in 1986) but has still not mastered the wheelie, manual or stoppie, much to his shame. He tried out road riding for a few years around his home town of Brighton, on the south coast of England. But with the trails of the South Downs on his doorstep and the Surrey Hills quite close he's never happier than when he's hitting technical singletrack or gravel riding. He's also our senior content designer.
---
Need a full-suspension mountain bike but confused by all the options? Our buyer's guide will help you get the best MTB.