Canyon release limited-edition Grail CF SL 7 Race CSR
The Grail is back: proven design features, latest gravel components and a unique, pro-inspired colourway. Check out the new Grail CF SL 7 Race CSR.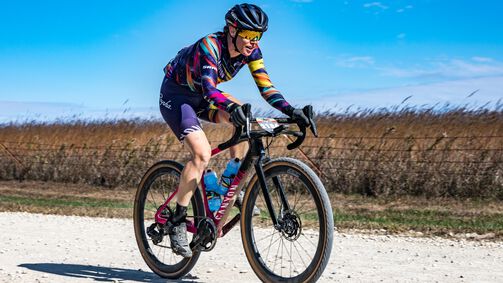 Since its launch back in 2018, the Canyon Grail has blurred the boundaries between off-road efficiency and on-road speed. As gravel riding has evolved, the Grail has evolved with it: getting more capable as better, more refined gravel-specific parts have hit the market. And now, the Grail is back– in a run of 100 striking limited-edition models, uniting the Grail's proven design features with the latest gravel components and a unique, pro-inspired colourway. This is the Grail CF SL 7 Race CSR.

In terms of aesthetics, the Grail CF SL 7 Race CSR takes its cues from the bike raced by Tiffany Cromwell of CANYON//SRAM Racing this summer as she took a break from the WorldTour to make her mark on the U.S. gravel circuit. It's a loud, bold colourway that's sure to turn heads on any start line. But it's not just about the artwork – the Grail is a proven performer too, taking Tiffany to several strong showings including taking the win at Belgian Waffle Ride Kansas.

When it comes to the spec, the Grail CF SL 7 Race CSR takes its inspiration from what the world's fastest racers ride – with parts selected for speed and efficiency across a wide variety of surfaces – and makes that performance available to enthusiasts everywhere through smart component choices striking the sweet spot between speed and value.

For starters, the bike is built around the Grail CF SL frame – featuring all the same design innovations as Tiffany Cromwell's Grail CF SLX, all at a significantly more attainable price point. The most notable of those design innovations is the Grail's iconic Double Decker Bar – a cockpit that takes ergonomics to the next level with four distinct hand positions for extra comfort and added control on the drops, plus a floating upper section that helps kill vibrations at the hoods and on the tops.

In pursuit of comfort, the bike comes equipped with a S15 VCLS 2.0 seatpost: the benchmark in flex, reducing shock impact and delivering comfort where it matters most to keep the rider's whole body fresher for longer on big rides. A combination of lightweight, aero DT Swiss GRC 1600 wheels and Schwalbe G-One R tyres holds speed and delivers excellent efficiency and control, both off-road and on. The bike also uses a SRAM Rival eTap AXS shifting system with gravel-specific XPLR gearing – a setup made for gravel riding, with no cables to adjust, no wires to route, just one-by simplicity, and a huge gearing range for steep gravel climbs with tight jumps for fast road riding.

The Grail CF SL 7 Race CSR will be available to order on Tuesday 9 November 2021 for €3,499*, exclusively at canyon.com.
About Canyon Bicycles
What started life in founder Roman Arnold's garage as Radsport Arnold has evolved into one of the world's leading manufacturers of road, mountain, triathlon, hybrid and kids' bikes as well as modern e-bikes. Officially renamed in 2002, Canyon works hand-in-hand with the best athletes on the planet to produce an array of award-winning bikes that embody a pure passion for riding. With a strong reputation for true innovation, implementing leading technologies, clean and clear design as well as the highest standards in quality and service, Canyon continues to expand worldwide, selling more bikes outside of its native Germany than within since 2008. As a pioneering direct sales brand, Canyon products are exclusively available online at www.canyon.com.