Speedmax CF SLX 9.0 TT
Color:

half blue

Color only available to members. Register .
Find your size:
Find your size
For the best results, click on the "Help" texts for detailed explanations on how to carry out each specific measurement.
Select frame size:
Current delivery times information.
Read more
Color only available to members. Register .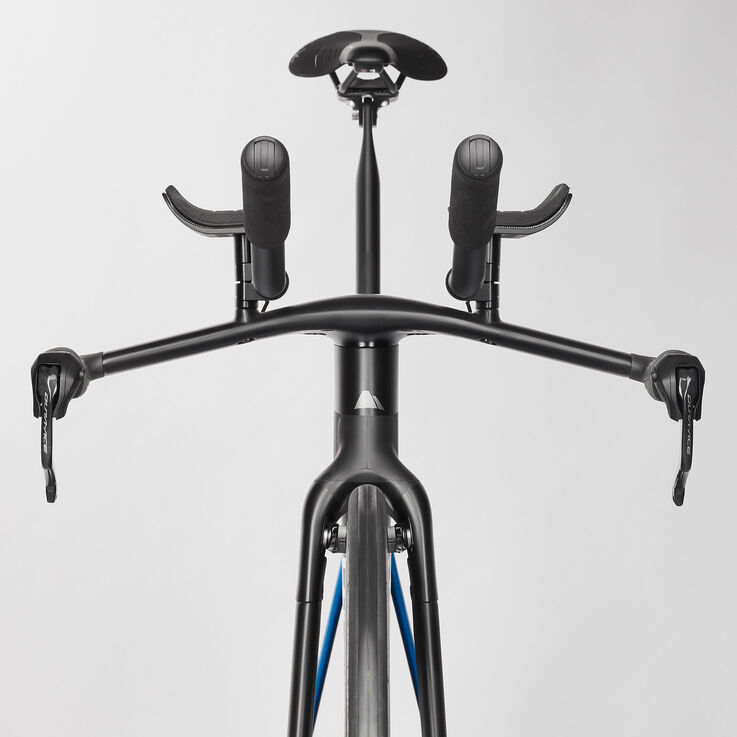 Weight

8.20 kg

Material

Carbon (CF)
Speedmax CF SLX 9.0 TT The Speedmax CF SLX has been designed to be the fastest time trial bike, with advanced aerodynamics and impressive ergonomics and control to help you set a new personal best. The Speedmax CF SLX 9.0 TT is the perfect choice for the Race of Truth.
Speedmax CF SLX 9.0 TT The UCI-compliant Speedmax CF SLX 9.0 TT is equipped with the latest Shimano Dura-Ace Di2 drivetrain and Zipp carbon wheels to give you the edge over your rivals in the race against the clock.
The Complete Performance System – Built for You
Ordering your Speedmax CF SLX is simple. Select your model, size, and colour, and place your order. Then sit back and consider which configuration and extras you need to achieve your perfect setup.

After we receive your order, our experts will reach out and work together with you to personalise your bike, so you get your Speedmax exactly the way you want it out of the box.

When you've decided on everything, we'll build and ship your bike. Because the personalisation process can vary in length, the delivery date quoted when ordering is just a rough guide.
The highlights of this component set
Shimano's Dura-Ace Di2 provides the best and most precise shifting ergonomics. Add on the WorldTour tested Zipp wheels and rear disc and you get an impressively fast time trial bike.
Geometry Table
Understanding your bike's geometry is the key to a great fit and comfortable ride.
Bikes of this category are designed for riding on hard-surface roads where the wheels remain in permanent contact to the ground. These are in general road racing bicycles with racing handlebars or straight handlebars, triathlon or time trial bicycles. The permissible maximum overall weight comprising rider, luggage and bicycle should not exceed 120 kg. Under certain circumstances this permissible maximum weight can be further limited by the component manufacturers' recommendations for use. Proven cyclocross and gravel bikes with racing handlebars and cantilever or disc brakes are a special case in this category. In addition, these bikes are also suitable for gravel paths and off-road trails where a short loss of tyre contact with the ground due to small stairs or steps at a height of 15 to 20 cm can occur.
We're in Control
Our business model gives us the advantage of knowing exactly where our products come from, how they are made and what they are capable of. Canyon products are exclusively available at Canyon.com, so you can trust the quality you are getting.
Disclaimer
Subject to technical modification without notice. Errors and omissions excepted.
To finance your order:
Select the 'Financing' payment method at checkout and enter the amount you wish to be financed. You will be forwarded directly to the online application page of our partner, Consors Finanz BNP Paribas. After you have entered your information, the application will be immediately checked directly online. If your application is accepted, you have to confirm your identity (1. over the Internet or 2. in a post office) and sign the contract (1. online via mTAN (SMS), or 2. print out the credit agreement, sign it by hand, and send it in by post). Your order will then be processed and we will deliver the goods to you as quickly as possible.
Instalment Calculator
No credit checks, 0% interest. Pay monthly for your order with your existing credit card.
Instalment per month
1,571.50 US$
How to order:
At checkout, select the 'Interest-free instalments' payment method.

Complete your order

You will be redirected to Splitit to set up your payment plan.
If your bike isn't in stock you will receive a payment link about 14 days before shipping.
How payment works:
The first monthly payment is charged on your credit card when your order is shipped.

Splitit will authorize the full amount on your existing credit card (Visa/Mastercard), but only charge you the first installment up front.​ Please note debit cards are not valid for the Splitit payment option. Please ensure that your credit limit is sufficient, otherwise your order will not be successful.

After every payment, the hold on your card is reduced until the purchase is fully paid. In case the re-authorization for the remaining balance doesn't go through, and there is no solution within the grace period of 7 days, the credit card will be automatically used to recover the full purchase amount. Splitit will inform you about any issues on the payment plan in a timely manner. Please also check your spam folder regularly.
The instalments appear on your statement as individual payments. Your order will be processed and delivered as normal upon passing our quality control check.
Klarna. Instalments
Pay with equal monthly instalments. Interest-free up to 6 months.
Pay in instalments by card over 6–36 months.

No interest or fees up to 6 months.

9.9% interest on 12-36 month terms.

Available for in-stock products & products with shipping date within next 30 days.
How to order:
Select 'Klarna. Instalments' at checkout.

Enter your details on the Klarna website.

Klarna will perform a credit check. Only takes a few seconds.

The first payment will be charged when your bike is shipped.

The remaining payments will be taken monthly.
You will receive notifications when payment is due and when it is collected.
Further information
If Klarna reject your payment, please:
You can view your Klarna purchases on klarna.com.
Ready-to-ride Delivery
With Ready-to-ride Delivery, pro mechanics will ship, assemble, and set up your e-bike.