Cycling Shorts Buyer's Guide
Arguably the most important piece of cycling kit are shorts, so what do you need to know about getting the best pair?
It's just a pair of shorts, right? How complicated can it be? Well, you'd be surprised. Cycling shorts weren't all created equally. There are many different types and styles so this cycling shorts buyer's guide will bust some myths and talk you through the process of getting the perfect pair for you.
What are cycling shorts?
Whether your riding takes you on the road, gravel or mountain bike trails or indeed all three, a good pair of cycling shorts is essential to get the most out of your riding. Unlike casual shorts, cycling specific shorts differ in their construction and materials. Cycling shorts are designed with comfort and performance in mind.
Due to the riding position, they're stretchy enough to allow your body to move around the bike but tight enough to keep them in place throughout your ride.
What are the different types of cycling shorts?
Road cycling shorts are typically constructed from figure hugging Lycra that sits next to the skin. They feature a chamois pad for comfort over longer distances and they wick moisture away from the skin – more on this later.
Mountain bike shorts are looser fitting to cope with the stresses of gnarlier terrain. They're made from tougher materials in case you come off your bike or debris flicks up from the trail. Some riders prefer to use undershorts with their baggy shorts. Undershorts include a chamois pad like road cycling shorts but the fabric elsewhere is lighter weight so you don't overheat.
Features of road cycling shorts
The most important features to look for in a pair of road cycling shorts are:

Lightweight stretchy fabric such as Lycra and Nylon

Comfortable chamois pad designed for your anatomy

Supportive straps or waistband

Leg grippers
Fabric
Road cycling shorts have plenty of elasticity (usually a blend of Lycra and nylon) in them because of the dynamic nature of riding a road bike. Not only does this keep you comfortable throughout your ride, it also helps regulate your temperature and wicks moisture away from the skin.
What's a chamois pad?
Bib shorts also have an important component within them: the chamois pad. Modern technology has aided the development of chamois pads such that they are now shaped specifically for male and female anatomies. The chamois prevents chafing in delicate areas and most cyclists wouldn't dream of riding more than a handful of kilometres without proper bib shorts with a chamois pad. The chamois pad often has an antibacterial treatment applied to reduce infection in sensitive areas.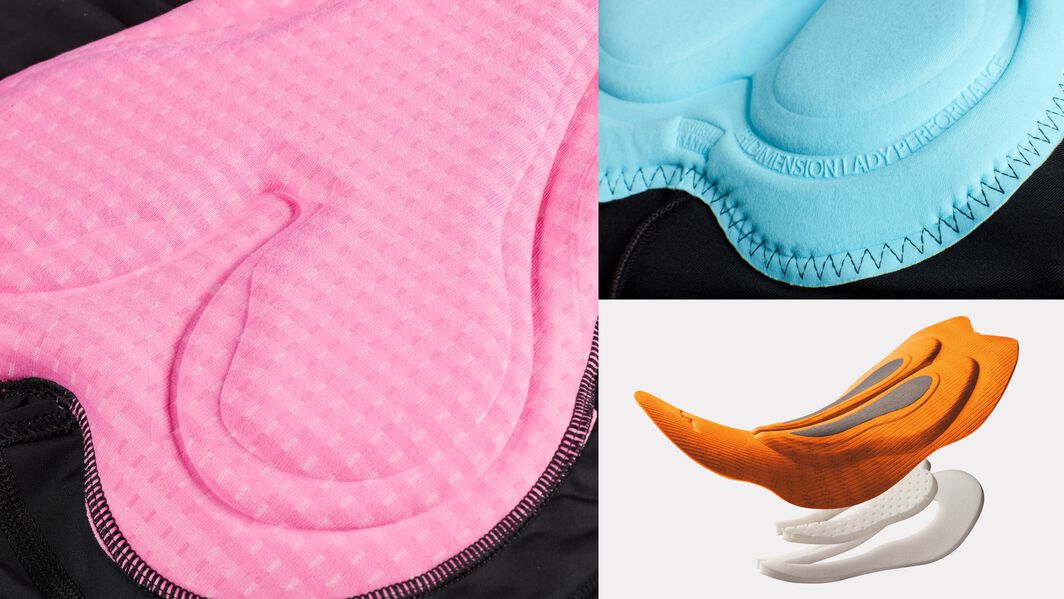 Straps or no straps?
Some cycling shorts have elasticated straps that hook over the shoulders. This style of shorts are called bib shorts and are most common in road cycling as well as gravel riding and cross-country mountain biking.
Leg grippers
Bib shorts also have leg grippers to stop them sliding up your legs as you push the pedals. These grippers keep the shorts in place and of course make them more comfortable to wear.

Some shorts have wider leg grip than others but the decision is entirely personal preference.
What are cargo bib shorts?
The last couple of years have seen an important development to bib shorts in the form of pockets. Cargo bib shorts are particularly popular with long-distance cyclists, who need to carry extra snacks or more spare parts. The pockets are usually mesh so as not to add more weight or additional irritating fabric, and they're situated on the thigh to avoid the crease at your hip.
Should I wear underwear with bib shorts?
No! You should maintain direct contact between your skin and the chamois pad. Anything additional will chafe and result in sores, which is the last thing you need after a long bike ride.
Fit and sizing of bib shorts
Many brands have options when it comes to the type of fit. From race-focused to others that lend themselves to a more forgiving fit. A racing bib short is likely to be extremely lightweight with aerodynamic fabrics (textures on the fabric that aid the flow of air). The more engineering and high-performance the cycling shorts, the more you'll pay. For most riders, a middle-of-the-range pair of bib shorts will suffice for most of your riding.
Manufacturers differ in their sizing. Some brands run small while others require you to size down. Make sure you check the size guides before parting with any cash.
Features of mountain bike shorts
The rigours of mountain biking demand a totally different fit and style when it comes to cycling shorts. You need to be able to throw your weight around the bike a lot more than on a road bike. For this reason, baggy shorts are common with mountain bikers who ride trails or enduro.
MTB shorts have extra features not found in road shorts such as:
Zippered pockets

Adjustable waistbands

Belt loops

Integrated or detachable chamois liner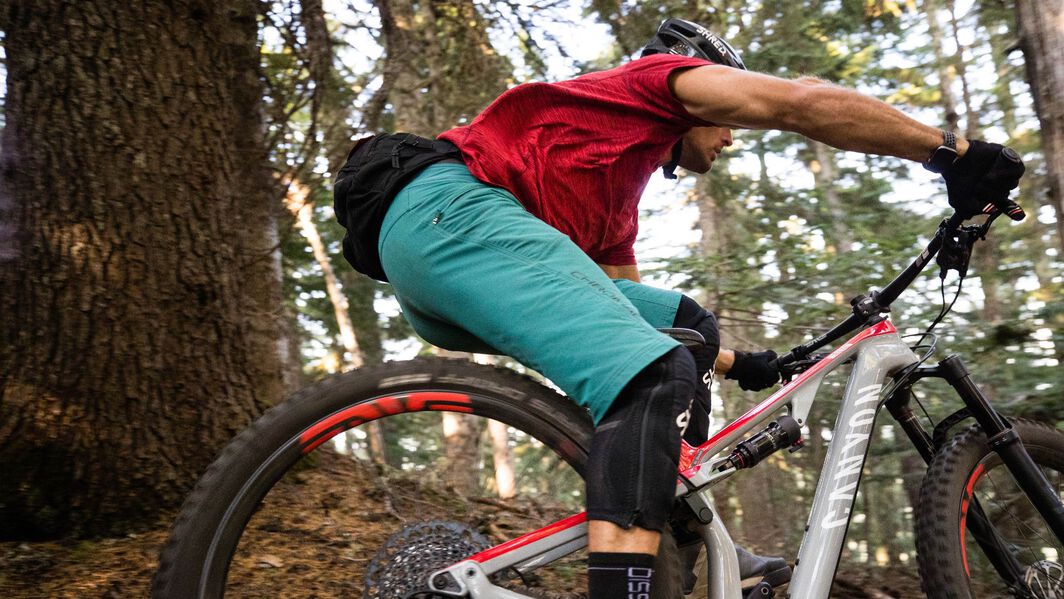 Fabric
Aerodynamics and speed are less important in mountain biking, therefore MTB shorts are looser fitting. The fabrics are more durable to deal with the rough and ready nature of mountain biking. Should you end up losing traction and hitting the deck, your kit is likely to survive unscathed unlike the Lycra material of bib shorts.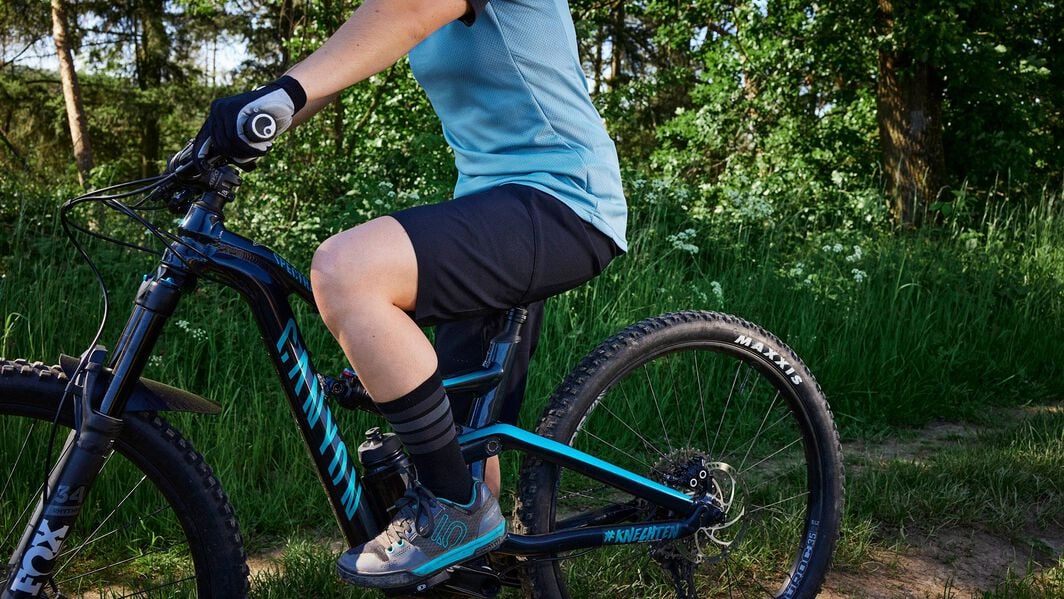 Do I need undershorts?
Most riders find riding with a chamois pad more comfortable. If your baggy mountain bike shorts don't have an integrated pad, it would be a good idea to use undershorts or bib shorts underneath them.
Again, don't wear underwear with your shorts. You will not benefit from the advantages of a chamois pad if you do.
What are the differences between men's and women's bib shorts?
Men's and women's bib shorts are not the same garment. Common differences include:
Chamois pad

Strap design

Ease of use when using the toilet
As a crucial contact point with the bike, the chamois pad has to accommodate very different body parts. Chamois pads are therefore designed specifically for the male and female anatomies.
Shoulder straps on women's bib shorts sometimes differ from the men's design. Some brands incorporate a single central strap that sits between the breasts. Halterneck designs have also been developed to make nature breaks a little easier.
On the latter point, some women's bib shorts have focused on loo breaks for the design of their cycling shorts. While men don't typically have to remove many layers to relieve themselves, women often have to take a couple of layers off to use the toilet. While might not be so problematic in summer for some, in winter or on the trail side it can be particularly troublesome.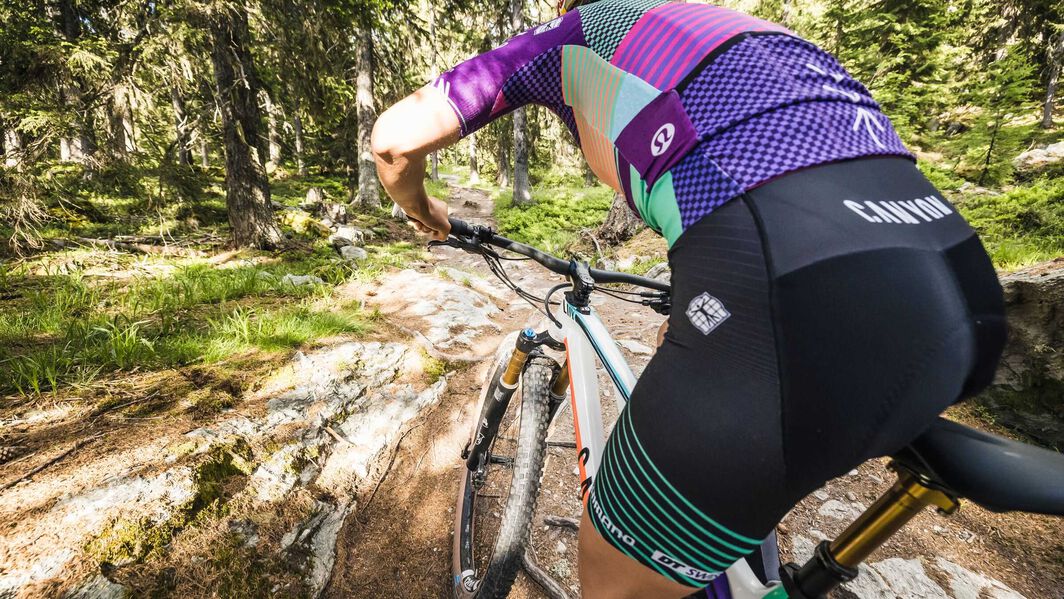 Ready to ride?
Now you have all the information you need to get the perfect pair of shorts for your style of riding, head over to our webshop and get yourself a pair of cycling shorts.
The nights are drawing in, the mercury is dipping but your appetite for gravel riding is on the up. So what do you need?