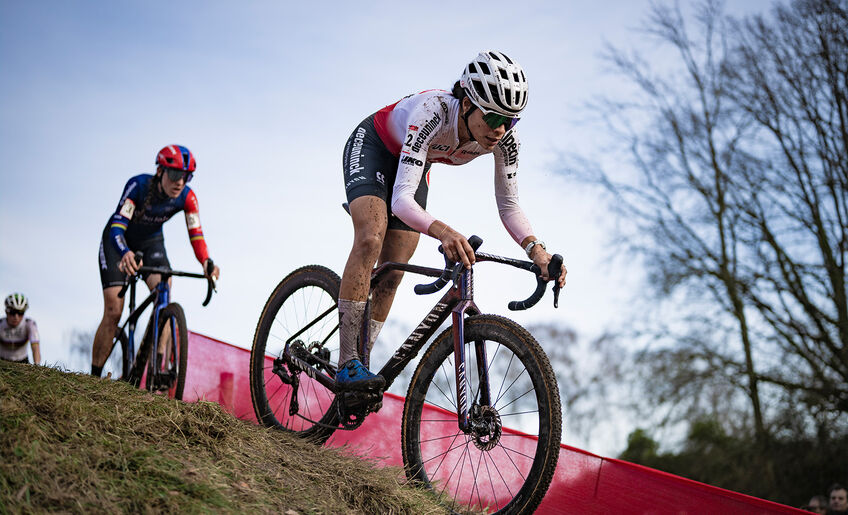 Inflite
The bike of top pros like Mathieu Van der Poel, Ceylin Alvarado, and Puck Pieterse.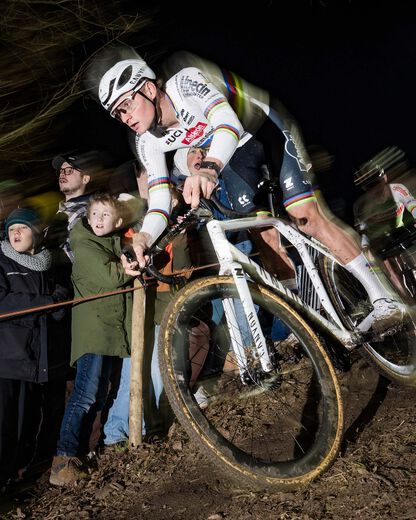 Stay fit year-round
Beat winter. Ride Cross.
Ditch the trainer. Get fitter. Learn bike handling skills. Have fun.

Want to start with Cyclocross this year? Choose the Inflite CF SL – it's accessible and can take a beating winter after winter.

Read the article
Color:

Additive Grey

Color:

Additive Pink

Shimano GRX RX810 GS, DT Swiss C 1800 Spline db

Shimano GRX RX810 GS, DT Swiss Cross LN

Color:

Alpecin Deceuninck Replica

DT Swiss Cross LN, Shimano GRX RX820
What type of road bike do you need? We'll guide you through everything from groupsets and geometry to must-have accessories to complete your ride.
Choose the best gravel bike for your needs. Figure out the pros and cons of all the models right here in our buyer's guide.
Cleaning a bike chain can be as simple or as tedious as one wants to make it. Let's take a look at the most practical and time-efficient methods to do the job.
Cyclocross bikes: strong off-road, fast on the road
The cyclocross bike was developed for the unique sport of cyclocross racing. As a combination between road, gravel and cross-country mountain biking, a cyclocross bike is the perfect tool for the job.
What is a cyclocross bike?
The cyclocross bike is an off-road racing bike. The bike was specially developed for the tough conditions of cyclocross racing. The features and functions of the bike are perfectly adapted to dirt tracks and challenging races.
One of the most important differences compared to a classic road bike is the increased tyre clearance for wheels with larger tyre widths.
Typical equipment of cyclocross bikes:
28-inch wheels with treaded tyres.
Tyre width between 32 and 35 mm (for competitions maximum 33 mm)
Shimano or SRAM gears with fine gear graduation especially for cyclocross (standard: 2 chainrings, 1-1by groupsets are also available)
Hydraulic disc brakes
A lightweight frame and a flattened top tube make the bike comfortable to shoulder. This is necessary because almost every course in cross races contains sections that cannot be ridden. Whereas aluminium frames were used in the past, today it is primarily carbon frames with an even lower weight.
Thanks to the geometry with short wheelbase, you can easily keep control of your cyclocross bike even in difficult conditions.
Tip: Find out how our engineers developed the Inflite - the winning bike of the Cyclocross World Championship.
Is a cyclocross bike right for you?
With a cyclocross bike, the focus is clearly on performance. Everyday suitability is secondary.
Under these conditions, a cyclocross bike is ideal for you:
You want to ride at high speed through unpaved and hilly terrain.
You are not afraid of muddy ground and puddles.
You want to be able to continue your training in all weather conditions.
You prefer short, challenging routes to really push yourself.
For longer rides off-road and on the road, a gravel bike is recommended due to a more relaxed and comfortable geometry. For more relaxed rides, hybrid bikes or even e-bikes are just the ticket.
Which Canyon cyclocross bike is right for you?
With our Inflite CF series, we offer cyclocross road bikes for different training requirements:
Inflite CF SL: The SL models are ideal for your local league races. Frame and forks are made entirely of carbon and are based on the top level models. The perfectly tuned 'cross geometry allows you to ride at a fast pace, with a stable ride and impressively direct handling.
Inflite CF SLX: The SLX models are our high-end machines for use in international championships. Frame, fork and rims are made of stiff but at the same time flexible carbon fibre. Thanks to the geometry that has been optimised down to the last detail, you always have maximum control over your bike.
Buy your cyclocross bike from Canyon
At Canyon you can order your new cyclocross bike online directly from the manufacturer: with a 30-day return policy, 6-year warranty and service partners around the world.