What type of road bike do you need? We'll guide you through everything from groupsets and geometry to must-have accessories to complete your ride.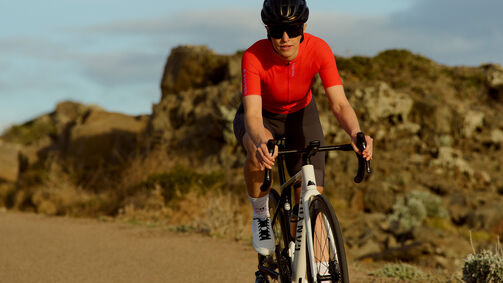 They're fast, they're light and they're the world's favourite type of bike (according to a survey conducted by GCN). If you're looking at buying your first road bike, or perhaps you've been out of the game for a while, we've created our Road Bike Buyer's Guide. With tons of configurations available, we're sure you will find your perfect road bike by the end of this guide.
What is a road bike?
The traditional road bike has been around since the 19th century and the basic design of a bike has remained unchanged. While the frame of the bike is the same, evolutions in materials, electronics, and aerodynamics have pushed the limits on what one can do with a road bike. As the name suggests, road bikes are designed for smooth, paved roads. They typically have drop handlebars, 23 - 28 mm tyres, and shifters to operate both the brakes and gears. These bikes are designed to be lightweight with speed in mind.
Though the days of racing heavy steel bikes up mountain passes are behind us, the aesthetics have remained unchanged. These days they're lighter, more aerodynamic, and have a few more bells and whistles than their predecessors, but the overall intended use remains: : to enjoy riding on smooth tarmac.
What kind of road riding will you be doing?
Comfort, aerodynamics and geometry are unique to each style of road bike, so you'll need to choose one that plays to your strengths and goals.
The geometry of an aero bike is longer and lower than an endurance bike, as it optimises the rider for better aerodynamics. The tube shapes ensure air brushes past you whether you're in search of a KOM/QOM or sprinting for the finish line at your local race.
On the other hand, a more relaxed endurance road bike is better suited for comfort over longer distances. An endurance bike is designed for sportives, fondos, and long days in the saddle.
For those of you that consider yourselves born racers, a road race bike will see you all the way around your next race. These bikes feature the lightest frame materials coupled with high-end components. Racing bikes are true all rounders- fast on the flats as well as hills and mountains, so they really are ideal for any race or ride situation.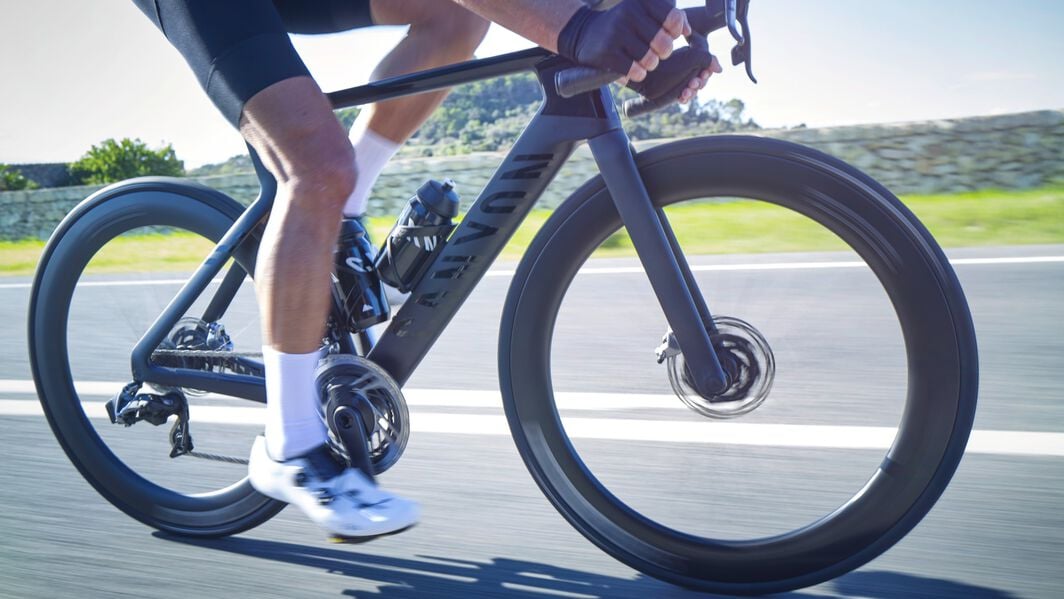 Carbon or aluminium road bike?
Since they're designed for speed, road bikes are often crafted from lightweight frame materials such as aluminium and carbon fibre. Other niche brands still include steel models in their line up, and there is a growing preference for titanium in some circles of cyclists.
Aluminium is a more affordable material, and is prominent among entry-level road bikes. That's not to say it's reserved for beginners, as you'll find a lot of brands with aluminium road bikes built for amateur racers. Scroll through the archives and you'll see round tubes and beefy welds, but nowadays, sleek lines and thin-walled, hydroformed tubes (a special way of moulding aluminium using hydraulic fluid and dies to create the desired tube shape) are the new normal owing to advances in technology and craftsmanship.
Though the frame itself is constructed from aluminium, it's very common for the fork to be made from carbon. This helps with cornering stability and also absorbs road vibrations.
Carbon is the leading frame material for high-end road bikes due to its super light weight and stiffness. Following success in aerospace engineering and Formula One, carbon found its way into the bicycle industry as the material became more accessible. Carbon fibre can be moulded into an array of shapes which has been one of the main drivers behind optimising aero bike. Tube shaping also helps engineers reinforce and stiffen key areas of the frame like the bottom bracket and head tube.
Carbon is accessible at just about every price point these days. Pricier frames use higher grades of carbon coupled with more refined lay up methods. As your budget increases, so does the quality of carbon lay-up which in layman's terms is the specific way in which the layers of carbon fibre material are placed within the mould.
While carbon is common, it is still more expensive than its aluminium counterpart, so bear this in mind when you're looking at the bike specifications.
Which groupset is best for me?
Shimano, SRAM and Campagnolo are the three main players when it comes to groupsets. Each manufacturer has a range of groupsets to suit every budget. A lot of bikes are specced with the complete groupset; however, at the budget end of the spectrum, you may find that brakes and chainsets are mixed and matched to bring costs down.
Shimano Road Bike Groupsets
Shimano has 6 options within its range of road bike groupsets:
Claris - the most affordable groupset in Shimano's extensive range focuses on simplicity and accessibility. Bikes with Shimano Claris often have a triple chainring setup and low gears to enable you to cruise up the hills easily.

Sora - Shimano Sora gives you strong performance without breaking the bank. While it's only available as a 9sp setup, Sora looks the part visually with its Hollowtech components and dual control shifters.

Tiagra - Though slightly heavier than the more superior Shimano groupsets, Tiagra offers up-to-date shifting as part of its 10sp setup and reliability thanks to widespread availability of parts. A great, low-cost stepping stone to the higher ranks of Shimano's groupset range.

105 - Yesterday's Ultegra is today's 105 and you'll see it across a range of modern road bikes. It's a favoured friend for sportive riders, beginner racers, and commuters as Shimano's most affordable 11sp groupset.

Ultegra - Shimano Ultegra balances high performance with great value, weight savings, and affordable replacement parts. Ultegra is the choice for many amateur racers and frequent road riders for its favourable price to weight ratio. Cassettes are interchangeable allowing you to choose your gearing and play to your strengths.

Dura-Ace - The crème-de-la-crème of Shimano's road bike groupset range. Lightweight, customisable and with the option of a power meter as standard, it's highly regarded by the professional peloton. For riders who prefer premium performance, it's hard to look past Shimano Dura-Ace.
Ultegra and Dura-Ace also include the option of electronic shifting through the Di2 range. Shimano was the first manufacturer to offer electronic shifting at a competitive price. Since its launch, Shimano has developed their product to be Bluetooth compatible (with the correct adapter) which opens up a whole new world of data analysis and personalisation.
SRAM Road Bike Groupsets
SRAM offers 4 different road bike groupsets:
Apex - The entry-level groupset allows for a wide range of gears without the weight compromise of a triple chainset. Apex is available in 1x11 gearing for simplicity and can accommodate up to a 42-tooth rear sprocket.

Rival - As the most popular SRAM groupset, it features lighter materials and is available in 11 and 12 speed configurations.

Force - SRAM Force was the first groupset to have a dedicated 1x chainset designed specifically for cyclocross and gravel bikes. Its lightweight construction and versatility of 1x and 2x setups make it a favourite across the cycling spectrum.

Red - At the upper end of the SRAM scale, Red is the choice of professionals. You'll find oodles of super lightweight materials throughout the components such as carbon, titanium and even ceramic bearings.
SRAM was the first to introduce wireless electronic groupsets to road bikes. Their eTap range is available on Rival, Force and Red groupsets with the AXS designation.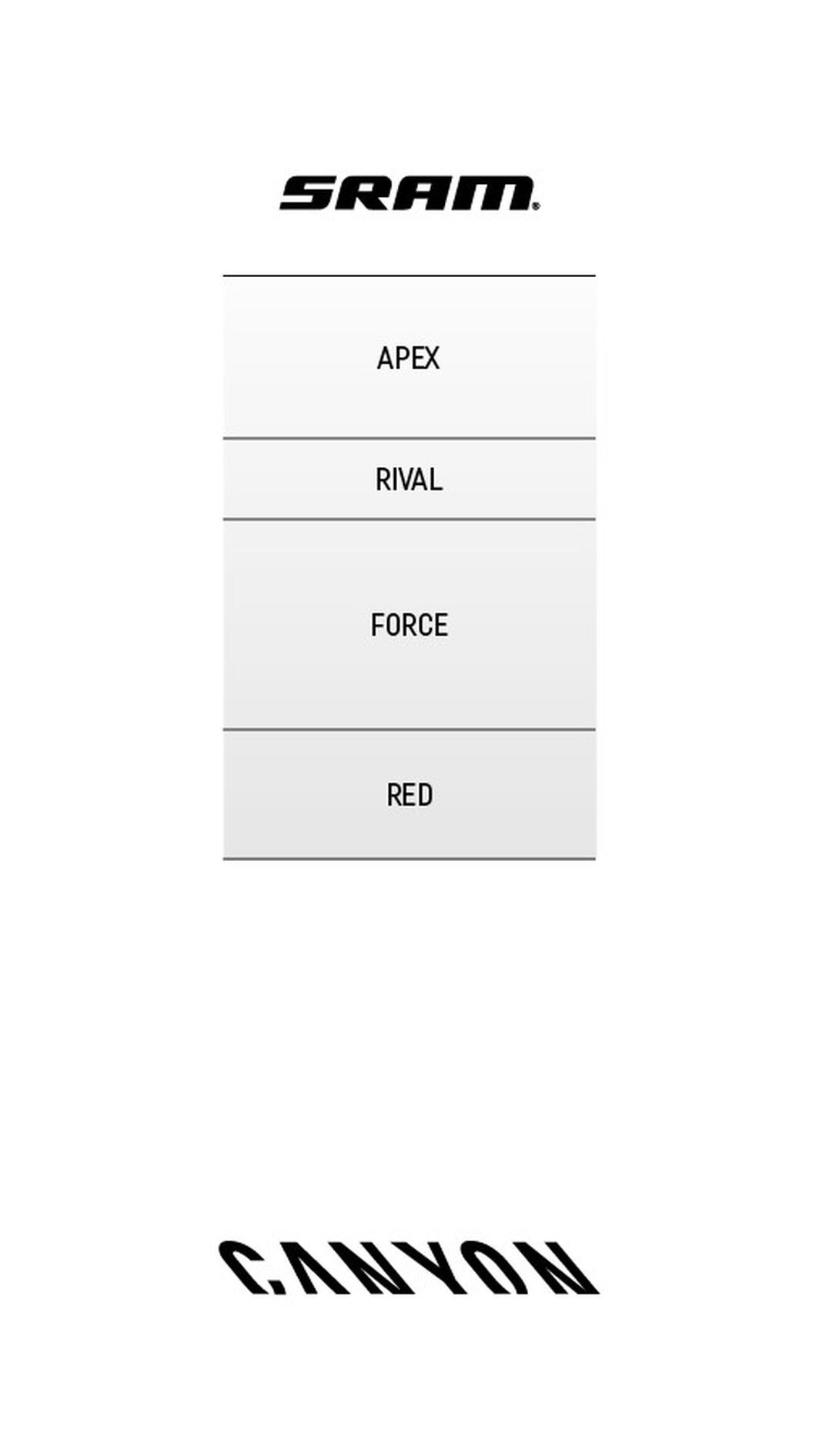 Campagnolo Road Bike Groupsets
Italian brand Campagnolo is synonymous with luxury and for good reason. You'll be hard-pushed to find Campagnolo on any budget-friendly bike, but if you want premium quality and exceptional craftsmanship, get ready for factoring in a "campy" groupset into your wishlist.
Centaur - Entry-level has a different meaning for Campagnolo, so you can expect lightweight materials and 11sp for its most basic offering.

Potenza - Available only as a 2x11 gearing setup, Potenza replaced earlier iterations (Veloce and Athena) as an all-rounder groupset.

Chorus - As with other upscale groupsets, Chorus brings in even more lightweight materials such as carbon fibre and titanium.

Record - As the flagship groupset, lightweight alloys, carbon fibre, and titanium are standard.

Super Record - as the name suggests, quality and luxury go one step further with Super Record which is often reserved for only the most exquisite road machines on the market.
Campagnolo was late to the electronic groupset party having released their first electronic groupset some ten years after Shimano introduced Di2 to the world. You can now order Chorus, Record and Super Record as an EPS (electronic power shift) groupset.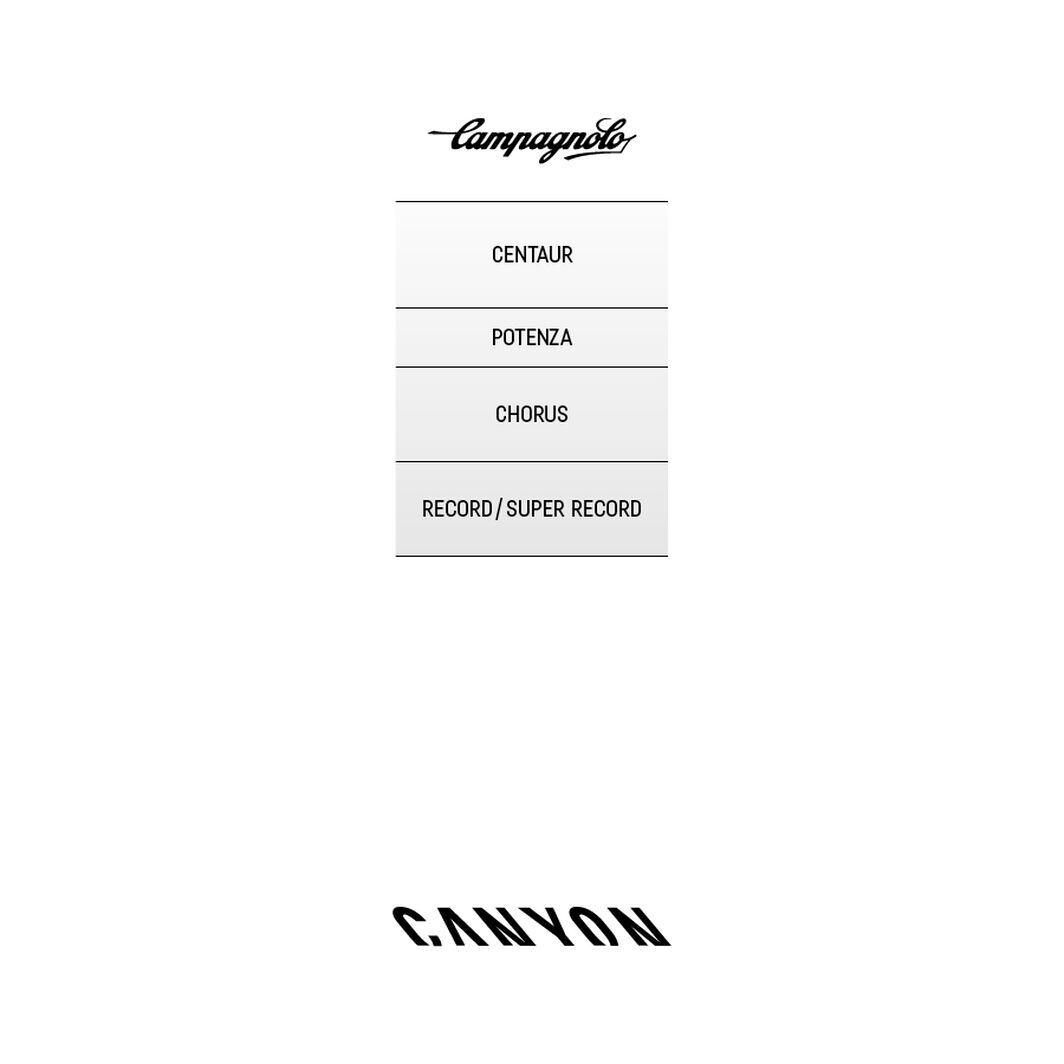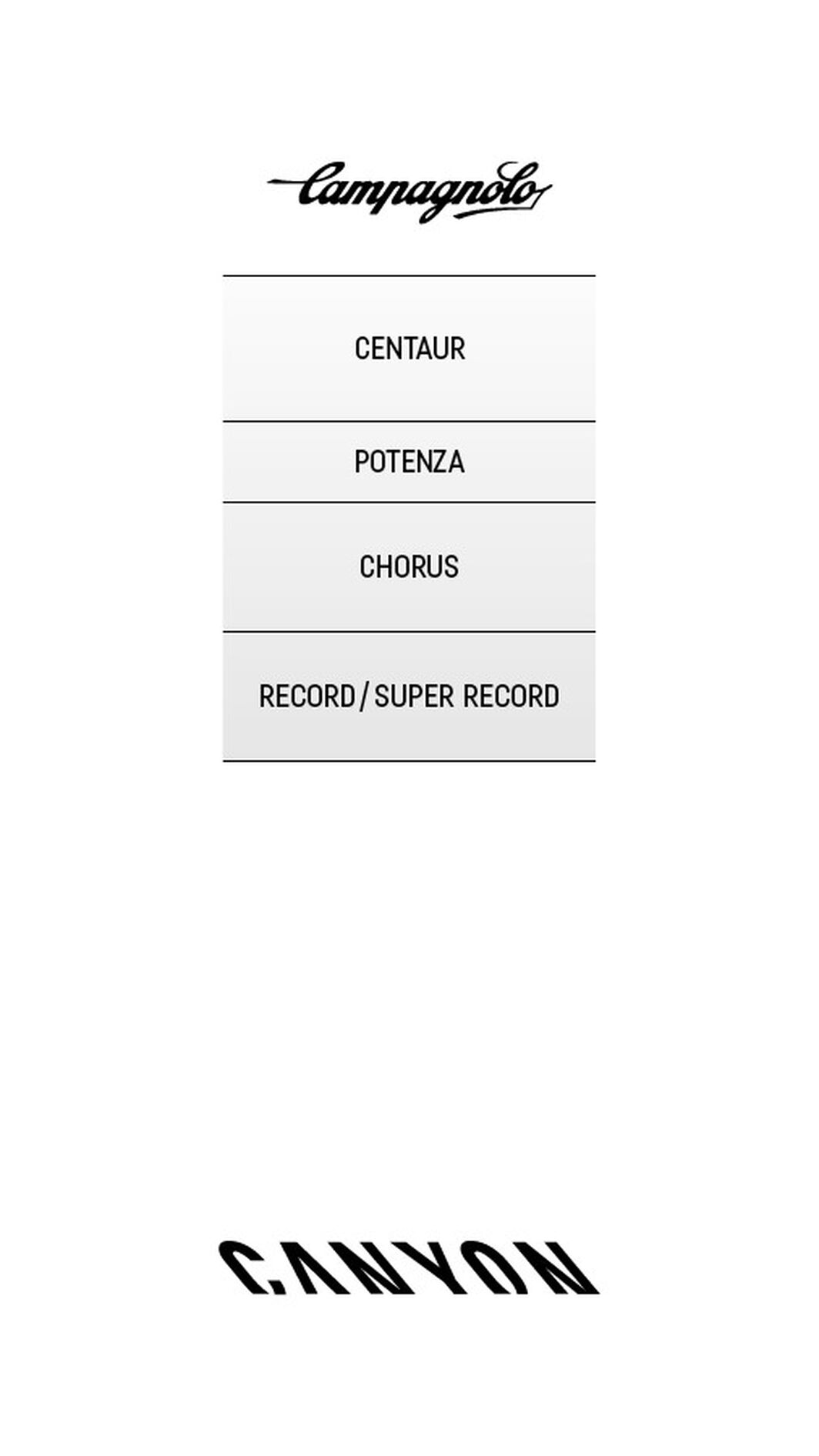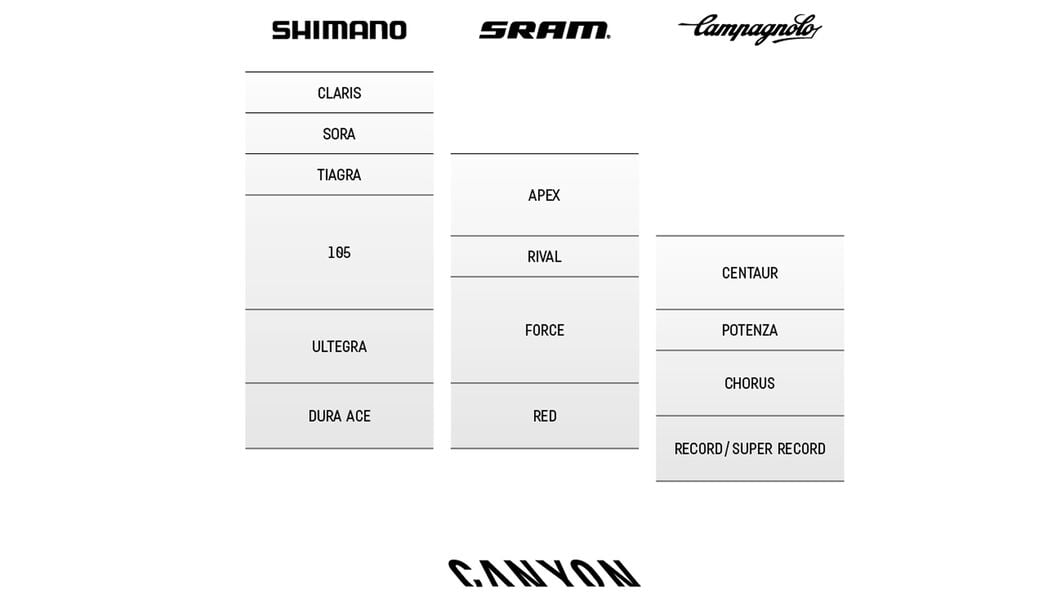 Disc brakes or rim brakes?
The pros and cons of disc brakes and rim brakes are the subjects of an ongoing debate, both sides with their merits. In a nutshell, disc brakes are fast becoming the norm on new road bikes since they're renowned for their excellent stopping power in all weather conditions.
Since the rotors and hydraulic mechanisms add a little more to the bike's overall weight, you'll still find rim brakes on weight-sensitive bikes such as out-and-out climbing rigs. Rim brakes are often more affordable and easier to maintain than disc brakes; however, as technology improves, it's only a matter of time until budget-friendly bikes come with a disc brake option.
What size road bike do I need?
A properly fitted road bike will make all the difference to your enjoyment of road cycling. Handling, confidence and safety are all affected by how the bike fits to your body. Our Perfect Positioning System factors in a specific bike's geometry against your own height and leg measurements. As long as you order the right size bike, you can make any minor tweaks once it arrives through stem changes, saddle height adjustments, and handlebar height tweaks.
A professional bike fit can be worth the investment if you're serious about cycling. Bike fitters can work with you to select optimum components for your style of riding such as the correct crank length and the angle of the shifters on the handlebars.
What else do I need to get started with road cycling?
Road cycling is full of little gadgets and gizmos that can impact your rides, but as a bare minimum we recommend you kit yourself out with comfortable clothing such as bib shorts, a base layer, jersey, socks and road cycling shoes. The Canyon Road Clothing Collection is a great place to start for all things gear related.
When you go out on your bike, you're going to need a water bottle and bottle cage to keep yourself hydrated throughout the duration of your ride. You may also want to take a couple of snacks with you to avoid the dreaded bonk (low blood sugar) while you're out.
A cycling computer can help you find your way around previously unknown stretches of tarmac and will come in useful if you join a cycling club and want to follow the group ride's route.
While it's probably not necessary if you're a complete beginner, a power meter can certainly help you train more efficiently. A lot of our road bikes are specced with a power meter, so that you don't need to worry about fitting one down the line.
How much does a road bike cost?
How long is a piece of string? Road bikes can be as expensive as you like them to be but the point we want to make is that they don't have to be. Figure out your budget, create a list of need to haves vs. nice to haves and take it from there. Look for a groupset with at least Shimano Tiagra and expect to pay a little more if you want disc brakes rather than rim brakes.
Also don't forget to check out the outlet for last year's models and ex-demo bikes that still have years of good riding left in them. Many bike retailers including Canyon offer flexible ways to pay such as through Cyclescheme or monthly installments via Splitit.
Flexible easy ways to pay

To make paying for your order as simple and flexible as possible we support multiple payment methods. You can choose at the end of the checkout process.
Do I need a women's road bike?
A lot of bike manufacturers create women's specific road bikes to cater for differences in body shape and style of riding. On average, a female rider is smaller in height and weight, so any bike you buy will need to account for this.
The simple answer is get any bike that fits you properly whether it's a unisex bike or women's specific. A good bike fit can help you with this. Our own WMN range has slightly different sizing to the unisex range. Small differences in stack and reach can affect the final size choice for some riders.
A lot of women's bikes come specced with different parts (notably the finishing kit) such as a women's saddle or narrower handlebars to account for a different anatomy. Other brands build a new bike from the frame up using detailed data from women riders.
The bottom line is if you are comfortable on the bike and you're happy riding it, then that's all that matters.
How do I figure out the perfect road bike for me?
The first step is to think about your style of riding: do you intend to race? Are you looking to get faster on the bike? Do you live in a hillier part of the country? Are you more into doing 100km or so over the weekend?
Next, define your nice to haves and your need to haves. The chances are you'll have to compromise on something, so figure out what it is you absolutely will not budge on and take it from there.
Finally, decide your budget. While we can't tell you how much you should spend on a road bike, we can certainly show you what you can get for your money.
Good luck and happy riding!
When it comes to covering maximum distance, a lightweight road bike is what you're looking for. Speed, aerodynamics and precision engineering all in one bike.
Discover all models