The Search for the Best Adventure Bike
From gravel bikes and hardtails to full-suspension and fat tire rigs, a lot of bicycles can be used for adventure, but which ones fit the bill best?
Whether you're taking a multi-day trip through the alps, exploring doubletrack on your doorstep or you're just excited to get off the beaten path, the best adventure bikes have one thing in common: versatility.

This guide will help you pick the best bike for the type of adventures that you're scheming up.
What's your adventure?
The kind of adventure bike you choose depends on the type of two-wheeled exploration you're after. Back in the day, adventurous riders would take their steel frame road bikes and fit them with the biggest tyres they could, before strapping on their gear and heading out to ride (or as it usually played out: walk), their way into the great outdoors. Fortunately for you, the last 50 years have seen bikes become much better at a wider variety of riding styles.

Gravel bikes can fit wider tyres while still maintaining speed on the roads, mountain bikes are lighter than ever and fat bikes have the ability to ride over almost anything, not to mention bikepacking bags that allow you to pack gear in new and exciting ways. Gone are the days where one bike meant only one style of riding. From gravel roads, to singletrack, to dirt paths, to mud, your next adventure bike should be able to handle a bit of everything.
On-road to off-road
Gravel, all-road, light touring, these all describe a new breed of bike that is just about as fast over tarmac as it is cruising down chunky gravel. These adventure bikes generally look like road bikes but sport a few key differences, the main one being tyre clearance. From 28 mm all the way up to 50, a good gravel bike should have room for wide, supple rubber. Wider tyres are critical for increasing traction on tough terrain while also improving comfort on long, multi-day trips.

The second important distinction is geometry. Gravel bikes tend to have longer wheelbases and slacker head tube angles than their pure road counterparts. A longer wheelbase makes for a smoother and more stable ride which is especially important when pedalling over rougher roads. The geometry also tends to put riders in a more upright position to improve upper body comfort for long days in the saddle.

This type of bike also uses disc brakes. The added stopping power doesn't just improve control in wet or muddy conditions, it's nearly critical if your bike is loaded down with bikepacking bags or panniers. There are a few Canyon bikes that fit this mould, but the Grail and Grizl are clear matches.

Designed specifically for gravel riding, every detail of its geometry and its innovative, vibration-dampening gravel handlebar make it as capable on-road as it is off. It even has its own custom series of bikepacking bags.

The Pathlite is also a solid choice for riders in search of a more value-focussed option that has a little bit of suspension and wider mountain bike handlebars.

Lastly, the Endurace is primarily designed for road riding, but with its clearance for 33 mm tyres it can be taken out for some light multi-surface adventures as well!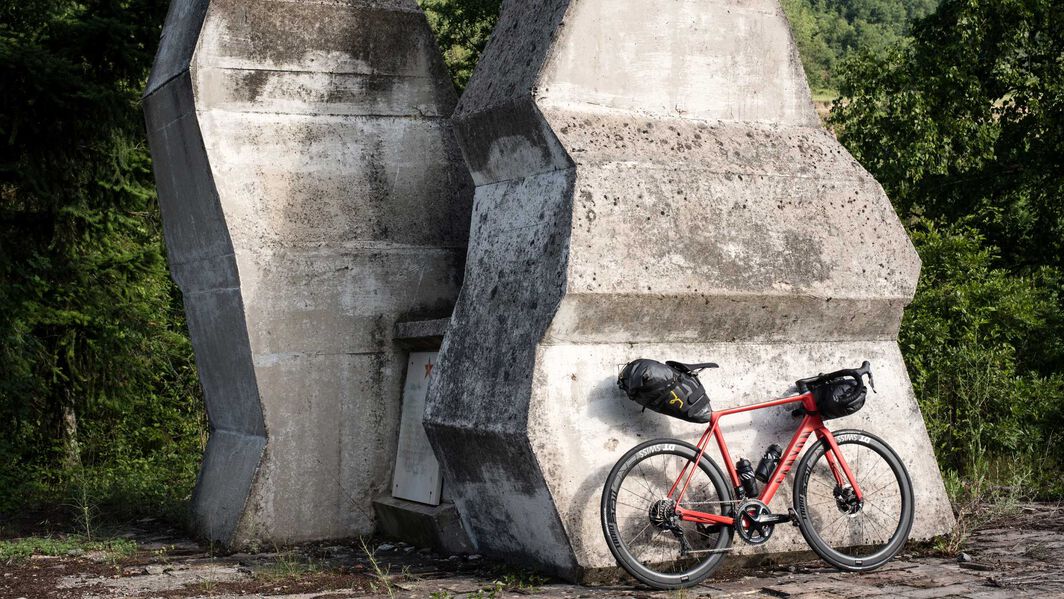 Mountain
As bikepacking has blown up, long trips and overnighters - once the hallmark of touring bikes with panniers - have become common in the mountain bike world. Wide tyres and suspension make exploring new trails a breeze and allow you to mix action-packed downhill riding with multi-day, off-road adventure. While long-travel bikes with big suspension are less suited to longer miles and the added weight of bags, both hardtails and full-suspension rigs can make for capable adventure bikes.

The bread and butter of adventure mountain bikes is the hardtail. Simple and easy to service, the hardtail is a great choice for a quick day of trail scouting or even a multi-week off-road trip like the Tour Divide. Front suspension and wider rubber, typically between 2" and 2.8", offer improved comfort and traction on both technical tracks and washboard dirt roads. The carbon-fibre Canyon Exceed is the first choice for professional adventure racer James Hayden and the Grand Canyon shares many of the same performance features at a lower price point.

shares many of the same performance features at a lower price point. Dude. Hut-to-hut alpine trips and long singletrack traverses in the mountains have long been home to full-suspension adventure. Now with bikepacking bags you can bring your own camping gear and turn any series of mountain trails into your own hut-to-hut ride.

Lighter, more comfortable and equipped with suspension lockouts, modern full-sus bikes can be an excellent adventure bike choice. Bikes like the Neuron and the Lux strike a fine balance between low weight, solid components and progressive geometry that make them well-suited for trail outings both long and short.

Hardtail, gravel, full-suspension, all-road, whichever bike you end up choosing and whatever surfaces you decide to ride, what really matters is that you get out there and find some two-wheeled adventures of your own.

Have fun!
Gravel racing has gone from zero to hero in just a few years attracting pros and amateurs alike – but what makes it so exciting?
Choose your location and language
Choose your location and language