Discover 5 sweet bike routes in Hamburg
Hamburg is the ideal city to explore by bike. Here, we've shared our favourite cycling routes in Germany's second largest city.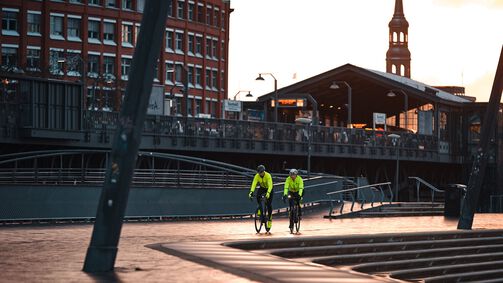 Why should more people in Hamburg switch to cycling? 
Like Copenhagen and Amsterdam, Hamburg is flat as a pancake. Kilometres of green countryside and well-developed inner-city infrastructure make it a cycling haven for commuters, professional cyclists, tourers and children alike. 

Whether you're exploring in your evenings or shredding the trails on the weekend, your cycling freedom is never scarce in this beautiful part of Germany. Browse the routes below to discover your next favourite trail. 
Spot species in the Boberger Dunen
Did you know that the Boberg Lowlands are remnants of the Ice Age? While cycling through these inland dunes, you often feel as if you're by the sea. The early bird catches the worm – we recommend getting out early for the sunrise.

Grab a 30-minute train ride from Hamburg Hauptbahnhof to start the loop at Kirchsteinbeck train station. Explore stunning fields of orchids, take a quick dip in the lake or bring your binoculars and spot rare species during this relaxed 17 km ride. It's a perfect route for your hybrid bike, electric bike or city bike – don't forget your picnic blanket.

The Boberger Dunen are a haven for endangered butterflies, amphibians and birds, so with a bit of luck, you might even see white-tailed eagles along your journey.

Discover the route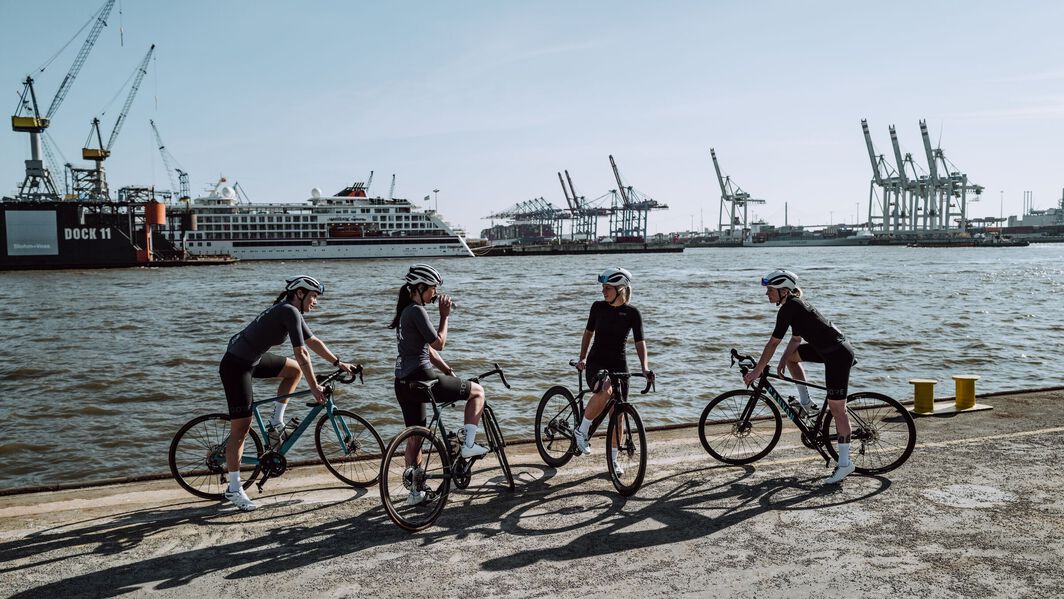 Glide along the Aussenalster 
The Alster itself is a 56 km tributary of the river Elbe flowing through Hamburg. It's divided into two parts: the Aussenalster and the Binnenalster. 

You begin and end this little loop at Schlump train station, which is just a 14-minute train ride from Hamburg Hauptbahnhof. Enjoy views of boats and rowers as you glide along the track in the sun.

This enchanting loop leads you along the water and over picturesque little bridges. Individual shops, cafés and restaurants invite you to linger a while longer. Sunsets on the Alster have a romantic flair, so no worries if you get caught out late – just make sure your bike lights are working!

Discover the route
Find peace in the Zollenspieker loop
Take your bicycle on the train (you'll need to buy an extra ticket for it) from Hamburg Hauptbahnhof to Geestnacht. Within 45 minutes you'll arrive at the start point of the Zollenspieker loop. This 32 km round trail offers stunning views of forest green meadows along its winding canals and dyke paths. 

We highly recommend swinging by the Zollenspieker Fährhaus on your way around, characterised by its unique location on the river Elbe. Here on their terraces, you can eat well while savouring an incredible view across the water and old chestnut trees.

Discover the route
Snack your way through Altes land
Perfect for a relaxed day trip, a 1,000 km network of signposted cycle paths twist and turn their way through Altes Land on the banks of the vast Elbe. Surrounded by arms of water, fruit trees and gentle meadows, the Altes Land is charmingly beautiful. 

Start at Stade or Buxtehude: the 37 and 41 km loops of The Obstroute (Fruit Route) carve paths through the heart of the fruit plantations that stretch out along the Elbe and its tributaries. In spring, you can pluck the apples directly from the trees! #cheapsnack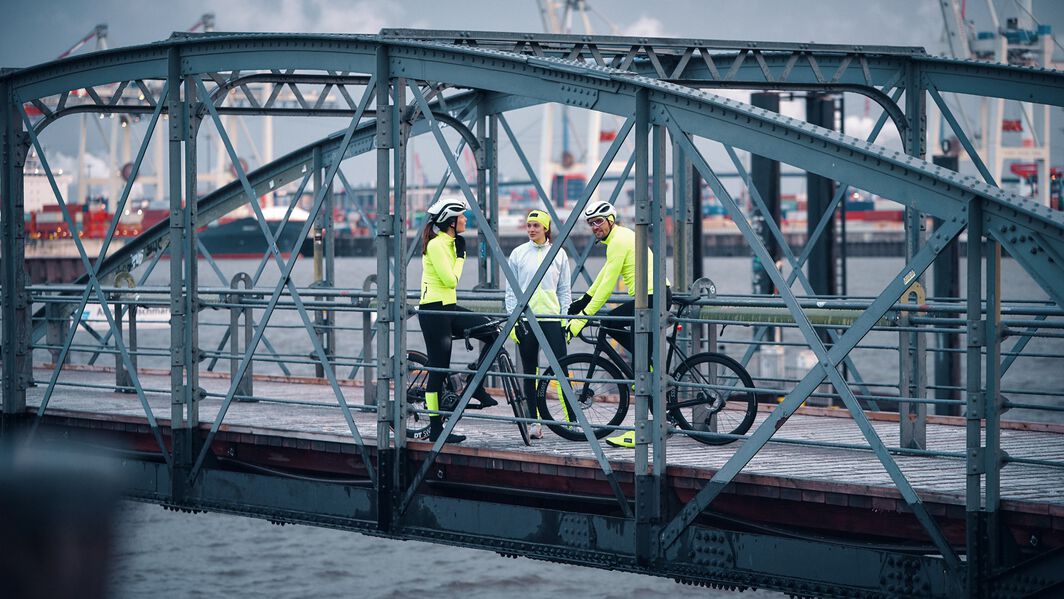 Crush 150 km from Hamburg to Bremen
Looking for a long-distance ride? This epic trail between two historic Hanseatic cities is the perfect way to fill your weekend. You wind your way out of the city and right into the hubbub of nature. Enjoy varying levels of climbs and descents, romantic lakes and wide meadows. We recommend stopping at Sittensen after around 60 km for your first night.

On your second night, stop after another 55 km in Zeven. The residents have planted several herb beds especially for the viewing pleasure of cyclists whizzing through.

A light ascent on the following day will take you rolling into Bremen city centre, where you can enjoy a well-deserved ice cream in the Bremen Cathedral grounds.

It's no surprise that Hamburg was awarded the European Green Capital title in 2011, as you're never far from nature. Explore Hamburg's abundance of trails today – just hop on your Canyon and ride unlimited.

Discover the route