Top 6 Cycling Routes in Germany
Germany is a cyclist's paradise when you know where to go. We've compiled six of the best routes for you to explore.
Craving a big holiday? We're right with you on that one. But you're anything like us, when you start planning, one question inevitably arises – just where does it make sense to go during the pandemic? Well, one thing's for absolutely sure: you don't have to go far for a trip you'll never forget. Because Germany has got an abundance of beautiful nature and top trip destinations: all easily accessible on an extensive network of well-developed cycling paths covering the entire country. The list is long, and there's something to cater for every rider and lifestyle: including not-to-be missed highlights like the Elbe Cycle Path and the River Main Cycle Route.
With this overview of the most beautiful cycling routes in Germany, we want to give you some top tips so you can plan an incredible itinerary for your next cycling holiday. Whether you're an ambitious long-distance cyclist, adventurous gravel rider or just searching for a place for your next chilled-out family outing, we can absolutely guarantee that Germany's diverse, varied cycle path network will have something for you. Geographically varied and with options across all corners of the country, this selection is a guaranteed way to see Germany from a completely new perspective.
Depending on your time, budget, and fitness levels, you can either shorten these tours, or extend them by chaining together these routes with other cycle paths. You can explore the paths in both directions, downstream or upstream. From the Rhine, for example, you can take a picturesque detour on other cycle paths like the Moselle, Lahn, Main, Ahr, and many more. If you don't have a bigger block of time available, you can take a normal weekend and ride smaller portions of the routes. The routes all have official websites that can help you plan the whole tour or individual stages.
When it comes to luggage, the choice is yours. On the one hand, if you're feeling more adventurous, you can take a more 'back to basics' approach, only taking the bare essentials with you on your trips. You can stow your clothing and accessories directly on the bike. Alternatively, some riders prefer to be fully prepared for all eventualities and set off with a little more clothing and equipment. If you take this approach, you'll need a rear rack with large pannier bags – ideally with a click system for easy fitting and removal. And for the absolute ultimate in convenience, simply book a luggage transport service from a local company.
E-bikes are an excellent option on cycle paths like these. However, if you do choose a motorised bike then, depending on your drive system and battery range, you should plan in stops for recharging your battery. We will let you know which Canyon bikes are ideal for your next riverside bike tour at the end of this article.
Especially at the moment, there are more people than usual using these cycling paths and trails – whether on foot, by bike, or other means of transport. So it's important that we all keep our eyes open for one another, so everyone can enjoy the infrastructure.
Of course, in the current climate, the coronavirus still has a large influence over the way we live our everyday lives. So, before you start your bike trip, please make sure to inform yourself about the current regulations, and be aware that these can differ from federal state to federal state. For example, staying in B&Bs, hotels, or campsites may be prohibited in a certain region. But even then, a day tour would be a way of enjoying nature, becoming familiar with new places, and getting a first impression of the route before returning for more extensive trips later. Especially in times like these, it's important to appreciate the little things and remember – the journey is the destination!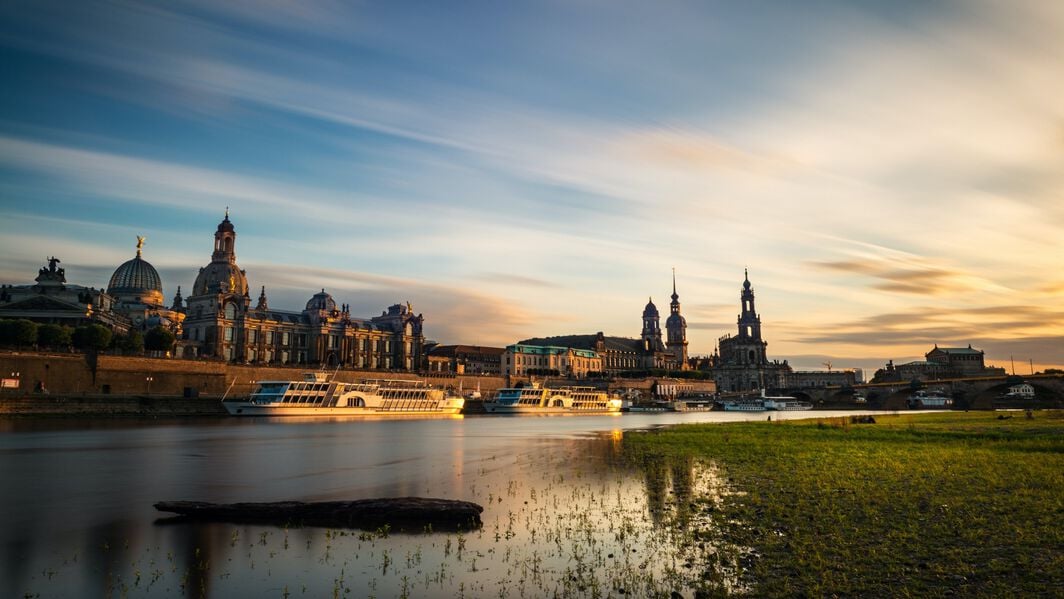 The Elbe Cycle Path (Elberadweg)
Length in Germany: 894 km
According to a survey by German cycling association ADFC, the Elbe Cycle Path again topped the list of Germany's most popular cycle routes in 2021. And it's clear to see why. Well-developed, geographically diverse, and packed with plenty cultural highlights, this special route attracts a steadily growing fan base year after year. With a total length of 1,260 km, it offers plenty of unexpected gems between its origin in the Giant Mountains of the Czech Republic, and its North Sea terminus. If you want to fully experience the Elbe Cycle Route, you should definitely take one or two weeks and plan out what you want to do in depth.
The Elbe Cycle Path begins at the North Sea in Cuxhaven and then makes its way – through cities including Hamburg, Magdeburg, and Dresden – across seven German federal states all the way to the Czech Republic. The route is predominantly flat along the Elbe, so it's suitable for families if you allow yourself a little more time. However, more ambitious cyclists can complete the almost 900 km in Germany in a week.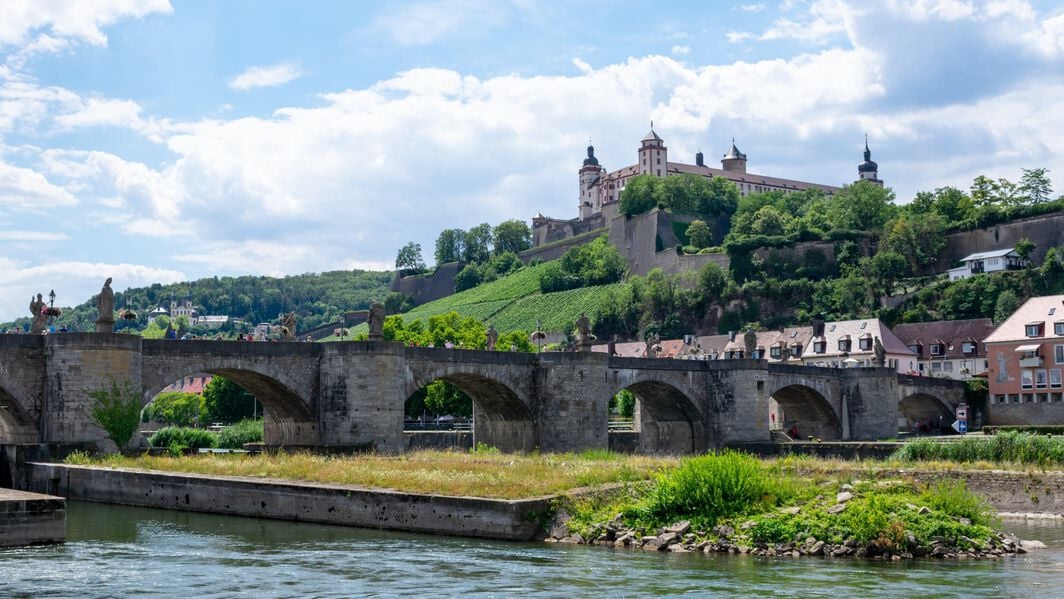 The River Main Cycle Route (MainRadweg)
Total length: 538 km or 557 km
Follow the Main river all the way from one of two sources – the White or Red Main – all the way to its mouth at the Rhine near Mainz. The Rhine's longest tributary, the Main offers a variety of bike touring fun for all riders. A huge variety of different landscapes, a diverse range of cultural attractions, and a route designed for ease and convenience all make this almost 600 km long path a superb choice for all nature-loving bike tourers to explore.
The route is comprehensively signposted in both directions, good news to riders who prefer to go without a map or navigation system. To help you plan your resources and stops along the way, the signs all clearly display the distance to the next towns on the route. If the Main isn't long enough, you can extend this tour by continuing up the Rhine cycle path at Mainz. Continuing north up the Rhine, you can visit the Deutsches Eck (German Corner) in the historical city of Koblenz, the confluence point of the Rhine and Moselle rivers. From there, you can carry on up the Moselle all the way up to Trier, one of the oldest cities in Germany. Alternatively, at Mainz, you can turn south and head upstream towards the Black Forest. On this first-class network of river cycle paths it's all possible.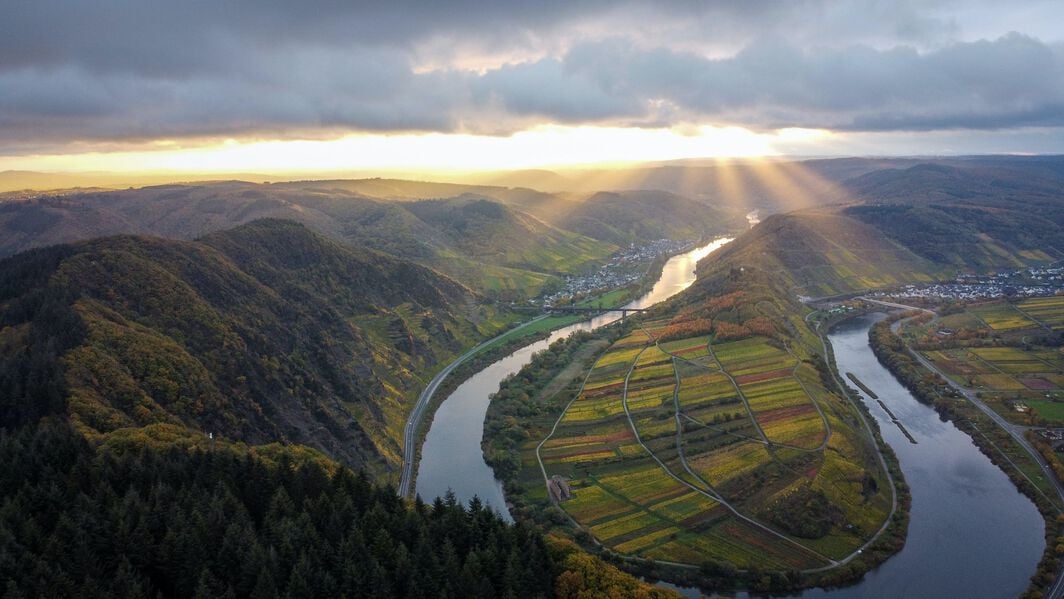 The Moselle Cycle Route (Moselradweg)
Length: 248 km in Germany
If the Elbe or Rhine are too busy for you, you might want to consider the Moselle Cycle Route. Following the river's countless meandering bends, this route takes the rider through dramatic new landscape after dramatic new landscape, kilometre after kilometre. The river is dominated by its world-famous vineyards, including the steepest in Europe – the Bremmer Calmont – which towers a huge 380 metres over the water, with a maximum gradient of 68 degrees.
The Moselle Cycle Route is more about enjoying the experience than it is about pushing your physical limits, as the path – which is mostly asphalted and separated from car traffic – runs mostly level without any major climbs. Riding here is all about experiencing a truly unique, beautiful part of the planet, packed with ancient world heritage sites, impressive castles nestled in high hills, historic wine-growing villages, and spectacular landscapes.
Covering a total of 248 kilometres over 10 stages, the Moselle cycle path is a highlight reel of beautiful vista after beautiful vista, starting at Perl on the German-French-Luxembourg border and flowing all the way to the mouth of the Moselle on the Rhine in the city of Koblenz. And once you've arrived in Koblenz, you'll have well earnt a piece of cake and cup of coffee at the Canyon Café, a stone's throw from the banks of the river!




The Danube Cycle Path (Donau-Radweg)
Length in Germany: 600 km
A true classic among Europe's long-distance cycle routes: at 2850 km, the Danube is the second-longest river in Europe, with a 600 km stretch running through Germany. The sheer variety of landscapes is what makes the route so special: at times serene with the water appearing almost still, at other times dramatically shifting to raging, pulsating rapids. Sometimes then river runs through a narrow valleys with high limestone cliffs – like in the Upper Danube Nature Park – before again opening up into wide, expansive landscapes. Furthermore, you can see fascinating natural spectacles up close on the German part of the river, including undulations and rocky seepages.
As you travel through Ulm, be sure to make a visit to its famous Minster, an imposing Gothic structure boasting the highest church steeple on the planet. Another absolute highlight is the Weltenburg Monastery – a favourite of pilgrims and brewery enthusiasts alike. After Ulm, the route continues to the UNESCO World Heritage city of Regensburg and its beautifully preserved medieval old town – not to be missed. Soon after, the foothills of the Bavarian Forest soon appear on the horizon. In Passau – shortly before the border with Austria – the Inn and Ilz rivers flow into the Danube.
Just follow the white or yellow signposts. The flat route is mostly well signposted and runs right next to the river or very close to it. Large sections follow towpaths, where animals used to be used to pull cargo ships upstream right by the riverbank. These paths have now largely been turned into cycling and hiking trails or riverside promenades – ideal for cycling trips.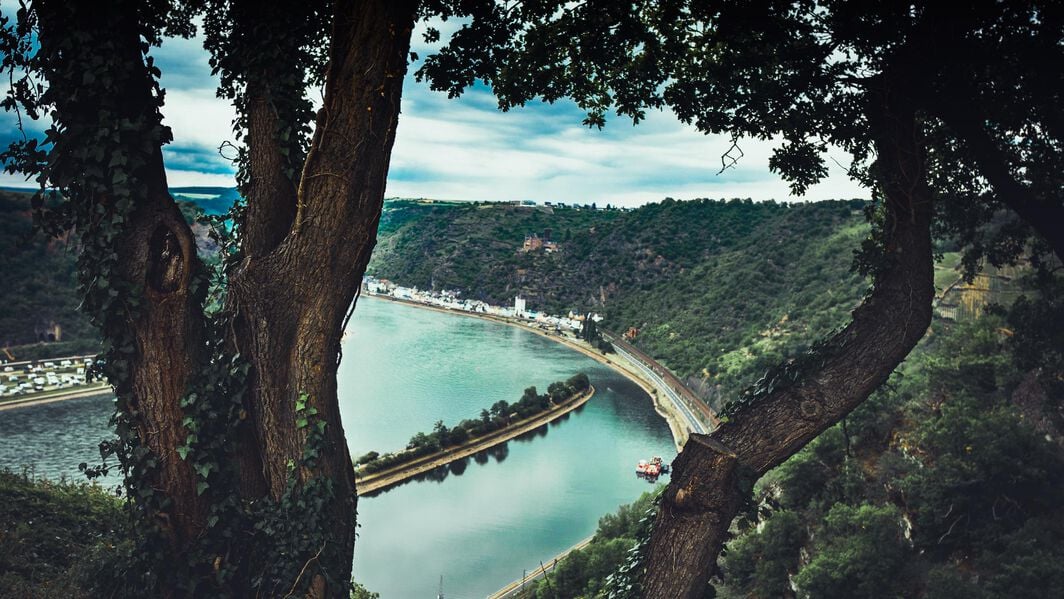 Rhine Cycle Route (Rhein-Radweg)
Length in Germany: 1019 km
"The Rhine is unique: it combines the qualities of every river. Like the Rhone, it is rapid; broad, like the Loire; encased, like the Meuse; serpentine, like the Seine; limpid and green, like the Somme; historical, like the Tiber; royal, like the Danube; mysterious, like the Nile; spangled with gold, like an American river; and like a river of Asia, abounding with phantoms and fables." - Victor Hugo
As this quote would lead you to believe, the Rhine is quite simply a stellar choice for your next cycling trip. On the German part, there are paths running down both sides of the river, and it's all suitable for everyone, regardless of fitness level and riding abilities. It is entirely up to you which region you start your journey in – at the France/Germany/Switzerland border in Basel, at the middle in Mainz, or in the north in Dusseldorf: all are superb choices. By far the most famous section is the Middle Rhine Valley between Bingen and Koblenz: with its breathtaking vistas comprising steep vineyards, historic castles, and charming winemaking towns, is a simply enchanting, truly special location. And riding a bike here is the perfect way to experience it. In some areas, there are even some sandy river beaches you can take a break on!
When you reach the German state of North Rhine-Westphalia, the route – designated EuroVelo 15 – runs along both sides of the river, and passes through Bonn, the former capital of Germany, the cultural hotspot and cathedral city of Cologne, and state capital Dusseldorf. As you leave the industrialised Ruhr area behind, a more rural, tranquil landscape awaits. The river then flows towards the Dutch border at Emmerich am Rhein. Of course, you can also carry on all the way to the sea at Rotterdam.




The Baltic Sea Cycle Route (Ostseeküsten-Radweg)
Length in Germany: 1055 km
Need a dose of sea and sand? Well that's exactly that the Baltic Sea Cycle Route – also known as D-Route-2 – is all about. The path travels from Flensburg along the Baltic Sea to the seaside resort of Ahlbeck on Usedom, passing the Kiel Fjord and the Bay of Lübeck on the way and taking an extra detour around the popular holiday islands of Fehmarn and Rügen, which are ideal for a stopover. The route here is a true seaside special, winding through one charming coastal town after the next – such as the Hanseatic cities of Wismar and Stralsund, or the fashionable resort of Heiligendamm with its white sandy beach – as well as a wide variety of nature, including impressive beaches and cliffs. A little insider tip from us: if you want to make your ride that bit more effortless, good news, there's a regular westerly wind that can give you an extra push as you go: as long as you make sure to ride from west to east!
Thanks to comprehensive signposting, staying on track is a cinch. The route occasionally diverges from the coast for a few kilometres, where it follows normal cycle paths – but these are very well developed, especially near larger towns. The ADFC has given the Baltic Coast Cycle Route an 'easy' rating: meaning it's suitable for cyclists of all ages and fitness levels to explore. You can pick your own direction of travel and trip length to suit your own preferences.
Whether you're riding under your own steam on a non-motorised bike or with the a little extra motorised support of an e-bike, we can help you find the bike that perfectly suits what you want and how you ride. Let us give you a few examples here. Firstly, the Grail: a versatile, high-performance gravel bike that's ready for anything: from gravel paths to forest roads to smooth asphalt. It's also possible to fit special bikepacking bags onto the frame, to carry your essentials.
The Pathlite:ON e-bike is an excellent all-rounder, with a score of ingenious features and a huge battery capacity of up to 1000 Wh that makes it possible to cover extreme distances on a single charge. If you're only riding single day stages rather than longer tours, you might want to consider its non-motorised cousin, the Pathlite touring bike, or a road bike – an especially good choice when you only have to carry a light single-day load. However, if you're considering a road bike, you should make sure your route is mostly asphalt beforehand. Resources like the Komoot app and the official website of the cycle path you're riding can help you with this.
The same applies to mountain bikes. If you're purely sticking to a smooth, flat, asphalted riverside route, a mountain bike shouldn't be your first choice. However, these routes regularly feature interesting side trails that you can add onto your main ride. If you want a bike that's capable both over long distances and on trails, we'd advise you to choose a lightweight full-suspension bike or a fast hardtail like the Grand Canyon – a capable all-rounder that floats over broken road surfaces thanks to its big chunky tyres, and even lets you fit a rack to carry more gear.
Furthermore, modern city bikes can also be used for relaxed tours, with their low-maintenance drivetrains, comfortable geometry, and robust racks. And so you're fully prepared for every scenario and all weather conditions on your travels, we have a comprehensive selection of all the kit you need in our gear store – from rainproof clothing to tools and spare parts.
Already ridden the routes we've suggested here, and on the search for more? Don't worry, there are so many more to discover – like on the Lahn, Ruhr, or Tauber rivers, or alternatively the Spree if you'd like to combine your adventure with a city trip to Berlin. Or if you fancy more of a challenge, take the more demanding route from Lindau on Lake Constance to another picturesque German lake, the Königssee in Bavaria. Wherever your plans take you: we hope you have an amazing time exploring Germany by bike!




Discover our Hybrid Bikes
Bikepacking setups allow you the freedom to go wherever your heart desires, unlike a heavier, more traditional pannier setup more synonymous with cycle touring.