Guide to Bikepark Winterberg
Want to know how to make the most of your next trip to Bikepark Winterberg? Keep reading!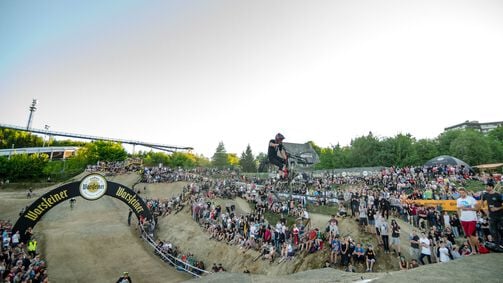 Bikepark Winterberg is undoubtedly the largest and best-known bike park in Germany. And it's no surprise: this bike park in the Hochsauerland district of North Rhine-Westphalia offers adrenaline and variety for all ages and skill levels, from beginners to professionals, on a total of eleven routes and 15 km in length. Due to the proximity to the Ruhr area, it takes less than two hours by car from Münster, Dortmund or Siegen - perfect for a getaway on your mountain bike. Winterberg is also easy to reach from other regions in Germany, thanks to its central location. We've put together the ultimate guide with the answers to the most common questions. You can find out everything you need to know about the Bikepark Winterberg here.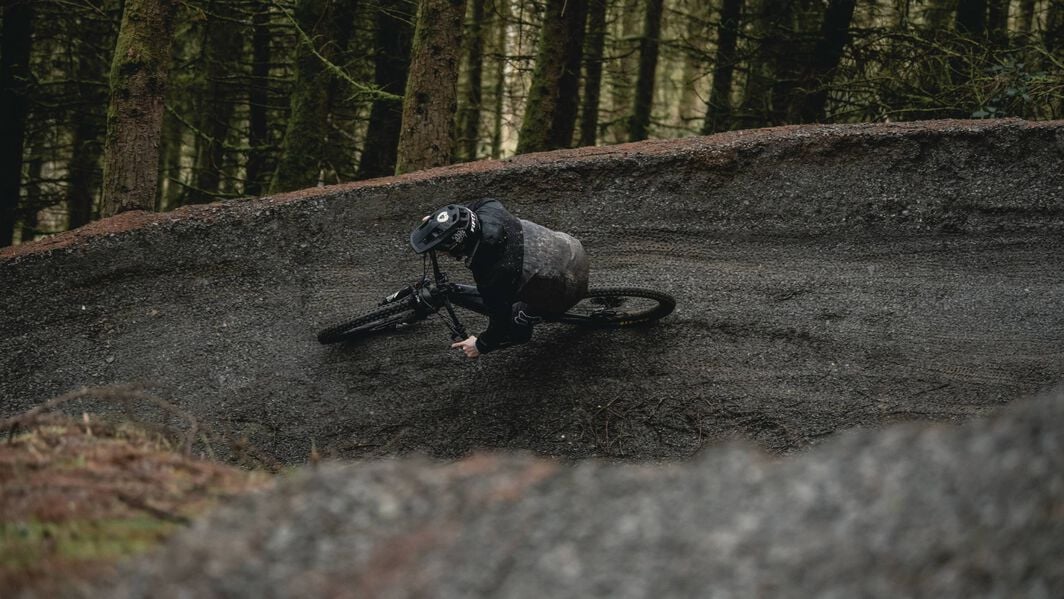 When does Bikepark Winterberg open and how much does a day cost?
Depending on the weather, Bikepark Winterberg opens its doors in April and remains open daily until the beginning of November. The same applies to the bike station with shop and rental (mountain bikes, helmets, protectors) as well as the lifts. Good to know: Admission and use of the trails during opening hours are free of charge. However, if you want to use the lifts, you will need a ticket, which you can buy in advance online or - Coronavirus permitting - in the shop on site. The price for a day ticket starts at 19 EUR for kids, youths pay 26.50 EUR, adults 36.50 EUR. There are also morning and afternoon tickets or transferable point tickets that can be used by several riders.
Can I ride an e-MTB at Bikepark Winterberg?
The use of the trails in the Bikepark Winterberg is free of charge; tickets are only required for the use of the lifts. If you want to use the forest paths and roads with your e-mountain bike to get back to the trail entrance, of course, this is an option.
What trails are there at Bikepark Winterberg?
You can choose between eleven descents - and if that's not enough, Trailpark Winterberg is directly opposite, offering a network of 40 km, 20 km of which are on free-flowing trails. The trail park offers more family-friendly laps but also has some surprises on offer in the form of crisp climbs or descents. At Bikepark Winterberg, on the other hand, it's all downhill. The chairlift takes you quickly and comfortably uphill. Please note that full-face helmets are compulsory on all routes - except for the Beginner & Kids course at the bike station. A half-shell helmet is not sufficient. On the most difficult black routes, a safety vest or protective shirt with an integrated chest and back protector is also compulsory.

This brings us to the colour markings of the downhill runs: Similar to ski slopes, the routes are divided into categories by colour and so indicate their respective levels of difficulty. You will always find these colour markings at the beginning of each trail, but also throughout the rest of the course. Blue trails are easy descents that are ideal for learning riding techniques. The number of obstacles is manageable. In addition, they can either be easily rolled over or ridden around. Red trails are for advanced riders: Here, you will find tables (jumps that can be rolled over), various jumps and drops that require a certain level of riding skill and experience. Only those who have plenty of bike park experience and the corresponding riding skills should venture onto the black tracks: Gaps (jumps that cannot be rolled over), rough stone fields, technical root passages, fast steep sections, and much more are waiting for you to master them.
Get ready: Blue Lines - ideal for beginners and for improving your riding technique.
Let's take a closer look at the individual highlights of the course. The blue "Flow Country" route offers - as the name suggests - pure flow. On this trail with a length of 1600 m you surf over bumps, through countless bends, and you can gradually familiarise yourself with the jumping technique on smaller tables. The "Flow Country" is aimed more at beginners, but experts will also have fun here, as you can really let it rip.

On the "Kyrill" track, which is also blue, you can make your first attempts at getting some air under your tyres. The table jumps are made for this. They are also suitable for improving your jumping technique or trying out new, simple tricks. And everyone else can ride this track, too. The "Woodpecker" is a red section above the "Kyrill" run with various wooden elements, wallride and drops for beginners and advanced riders.

The "Beginner & Kids Parcours" at the bike station is aimed at all ages and skill levels and thus rounds off the diverse range of routes at Bikepark Winterberg.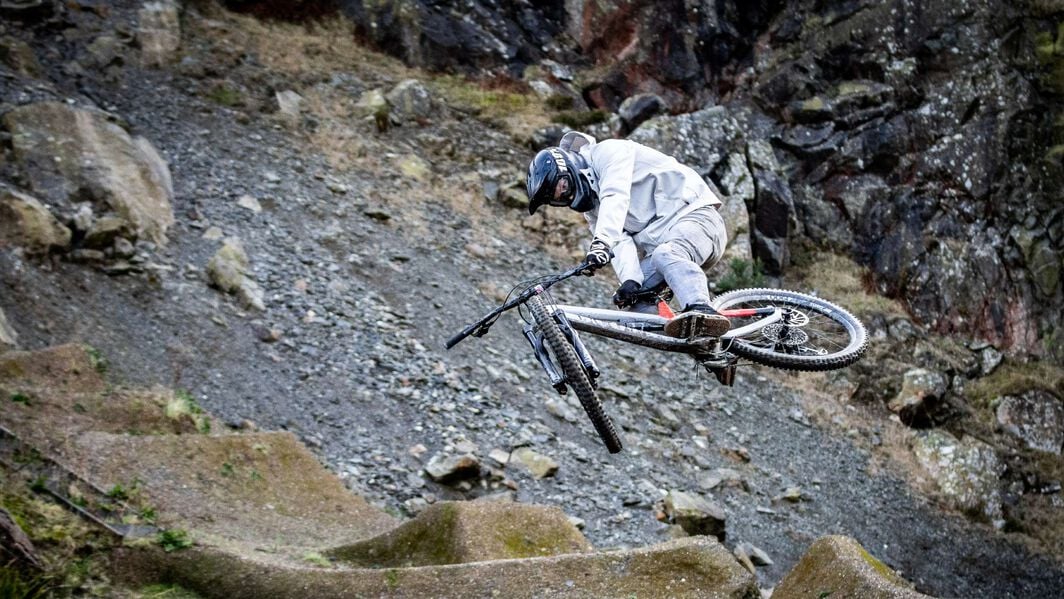 Red routes: More features for advanced riders
On the red "Loose Lee" track, 34 approach curves and some table jumps ensure riding fun. In the lower section, the Road Gap is also waiting for advanced riders. Our tip if you want to jump: Make sure you do the speed check beforehand and watch the locals. You need relatively little speed here to sail perfectly into the landing.

The red "North Shore" is certainly one of our favourites with its 1200 m length and the many wooden elements, drops, wallrides and jumps. The flowing course and the fun features provide variety. The red "Freeride" runs right next door: fast berms, tables and a stone field are the order of the day here. The obstacles can be ridden around.
Black is beautiful: The black runs offer adrenalin and airtime for experts.
Not enough for you? Then take on the "Black Line" and the "Downhill". The "Black Line" runs through the forest to the left of the chairlift: roots, steps and steep sections define this natural trail. Therefore, only experienced mountain bikers and enduro riders should try this route. The "Downhill" is a classic as a competition trail at Winterberg. Root passages, stone fields and other features challenge you and motivate you to improve your route choice every time.

You'll get plenty of airtime on the red "Slopestyle" course and the black "Jump Line". On the "Slopestyle" area, you can try out drops at different heights or practice new jumps on the dirt routes. The "Jump Line" used to be the park's 4X track, but it has been rebuilt in recent years and now combines speed and medium to big gap jumps. Therefore it's only for the experts.
What kind of bike is recommended for use in the bike park?
We recommend a full-suspension mountain bike, i.e. a full-suspension mountain bike with at least 150 mm suspension travel front and rear. The suspension travel and the reserves are important, as well as the frame construction and geometry if you want to spend a successful day at Bikepark Winterberg.

At Canyon, you can orientate yourself with categories 1-5 of these bikes. Mountain bikes start from category 3, are much more robust and were developed for off-road use. From category 4, they are approved for regular bike park use. They have everything you need: a stable frame, reliable components and 150-170 mm suspension travel. With these bikes, you can master trails on your doorstep that have the occasional uphill, as well as all the descents of the bike park.

If you mainly or exclusively want to ride in a bike park, you should take a closer look at our category 5 downhill bikes. They have 180 to 200 mm of suspension travel, are ultra-robust and have been specially developed for extensive sessions on jump routes and downhill tracks. The more technically demanding, obstructed and faster the descent or the bigger the jumps, the more the extra travel, a longer reach and a flatter steering angle pay off.

If you also want to ride trail tours away from a bike park, we recommend an all-rounder like our Spectral. If you want maximum speed downhill on the toughest trails, try our downhill bullet Sender. The Sender represents 100% uncompromising downhill action; you can only climb to altitude on a lift or in a shuttle van.
If you want to climb under your own steam to the trail entrance, then our freeride bike Torque is the one for you: it combines the ideal mixture of control at high speed and playful agility on bike park tracks and jump routes. This is ensured by perfectly tuned kinematics, a sturdy chassis and robust features. As you can see: more suspension travel does not always mean better; it depends on where you're going to use it.

Would you like to find out more? Then we have good news for you: We are going on tour with a test event for our mountain bikes. Visit us at the CLLCTV SESSIONS, and have a great time testing our MTBs or e-MTBs. You can find an overview of the forthcoming dates here. We look forward to your visit!
Spectacular and challenging MTB trails can frequently be found on your doorstep. Below is a list of the best (official) trails in Germany.