Guide to 7Stanes MTB Centres
Want to ride Scotland's premier mountain bike trails? The 7Stanes has it all! Read our guide for all the info you need.
If your MTB bucket list doesn't include the 7Stanes trail centres, we think you might have to put it straight at the top after reading this guide. What's better than a series of trail centres highlighting Scotland's best mountain biking?
What are the 7Stanes trail centres?
First, you might wonder what on earth a "stane" is. It's the Scots word for "stone". At each venue, you can marvel at a one-of-a-kind stone sculpture depicting a local myth or legend.

As for the actual venues, 7Stanes are a series of, you guessed it, seven trail centres. They're situated in the Scottish Borders region in southern Scotland, close to the English border.
Newcastleton
Stretching along the border of England and Scotland, Newcastleton Forest is a great introduction to the 7Stanes. It's a remote spot, tucked away from many of the tourists that head for Kielder just across the border.

A mix of green, blue and red routes means novice mountain bikers can improve their skills while more confident riders can test themselves on fast, flowy trails. Notable trails include the switchbacks of the Hidden Valley, Dead Man's Quarry Climb, Swarfe Hill and Caddrouns. There's nothing too technical at Newcastleton, so you'll have time for plenty of runs with barely anyone else around - bliss!
Glentress
You can't go mountain biking in Scotland without going to Glentress. Along with its neighbour Innerleithen, we think it's one of the best places to ride your mountain bike in the UK. It's an award-winning trail centre just an hour from Edinburgh. The trails suit all levels of experience from easy ungraded gravel paths suitable for kids and families, to black and orange freeride trails for adrenaline junkies.

Choose between a fire road climb from the visitor centre or include the Cool Runnings flowy descent first to get yourself in the mood for what's to come. Once you're at Spooky Wood, the real fun begins with berms, drop-offs and even the odd jump.
Forest of Ae
If you want twisty climbs, technical descents and rewards on every berm, look no further than Ae. A three-hour (ish) red trail is chock-a-block with more fun than you can shake an airborne rear wheel at. The climb reveals panoramic views of the rolling hills before the tree-lined trails take you on an enchanted yet thrill-seeking adventure.

The dry trails in summer make for incredible riding. There's plenty of off-piste riding at the Forest of Ae, so look out for the lesser known, exciting trails through the woods.
Dalbeattie
For granite slabs, coastal views and sweet singletrack, Dalbeattie is your answer. Its USP is rock - huge slabs of it, in fact. You'll need to concentrate over the technical sections and refuel on the fire roads between them.

Between the black-graded rocky slabs on the red trail, you'll find boardwalks requiring balance and speed. For those who want to practice and take it a little easier, the blue trails pack enough punch to keep a smile on your face the whole time.

Refuel at the café in the car park or in the nearby village and soak in the day's efforts.
Mabie
As the first of the 7Stanes trail centres, it has made a name for itself as the testing ground of trails. The flowy red trails offer up a real rollercoaster of berms, expansive views, rocky sections and tight singletracks.

There's nothing too extreme at Mabie, so it's great for building confidence, taking the kids and improving your technique.
Glentrool
If you're a beginner mountain biker, Glentrool is an ideal playground. Green and blue trails await you at Glentrool in the Galloway Forest and provide opportunity to increase your speed, hone your technical skills or simply enjoy your surroundings.

The real draw card for this trail centre is the Big Country Route. Sweeping views along this 58 kilometre loop are aplenty and it's a great day out. Not only is it suitable for mountain bikes but gravel bikes too. There's nothing technical but it'll get your heart racing anyway.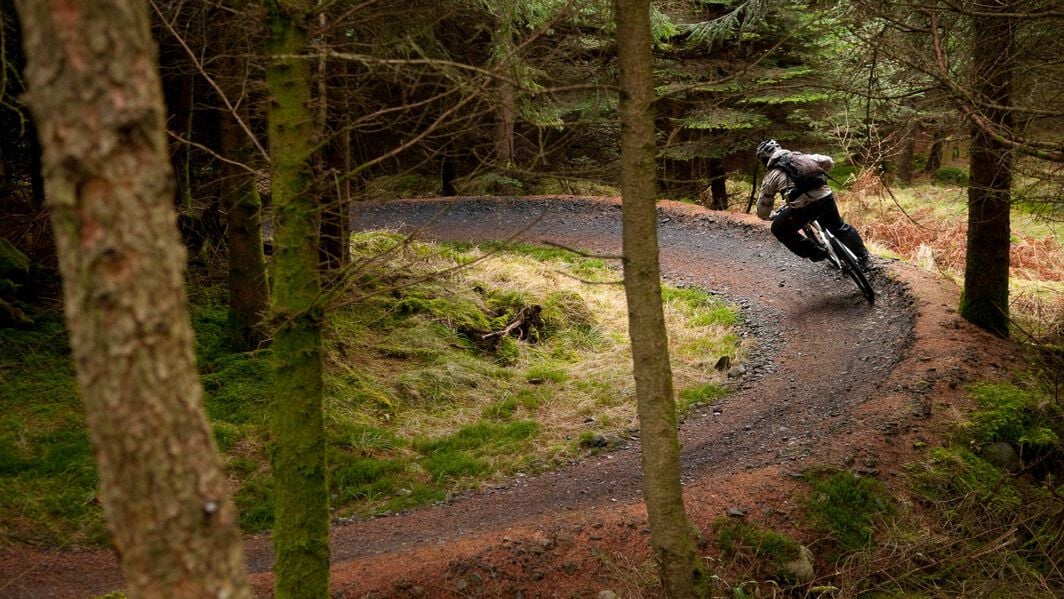 Kirroughtree
If you have a love affair with rocks, Kirroughtree should be high on your list. Fast flowing singletrack peppered with rocky technical sections will get your heart pumping. Look out for the black-graded Black Craigs trail with its slabs and ridges of granite and boulder causeways.

The Twister is a better option for those building up to gnarlier terrain. This red trail has options to take on black-graded sections, so you can keep riding without committing to features you're less confident with.
What to take with you when you ride the 7Stanes?
It's not uncommon to hear of riders packing up for a week of touring all the 7Stanes trail centres. More frequently though, riders prefer to spend a couple of days at each to give themselves time to explore all the options.

Scottish weather is renowned for being unpredictable (that's code for you'll probably be riding in the rain), so bring a waterproof jacket at the very least. Knee pads, a suitable mountain bike helmet (full-face helmet on the gnarlier trails) and gloves are a must due to the nature of the trails here. Traction is likely to come and go, so you want to minimise the risk of injury.

Don't forget to bring plenty of water and snacks for the ride. Once you're at the top of a climb, it's usually a long, exhausting descent back down to a café. It's better to carry a little too much than not enough, particularly if you're riding alone. A backpack or hip pack is perfect for this scenario.
What kind of mountain bike should I ride at the 7Stanes?
There's no wrong answer here. The range of trails means a hardtail mountain bike is probably fine for the green and blue trails at most of the centres. You'll be much more comfortable on a full-suspension mtb, trail bike or enduro mountain bike, once the trails become more technical. Red and black-graded trails demand extra bounce, so make sure you're equipped for a good time. For the really gnarly, steep and technical terrain, choose a downhill mountain bike (if you've got the stamina!).
Check the trails before you leave
Storms, bad weather and maintenance affect the number of trails open throughout the year. Check Forestry Scotland for the status before you embark on your trip.
Take a closer look at all our mountain bikes and find out which one might be right for you.