Canyon Launch 2022 Lux & Exceed Cross-Country Race Bikes: Trimmed To Win
World Championships. European Championships. Countless World Cup race wins. The new Canyon Lux & Canyon Exceed.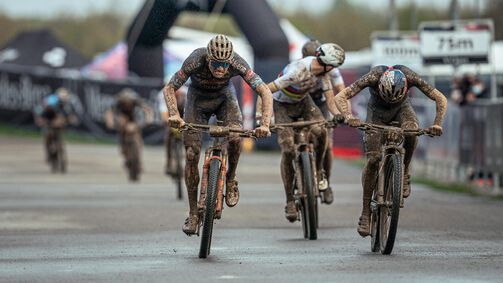 It's no exaggeration to say that the Canyon Lux and Exceed are two of the most dominant bikes on the cross-country racing scene. Now they're back for the 2022 season, ready to mix it up at the highest echelons of the sport in the hands of a glittering array of Canyon talent – including Mathieu van der Poel, Ceylin del Carmen Alvarado, Emily Batty, Andreas Seewald, and Martin Stosek, to name but a few. Simply put, the Lux and Exceed are the choice of XC titans.

The 2022 Lux is built around the existing frame platform first released in 2019: a full-suspension race weapon with a proven track record at world level. Designed to deliver maximum control and speed on demanding, technical modern XC courses, it's packed with performance features – including ultra-efficient kinematics, superlight chain catchers, and a weight-saving rear suspension flex pivot design. And for 2022, the Lux has updated component sets focusing on all-out performance. First, all models have 100 mm forks for the most aggressive setup – steeper angles, lighter parts, faster handling. Plus, all bikes have rigid seatposts to maximise stiffness and minimise weight. Finally, all Lux CF SLX models now have handlebar-mounted lockouts, for even greater efficiency. The four-model 2022 Lux range starts with the Lux CF 6, ideal for ambitious new racers with its 1x12 Shimano SLX shifting, FOX SC Performance suspension, and DT Swiss XR1900 wheels. Leading the pack is the Lux CF SLX LTD, with its pro-level 1662 g CF SLX frame, SID SL Ultimate fork and SID Deluxe Ultimate shock from RockShox, and SRAM's class-leading XX1 Eagle AXS wireless groupset.

A strong, superlight, and super-stiff XC 29er race hardtail, the 2022 Exceed is also back – with a new range of builds in three grades of carbon, and three models with a new Canyon MTB Racing Team replica artwork, as showcased at world level by Emily Batty and teammates. The highlight of the entry-level CF platform is the Exceed CF 6, a setup delivering incredible performance at a competitive €2,299 price point – FOX 32 Rhythm fork, 1x12 Shimano SLX shifting, DT Swiss XR1700 wheels. The flagship in the range is the Exceed CFR LTD, built around the astonishingly light 835 g Exceed CFR frame and featuring top drawer components across the board – RockShox SID SL Ultimate fork, SRAM XX1 Eagle AXS groupset, premium Reynolds Black Label wheels, and DT Swiss D232 One 60 mm dropper post.

The new Lux and Exceed models will be ready to ship from Tuesday 28 September 2021.
About Canyon Bicycles
What started life in founder Roman Arnold's garage as Radsport Arnold has evolved into one of the world's leading manufacturers of road, mountain, triathlon, hybrid and kids' bikes as well as modern e-bikes. Officially renamed in 2002, Canyon works hand-in-hand with the best athletes on the planet to produce an array of award-winning bikes that embody a pure passion for riding. With a strong reputation for true innovation, implementing leading technologies, clean and clear design as well as the highest standards in quality and service, Canyon continues to expand worldwide, selling more bikes outside of its native Germany than within since 2008. As a pioneering direct sales brand, Canyon products are exclusively available online at www.canyon.com.
If you're shopping for a new mountain bike, you're going to face an important choice: should you buy a full-suspension bike or a hardtail ride? Many different factors come into play when deciding on your ideal setup. The configuration that's right for you depends on your weight, the terrain, cost, maintenance and more.